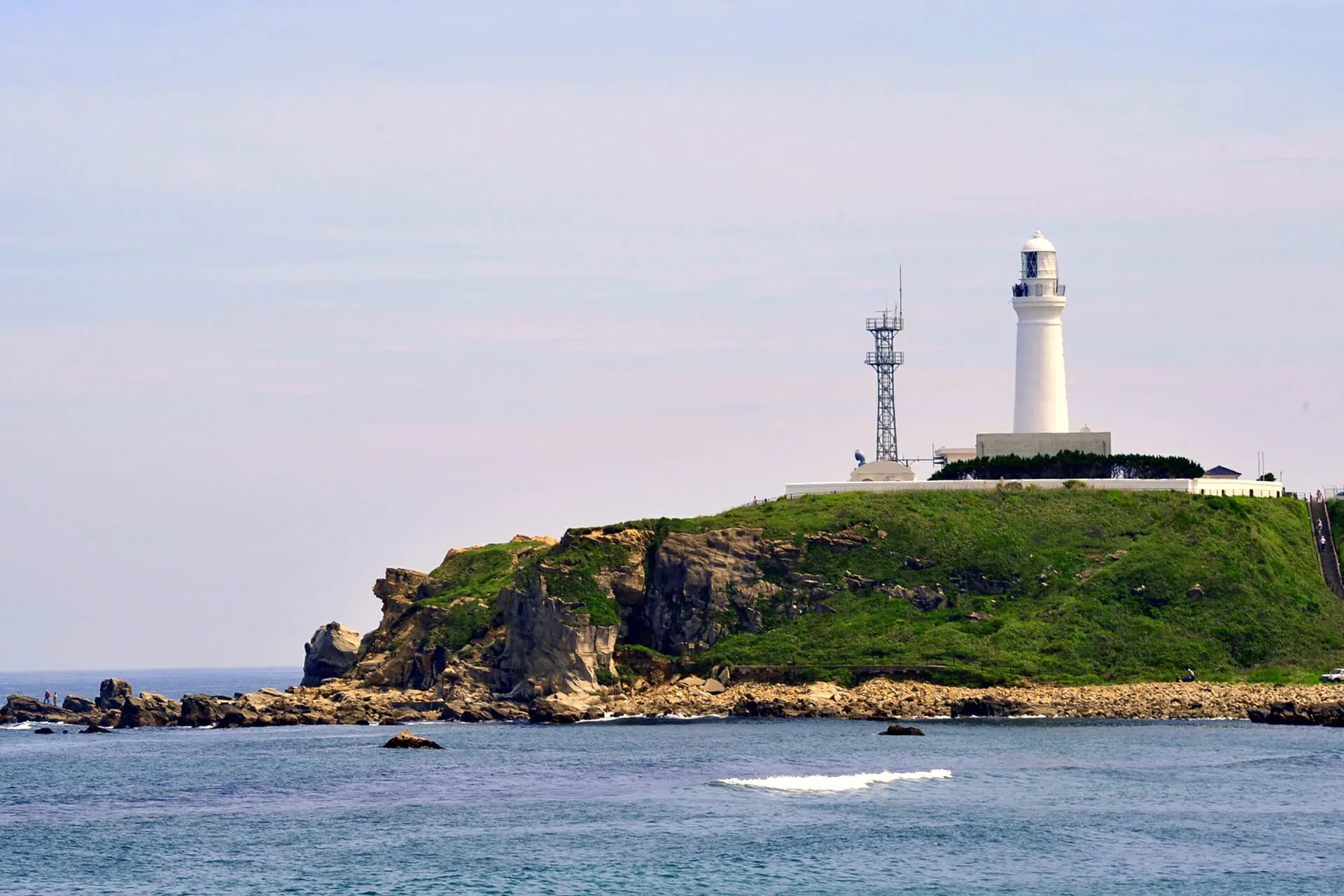 About Chiba & Area Guide
Travel Information | Visit Chiba | Latest update:2023/08/29
About Chiba:
Chiba Prefecture is located just to the east of Tokyo, the capital of Japan. Chiba is mostly situated on the Boso Peninsula, its eastern and southern coasts surrounded by the Pacific Ocean, and its western shores bordered by Tokyo Bay. The prefecture boasts an extensive transportation infrastructure–which includes Narita International Airport–and serves a major role in Japan's domestic and international economy.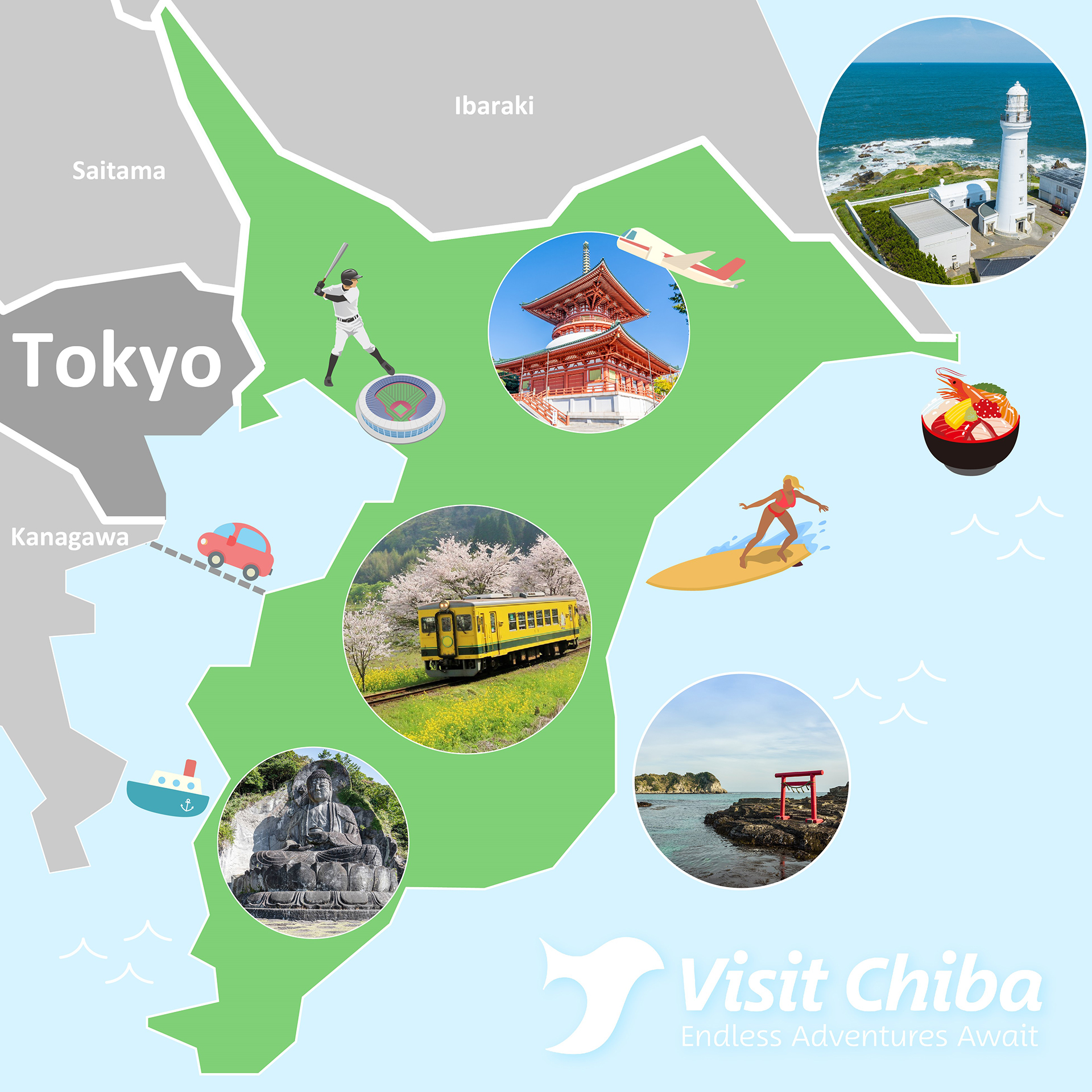 Beyond Chiba's bustling cityscapes, you'll find a countryside characterized by idyllic natural scenery. Fittingly, the prefecture's name comprises the kanji characters meaning "thousand" (千) and "leaf" (葉). Surrounded by the sea on three sides, Chiba is also heavily influenced by a rich maritime culture. Thanks to these natural blessings, the agricultural and fishing industries have thrived here for centuries.
Chiba by Area: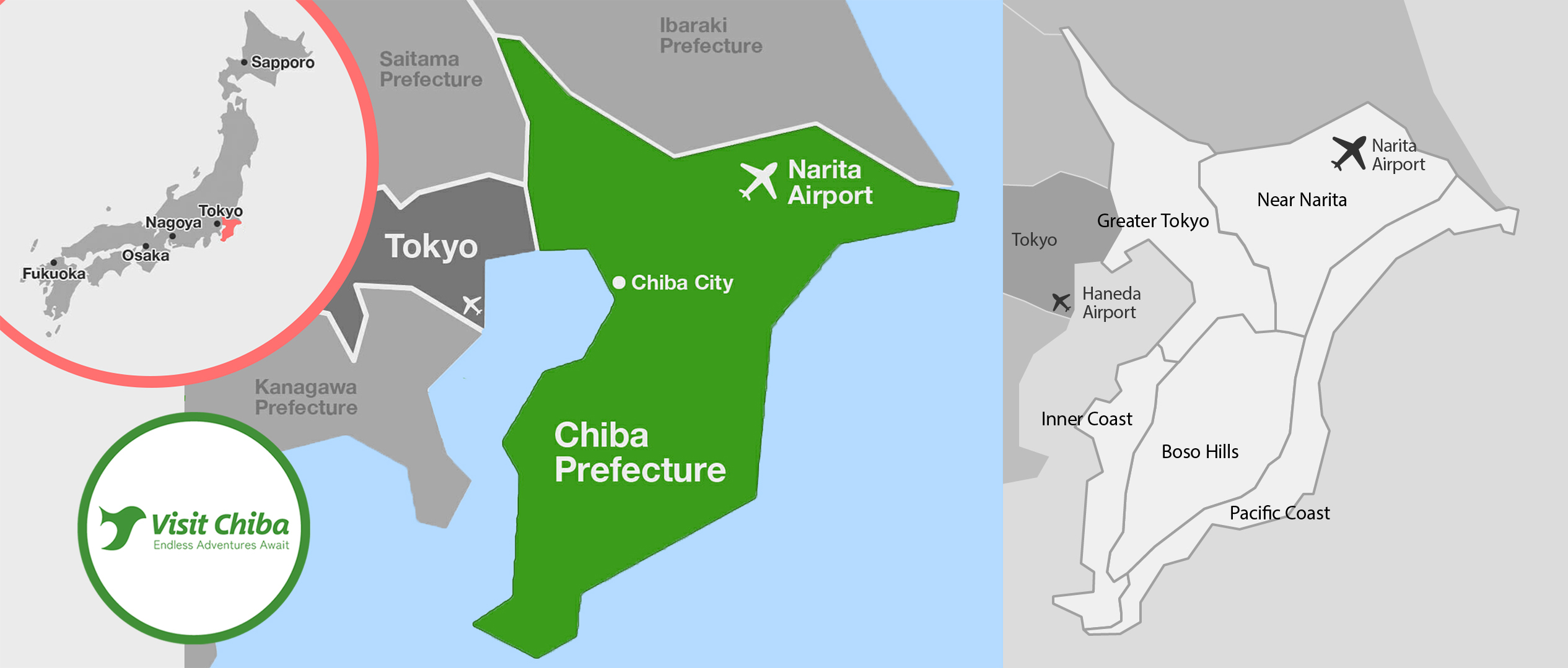 In order to help visitors plan travel experiences that best suit them, we divided Chiba into five distinct areas: Greater Tokyo, Near Narita, the Inner Coast, the Boso Hills, and the Pacific Coast.
Greater Tokyo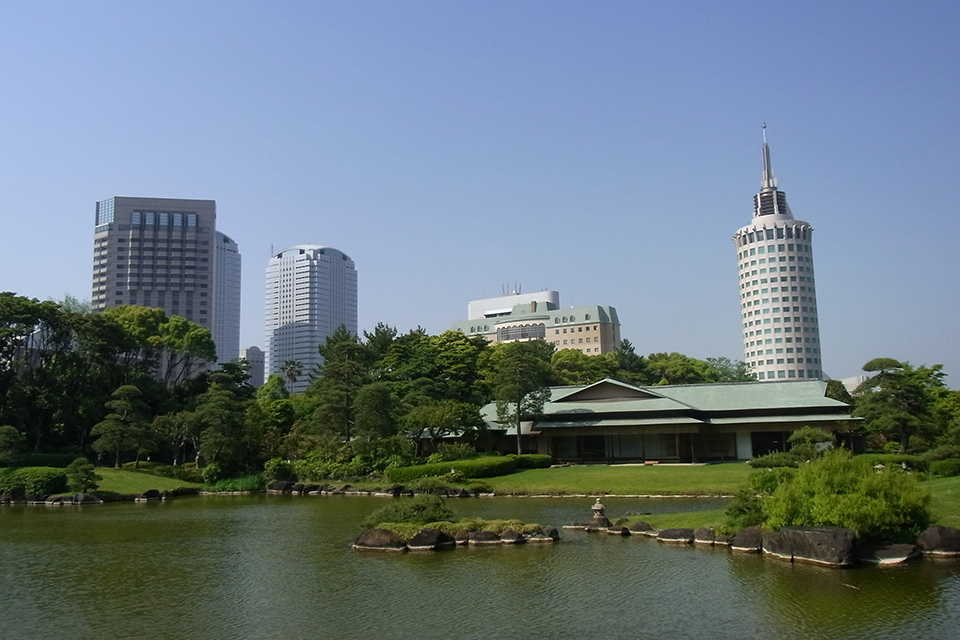 Mihama-en Japanese Garden, Makuhari New Town, Chiba City
Northwestern Chiba is located within the Greater Tokyo metropolitan area, making it an easily-accessible destination from central Tokyo, especially by train. The modern cities here along Tokyo Bay are home to a number of world-class facilities and shopping centers, including: Tokyo Disney Resort; Makuhari Messe, an international convention and event space; and AEON MALL Makuhari New City, one of Japan's largest shopping malls.
This area has long been a nexus of culture and commerce, and the remains of this historical legacy can be seen at locations like Hondo-ji Temple and the Nagareyama Honcho townscape. You'll find expansive public parks here too, including bayside beaches and some of the Tokyo area's best kept secrets for enjoying cherry blossoms. While you're here, don't forget to take a ride on the Chiba Urban Monorail, the world's longest suspended monorail system!
Near Narita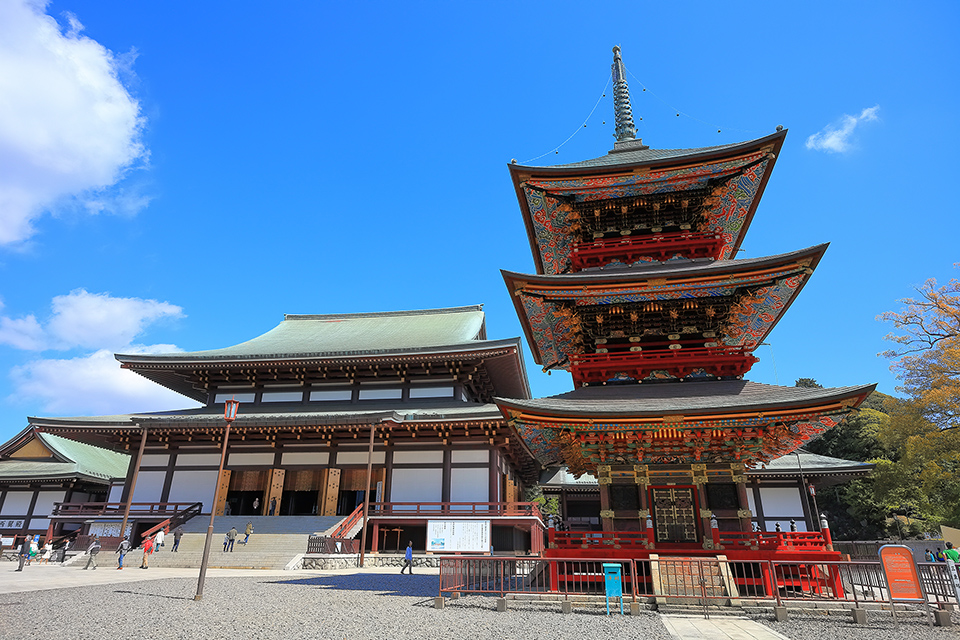 Naritasan Shinsho-ji Temple, Narita City
The area surrounding Narita International Airport offers numerous worthwhile ways to start or end your Japan trip. For the most convenient window into classical Japan, stop by the over-1,080-year-old Naritasan Shinsho-ji Temple and the historic Naritasan Omotesando temple road, accessed via Narita Station (JR and Keisei), just one train station from Narita Airport.
Over the centuries, the Tone River, which defines much of this region's northern border, spurred the development of cities and towns. Locals have made efforts to preserve an old riverside townscape here, the historic district of Sawara, which features traditional shops and restaurants that visitors can explore. Other historical sites found near Narita include: The Samurai Houses and Old Samurai Road of Sakura; and Boso no Mura, a recreation of an old Japanese village. The area also has long been a hub for the production of fermented foods and drinks, like soy sauce and sake, a heritage which can still be seen here at various establishments both old and new.
Inner Coast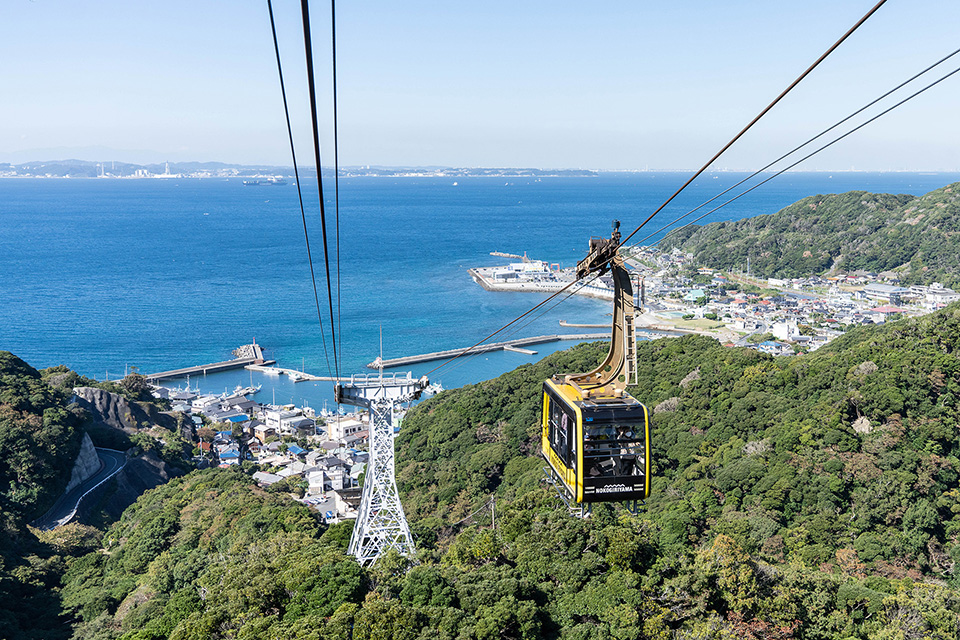 Mt. Nokogiri "Ropeway" cable car
This stretch of coast is a popular getaway for Tokyoites who are drawn to locations like Tateyama City which offer seaside hot spring resorts, fresh seafood dining, and beaches for enjoying marine sports. Chiba's most well-known natural landmark is also found here, Mt. Nokogiri. The scenic temple grounds found atop this mountain are accessible via a "ropeway" cable car, and a network of hiking trails, making it a perfect day-trip adventure from Tokyo!
The always-bustling Mitsui Outlet Park shopping center is another destination that draws international tourists and family day-trippers to the area. It's located near the end of the Tokyo Bay Aquiline expressway, a popular route for drivers coming across Tokyo Bay. The Tokyo Bay Ferry provides a second option for crossing the bay, with its Chiba terminal located right near the base of Mt. Nokogiri. Visitors can also ride the JR Uchibo Line along the coast here all the way down to the Pacific Ocean.
Boso Hills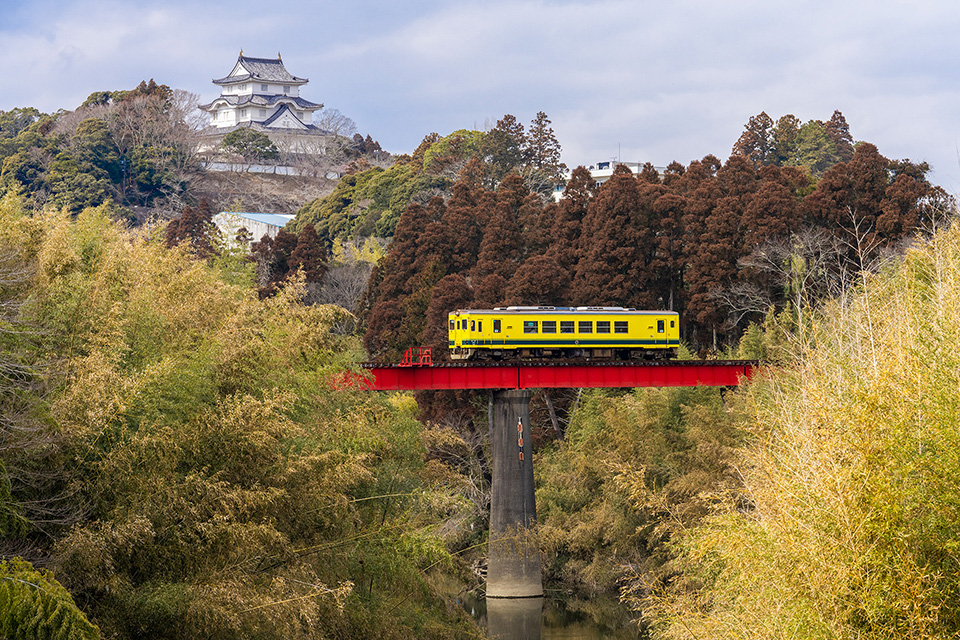 A local Isumi Railway train car passing by Otaki Castle
The Boso Peninsula comprises most of Chiba, and its hilly interior offers outdoor family fun at facilities such as Tokyo German Village and Mother Farm. With a focus on environmentally sustainable tourism, the area is also home to agriculturally-centered locations, like the terraced rice paddies of Oyama Senmaida, and the hub of farming, food, and art, KURKKU FIELDS.
The Boso Hills are home to countless spots for discovering the best of the Japanese countryside, from mountains, rivers, and rice fields, to quiet farming communities and the unique temples and shrines found within them. Visitors who want to immerse themselves in these landscapes can enjoy hiking, cycling tours, camping, temple stays, and more. One way to take a leisurely trip through this area is by taking a ride on two local railways. The Isumi Railway and the Kominato Railway link together in the middle of Chiba, allowing visitors to travel on retro-style train cars from one side of the peninsula to the other.
Pacific Coast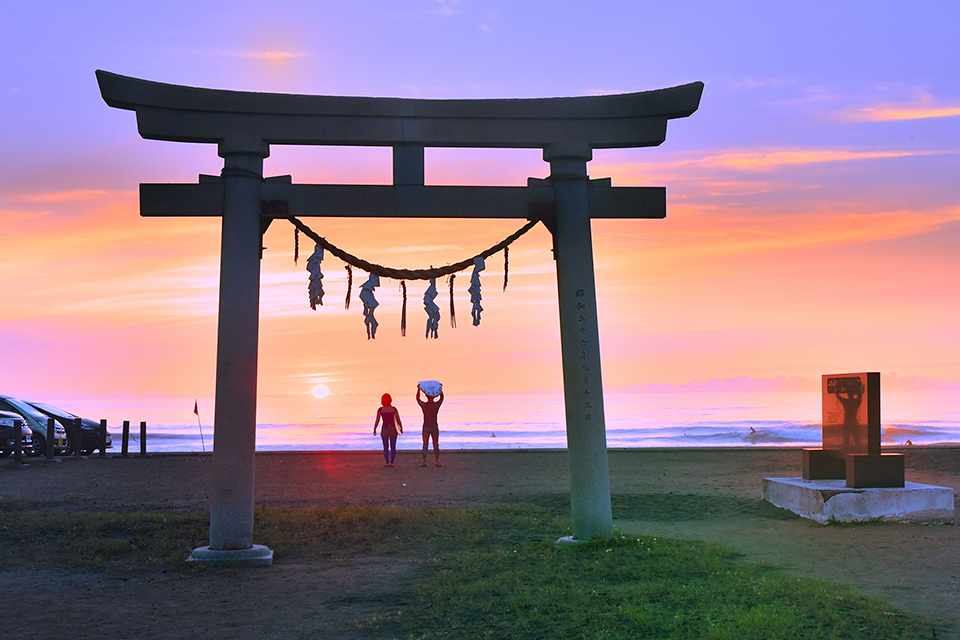 Tsurigasaki Beach, Ichinomiya City
Chiba's Pacific coast offers visitors a chance to discover a quieter side of life in Japan, while highway buses and limited-express trains make it accessible from Tokyo. All along the coast you'll find hot spring resorts and ryokan inns, giving you the option to add a little seaside rest and relaxation to your Tokyo-area itinerary. This part of Chiba is also a marine sport haven, most famous for Tsurigasaki Beach, the host site of numerous international surfing competitions.
With its sandy beaches, secluded bays, and towering seacliffs, nature lovers will find plenty of seaside scenery to admire here. In the northeast corner of Chiba you'll find Choshi City, known for the retro Choshi Electric Railway, the historic Inubosaki Lighthouse, and fresh fish catches from Choshi Port. Take a train ride on the JR Sotobo Line to coastal cities like Katsuura and Kamogawa to discover the hidden maritime gems of the Boso Peninsula. The rich culinary culture here also draws diners seeking a variety of fresh seafood options.
CHIBA TRAIN MAP