The city of Tateyama is found on the southern tip of the Boso Peninsula where Tokyo Bay opens up into the Pacific Ocean, and has long been beloved as one of the Tokyo area's most relaxed seaside locations. It's here in Tateyama where the mountains of southern Chiba meet the Pacific's warm Black Current, creating fresh sea breezes and a mild marine climate that blesses this area with an abundance of gifts from nature. The city offers numerous authentic Japan travel experiences with its temples and shrines, castle park, flower blooms, fresh seafood and produce, and sunset views of Mt. Fuji. The Visit Chiba staff took an overnight trip to Tateyama and were lucky enough to be guided around by locals who helped us discover some of the hidden gems found in this quiet city on the coast. We'll introduce the spots we visited below.
Day 1 in Tateyama: Things to Do Near JR Nakofunakata & Tateyama Stations
Tateyama can be accessed a few ways from central Tokyo: in about 90 minutes by car; two hours by limited-express train or highway bus; or about two-and-a-half hours by train via the JR Uchibo Line. If you're coming by car, head for the Tateyama Expressway, which can be accessed from central Chiba or from across Tokyo Bay via the Tokyo-wan Aqua Line. For this trip, we started near Nakofunakata Station on the JR Uchibo Line.
Daifuku-ji Temple "Gake Kannon"
Daifuku-ji Temple, also known as Gake Kannon, is built along a cliff face found in the Funakata neighborhood of Tateyama. The name Gake Kannon combines the Japanese word for cliff (gake) and the Japanese name for the Buddhist Goddess of Mercy (Kannon). The temple's history dates back to 717 when the Buddhist Priest Gyoki carved an eleven-faced Kannon into the bluff. On our visit here, we took the short climb up to the temple which rewarded us with a panoramic view of the city and Tateyama Bay. We also discovered the art work on the ceiling that depicts much of the plant life found in the southern Chiba area, from cherry blossoms and biwa loquats to pine trees and red maple leaves.
A shot of Gake Kannon and the cliff face taken by drone.
Our view from atop the temple hall.
Train Access: About a 15-minute walk from Nakofunakata Station on the JR Uchibo Line
Gallery & Café FUNAKATA SOKO
Just about an 8-minute walk from Gake Kannon is Gallery & Café FUNAKATA SOKO, which was built in a renovated century-old stone warehouse. This historic building is one of the last remaining structures here constructed with the prized boshuishi stone excavated from the nearby Mt. Nokogiri. The gallery exhibits paintings of the Minamiboso area (southern Chiba) drawn by local artist Kazuo Mizoguchi. After he passed away in 2019, his family decided to devote this space to display some of the over 300 works of art he left behind. The Minamiboso area is known for its natural beauty, and the gallery here provides visitors with a chance to see these works which encapsulate the region's character and charm. If you're looking for a quick break before you continue your Tateyama trip, stop by here.
As of this writing the gallery and café are only open from Friday-Sunday. But if your trip to Tateyama falls on a day they're closed, you'll still find a place to eat and take a rest at our next stop.
The works of Kazuo Mizoguchi greet you as you walk in.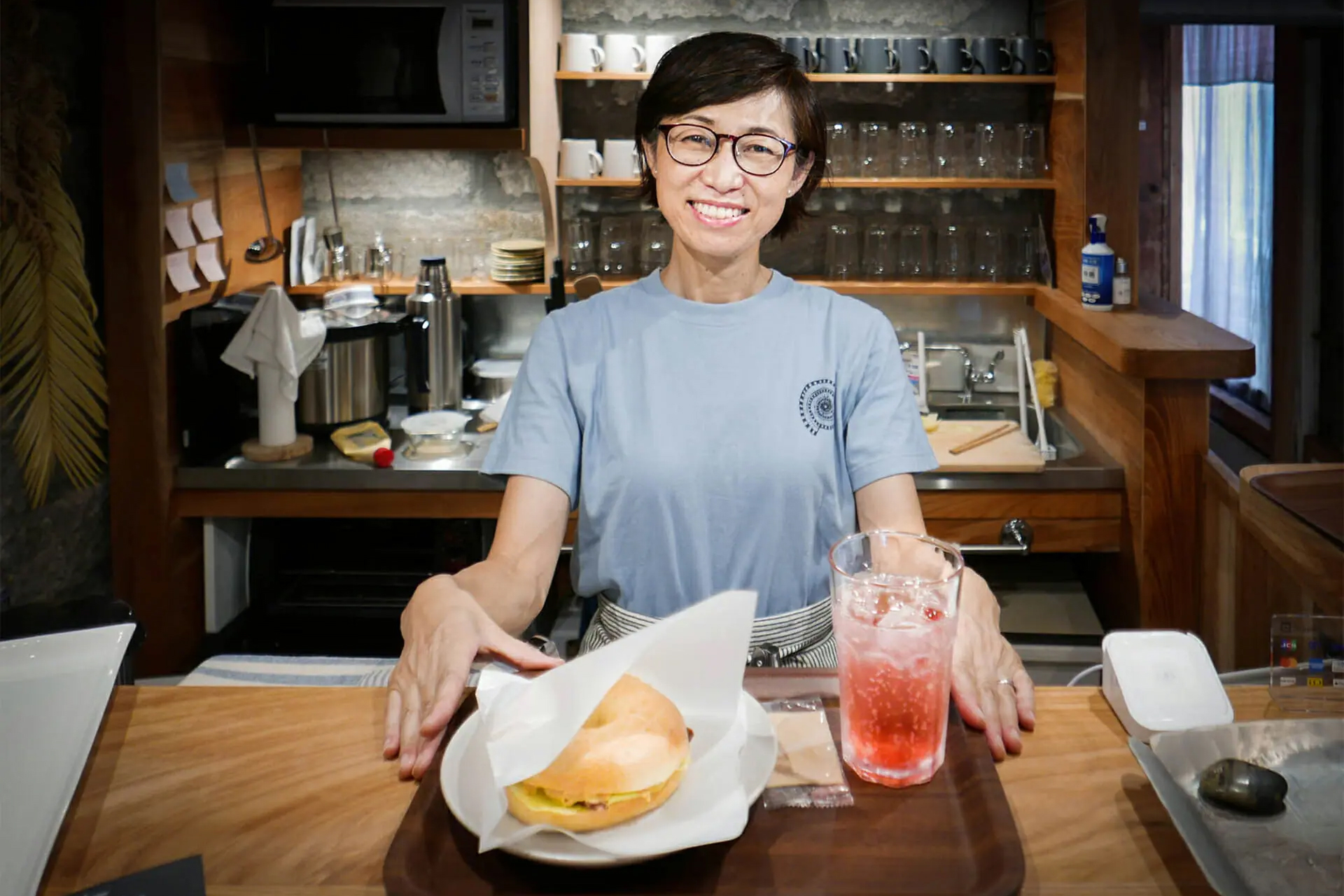 The friendly owner, Kaori Sasho.
Train Access: About a 12-minute walk from Nakofunakata Station on the JR Uchibo Line
Nagisa-no-eki Tateyama
For the next stage of the trip, we headed for the area around Tateyama Station. About a 15-minute walk from the station is a seaside facility called Nagisa-no-eki Tateyama. Serving as a tourist information center, this stop also houses the Seaside Plaza aquarium, the Nagisa Museum (Tateyama City Museum Annex), and a gallery named after the celebrity fish expert Sakana-kun. The facility also has an observation deck which stands looking over a 500-meter-long pedestrian pier, both of which offer visitors a stunning panoramic view of Tateyama Bay. Take advantage of your stop here to enjoy a meal made using locally sourced ingredients at the Tateyama Nagisa Shokudo restaurant, then head downstairs to buy Chiba souvenirs at the Marché of the Sea market.
Our sashimi and Chiba wagyu lunch.
Looking out over Tateyama Bay after lunch.
The museum has exhibits featuring local folk treasures like the beautifully decorated Maiwai traditional fishermen's jackets and Boshu uchiwa handheld fans, and "designated national cultural properties of Japan" related to southern Chiba's rich fishing heritage. The first picture below shows a specially-made Boshu uchiwa fan next to a display of the traditional hand-held versions. Bicycle rentals* are also available here to help you explore more of the area. As shown in the second picture below, we decided to try them out for the next portion of our trip, a visit to Shiroyama Park and Tateyama Castle.
*You'll also find a large selection of rental bicycles at JR Tateyama Station
Boshu uchiwa display.
Ready to ride!
Train Access: About a 15-minute walk from Tateyama Station on the JR Uchibo Line
Shiroyama Park and Tateyama Castle
Famous all over Chiba for its annual cherry blossom bloom, as well as its other seasonal flower displays, Shiroyama Park wraps around the base of the high-seated Tateyama Castle. Shiroyama (lit. Castle Mountain) Park is aptly named, because as you stand at the base, one of the first things you'll notice is Tateyama Castle peering down at you from above. But before we headed up to the castle, we first checked out the Tateyama Municipal Museum which displays both artifacts and art from the warrior days of Tateyama, as well as regularly changing exhibits from local artists.
Read more about the park and museum here: Shiroyama Park | Visit Chiba
Tateyama Castle during the cherry blossom season.
Exploring the Tateyama Municipal Museum found within the park.
Once you reach the castle, you can head up for perhaps the best view in town, and if you're lucky a peek at Mt. Fuji.  As you look down on where the Pacific Ocean meets Tokyo Bay, you'll be able to appreciate how the warrior lords of ancient Japan valued this spot as a most-strategic position.
Read more about the history of the castle here:
Tateyama Castle | Visit Chiba
Where to Stay in Tateyama
The Shinra resort.
For this trip, the Visit Chiba staff got the opportunity to stay at this luxury resort:
The Shinra | Visit Chiba
Other recommended hotels are:
Hotel Sunosaki Kazenosho | Visit Chiba
Maruhei Inn | Visit Chiba
For other recommendations, you can also inquire back at the Nagisa-no-eki Tateyama tourist information center or check out:
https://tateyamacity.com/en/accommodation
Day 2 in Tateyama: Discover Hidden Gems by Rental Car
While our first day in Tateyama had us exploring the city by train, bike and on foot, our second day had us cruising along the coast by car.
See rental car information here: https://tateyamacity.com/en/archives/1084
Sunosaki Shrine
On clear days, Tateyama City is known as one of the best places to catch views of Mt. Fuji from across the sea. No matter where you are along the Tateyama coast, you're never going to find yourself too far from a Fuji lookout spot. Tateyama's location along the west coast of Chiba also makes stunning sunsets here a regular occurrence, and for a couple days in both May and July you can even catch a glimpse of the "Diamond Fuji" – a view of the sun setting directly over Mt. Fuji's summit. For this trip, we headed out to the tip of Cape Sunosaki for a visit to Sunosaki Shrine, a locally-known Fuji viewing spot.
A view of Mt. Fuji from Sunosaki Shrine's Ichi-no-torii Gate on a clear winter morning.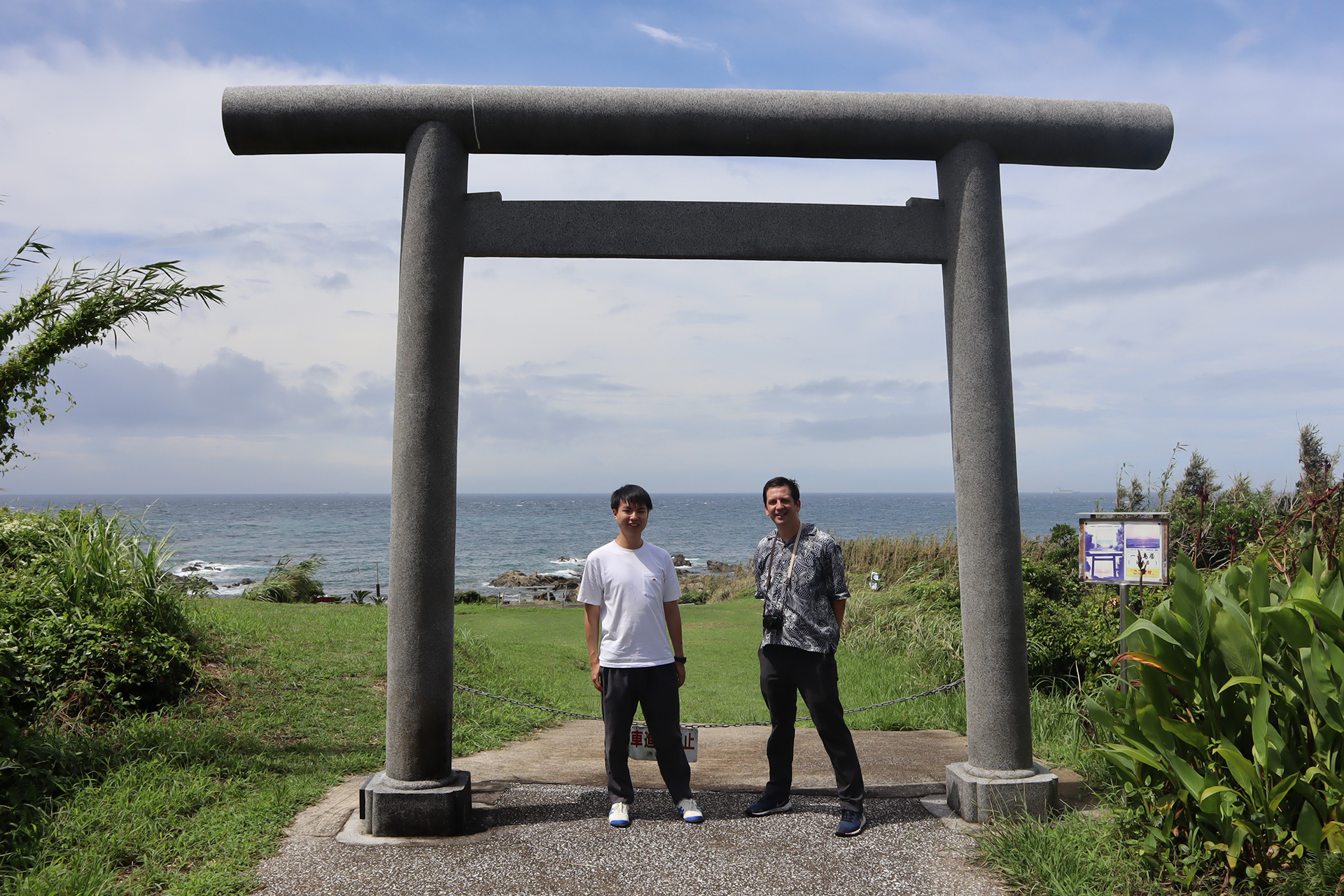 Unfortunately, Mt. Fuji was shrouded behind the clouds on the day we went, but the ocean view was still amazing.
The ancient fishermen of this area prayed to the deity enshrined here for plentiful fish catches and protection while out at sea. The shrine's main hall is a designated cultural asset of the city and is surrounded by a protected mountainside forest. If you're up for a short adventure, walk along the seashell path and up the 148 steps up to the hall where you'll be rewarded with a view looking down on the seaside below.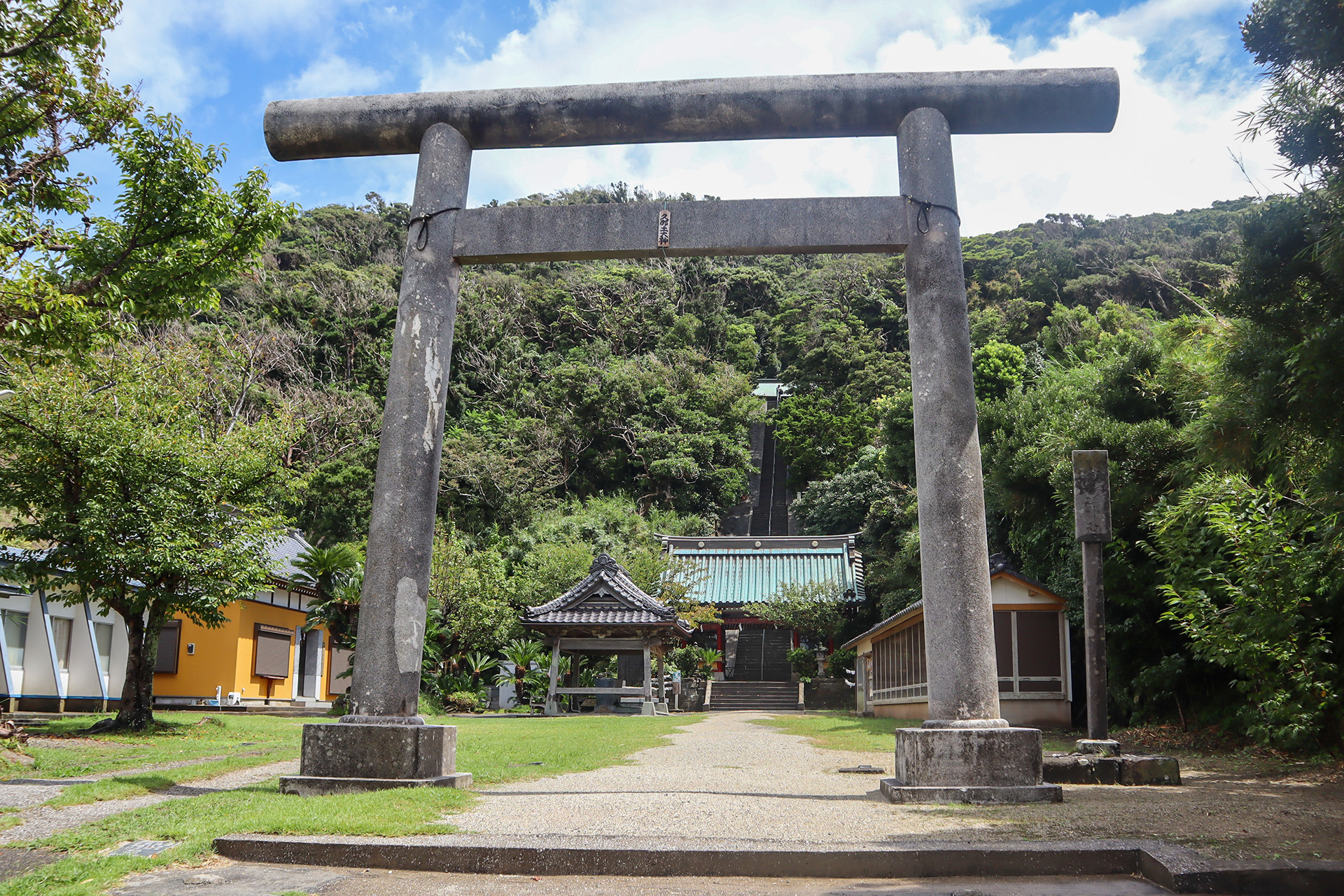 Walking toward the main shrine hall.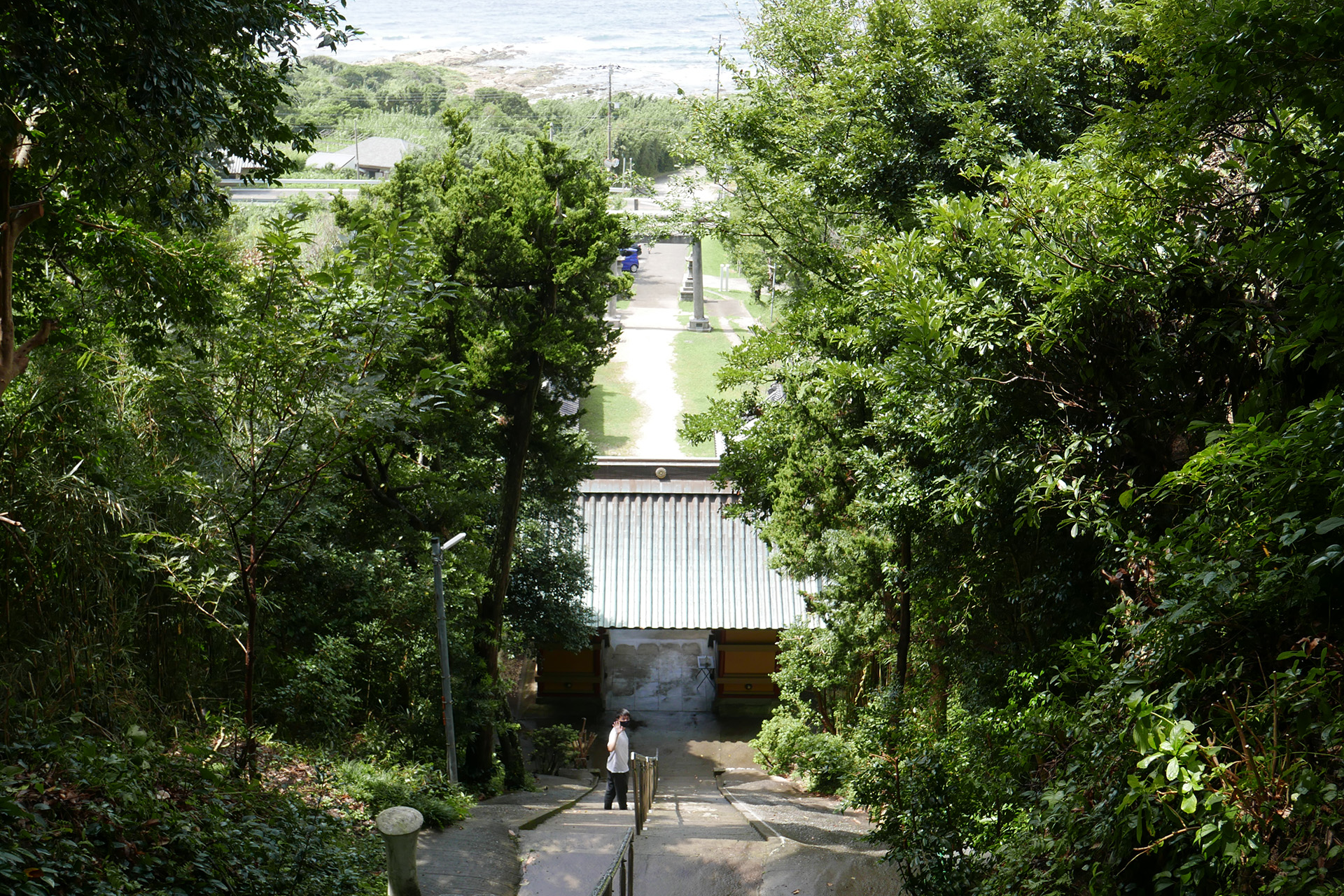 Looking back towards the ocean.
Google Maps Plus Codes:
Ichi-no-Tori: XQ94+95 Tateyama, Chiba
Main Shrine: XQ95+66 Tateyama, Chiba
Other recommended drive destinations:
Sunosaki Lighthouse
Awa Shrine
Mantoku-ji Temple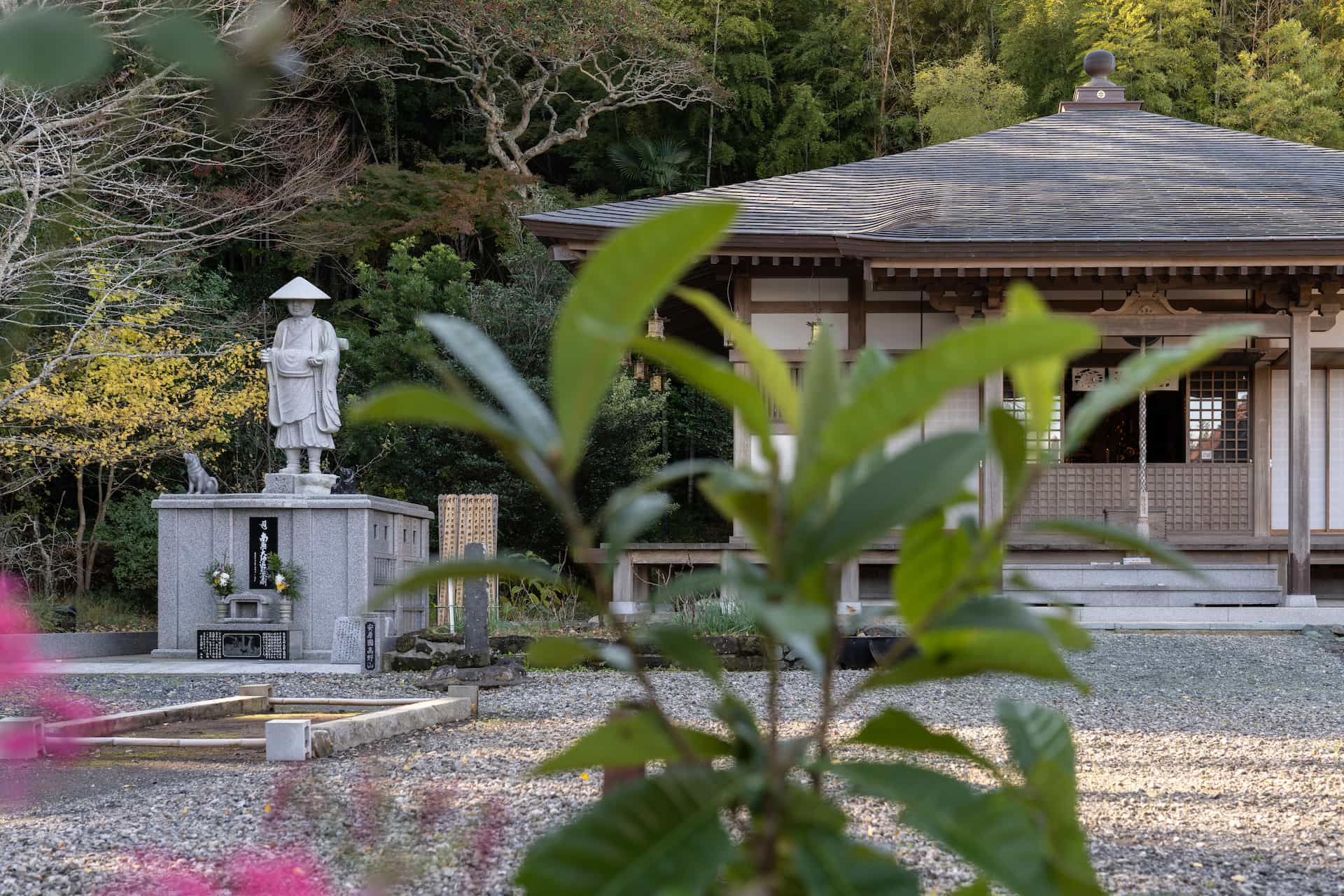 Myo-on-in Temple
Sunosaki Lighthouse
Sunosaki Lighthouse is a registered "Tangible Cultural Property" of Japan, and serves as Chiba's guiding light for ships making their way into Tokyo Bay.
Google Maps Plus Code: XQG5+54 Tateyama, Chiba
Awa Shrine
Said to date back to 660, the god associated with the founding myth of the "Awa" area is enshrined here.
Google Maps Plus Code: WRCP+XQ Tateyama, Chiba
Mantoku-ji Temple:
Here you'll find one of the world's largest bronze reclining Buddhas. How to pray: First put your hands together while standing in front of the Buddha, circle clockwise around it three times, then touch the emblem on its foot.
Google Maps Plus Code: WRXP+87 Tateyama, Chiba
Myo-on-in Temple
At this temple you can do the small hiking course of "88 Places Pilgrimage", as well as try a number of Buddhist practices including Ajikan meditation, shakyō sutra tracing, and making your own incense from ground spices.
Learn more: Myo-on-in Temple, a modest temple with much to teach | Visit Chiba
Google Maps Plus Code: XVG6+99 Tateyama, Chiba
Tateyama Aburi Kaisendon: The city's original seafood feast
For our final meal of the trip, we made special reservations at the Senri-no-Kaze hotel's restaurant to try the Tateyama Aburi Kaisendon. This meal is served at four different restaurants here in the city, with each location offering a slightly different twist on the combination of ingredients. The word aburi roughly means to lightly cook with fire–like grilling or broiling–and kaisendon is a meal served in a bowl that's topped with seafood. The Tateyama Aburi Kaisendon is presented as three bowls stacked on top of each other, with each layer revealing a collection of locally sourced ingredients, including seafood, vegetables, rice and more. A small personal grill is provided with the set giving you the option to enjoy each piece of the meal as you see fit; raw, slightly tinged, or fully-cooked. Only a limited number of these dishes are prepared each day, so to enjoy this most-authentic local meal you will need to make a reservation by phone in Japanese. For information in Japanese check here: https://www.tateyama-gourmet.com/
Tateyama Aburi Kaisendon.
Having a taste for ourselves at the Senri-no-Kaze Hotel.
This thoughtfully crafted and locally inspired meal represented much of what we discovered during our time here in Tateyama. With its natural beauty, rich culinary traditions and deep history, this laid-back coastal city offers visitors a chance to experience many of Japan's unique charms all in one location just outside Tokyo.
For a complete list of what to see and do in the Tateyama area, learn more here:
https://tateyamacity.com/en/
For the 15-second version of our trip, check out the video below: