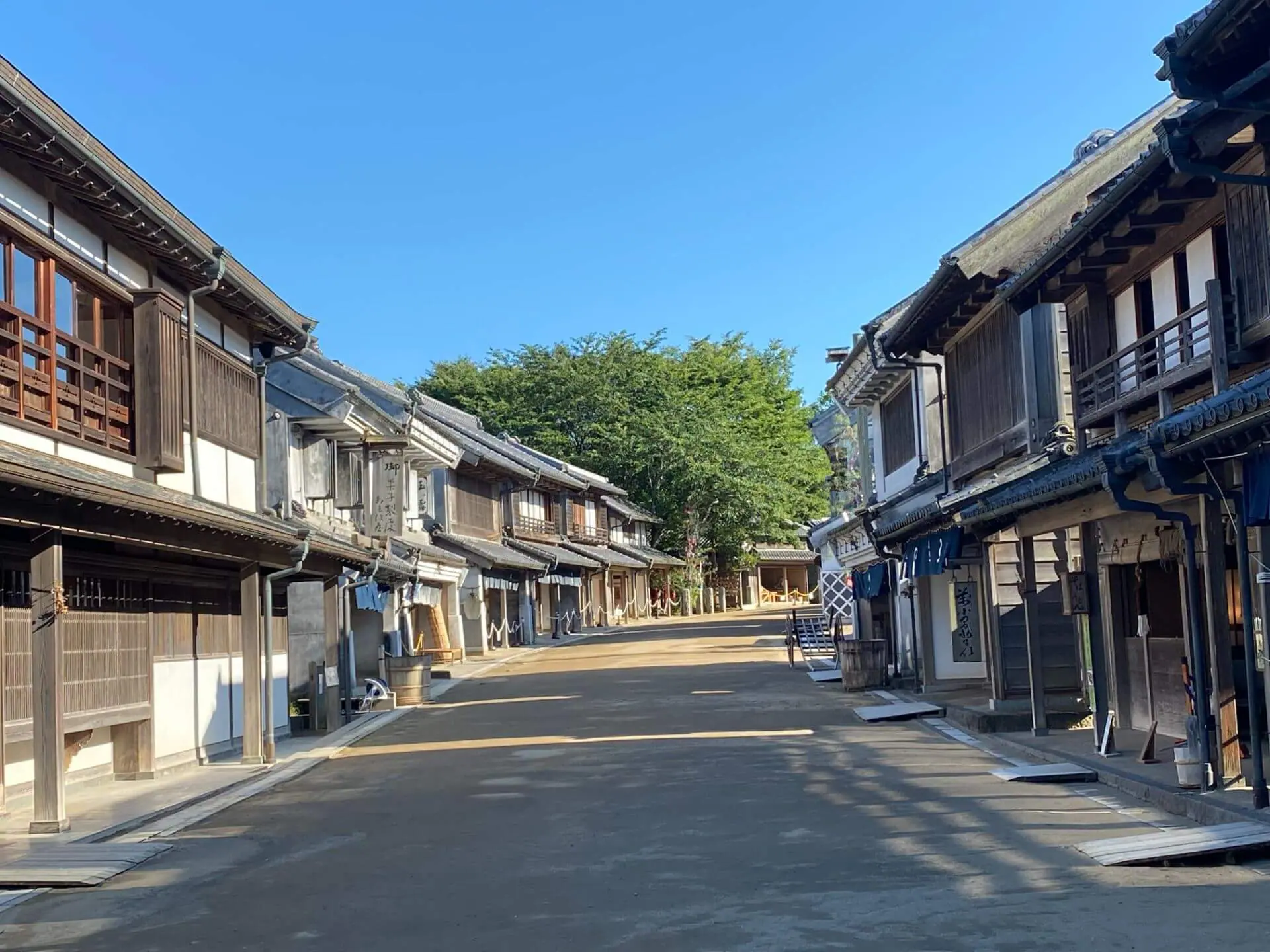 Boso no Mura | Travel to a day in the life of Japan's past
Things to Do | Visit Chiba | Latest update:2023/04/11
Tourist locations often lean heavily on Japan's "warrior" and "artistic" past, giving us a fantastical look into the cherry-picked, coolest aspects. However, outside of museums, it can be hard to imagine the actual "day to day" of historical Japan. How did people really live, and how did the crafts, foods, and skills for survival carry over into the modern day? Boso-no-Mura, "Boso Village" recreates a perfect microcosm of an old Japanese town in Chiba, and keeps many of the old ways of life alive through workshops and experience courses.
Imagine, the machi-nami, lined with tiled-roof buildings, wide open entrances to welcome customers in, short noren curtains displaying the name of the shop in large letters. This is the shopping district, the buildings are nicer, and the large, wealthy estates in close proximity. Now, trek out on roads beside the soy bean, tea, and vegetable fields as you approach the farming and labor communes, the nouka. These buildings are all wood, the roofs layered with expertly thatched brush. Here, the nitty-gritty tasks that support the livelihood of the town as a whole are done, and it's a great place to begin your glimpse into old Japan at Boso-no-Mura.
NOUKA
We started in the farmlands with an ever-important process: Miso making. Harvested soy beans are boiled and mashed into a coarse paste, and salt and a traditional fermenting agent koji is added before the miso is packed tightly into wooden buckets for a full year. Out in back, a shack with a massive kiln was being skillfully packed with split logs of wood to be smoked and turned into charcoal, which is then used as fuel for all manner of cooking, smelting, and curing. Seasonal workshops to till the ground, plant vegetables, use dried rice stalks to make shoes and clothing, and many more are held to put you in the shoes of a Japanese farmer on the outskirts of the city.
LUNCH
After a romp in the farming suburbs, we headed into the center of town to see what awaited. First, a popular dish here that utilizes local crops was on our minds: "Kaminari Udon", an udon dish that uses shiitake mushrooms, tofu, and kikurage (also a kind of mushroom) in a hearty soup of katsuo fish broth. Kaminari means "lightning" in Japanese, and this name comes from the "crackling" sound the vegetables make as they're being sauteed in hot sesame oil before being served on top of the noodles. The restaurant too seemed like a relic of days past, the interior completely made of wood, with tatami mats and low tables adorning the second floor.
CANDLES
A stroll through the town's main street put us in front of a candle shop, another staple of old Japanese society. Visitors here can make a souvenir candle, arranging their own designs on a pre-made one, and also learn about the traditional way it was done. It was an easy workshop to do in-between the greater exploration of Boso-no-Mura.
TEA
Veering away from the shopping street, there was an estate surrounded by an immaculate Japanese garden. We walked to the side of the house, where we were welcomed in for tea time. The Japanese "tea ceremony" as it's called sometimes is a refined way to disconnect from the chaos of every day life, and take a peaceful, structured, and above all clean moment to enjoy some tea. It was a great way to top off our day in the life of old Japan, enjoying local tea, with seasonally designed tea cups, inside what felt like a room unchanged since the 17th century.
That concluded our own day in the life of old Japan. A morning's work on the farm, lunch in the city, and some leisure time doing candle craft and enjoying tea. There is always something different going on at Boso-no-Mura, and always work to be done. Our guide jokingly said that "we make everything a workshop here", so your visit in any season is sure to leave you with a deeper knowledge and appreciation of old Japan!