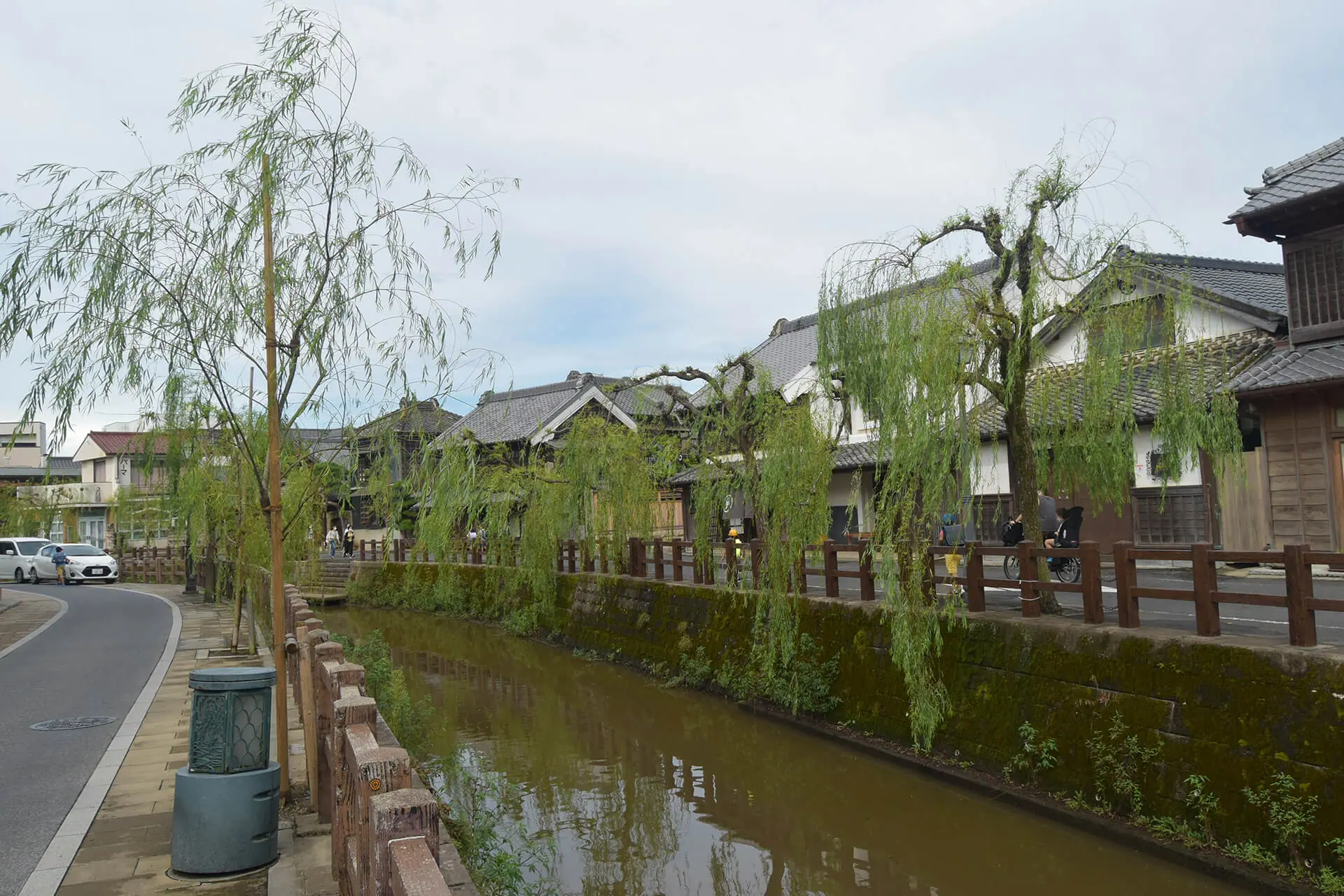 Sawara: Riverside Timeslip
Things to Do | Visit Chiba | Latest update:2021/12/22
Sawara made a name for itself during the Edo period by shipping its goods to Japan's capital of Edo (current day Tokyo) through a network of rivers to which Sawara's Ono River is connected. The area thrived to such an extent that it even earned the nickname "Little Edo". Around 140 docks once lined the flanks of this waterway, and twenty of those docks have remained preserved up until today.
Along the banks of the Sawara canal, visitors may witness three different eras. Edo, Meiji and Taisho-era houses stand shoulder to shoulder, as if time had stood still. Even distinctive window frames of wooden lattice, once a symbol of the merchant class, remain pristinely upkept and unchanged.
On the street which connects perpendicularly to this historic walk's midway point, the Ino Tadataka Museum houses three thousand national treasures.
Straying from the beaten path leads to all kinds of discoveries in Sawara. Behind the aforementioned museum, a replica of a two-hundred-year-old telescope stands mounted like a massive objet d'art, while further down a narrow lane lies the brilliantly red gate of a community shinto shrine. Then, just beyond what seems like a dead end, a modern reconstruction of an Edo-era house offers the curious an education in what that period's houses must have looked like from inside.
Walking around the area, you'll come across many different kura (antique storehouses), each preserved and decorated to different degrees and in various styles. Just one block to the east of the Ono River, the Taisho era's Mitsubishi bank stands proudly with its copper roof, red bricks and stunning cut-stone highlights; exactly as it was when it was built in 1914.  One is quickly filled with awe and wonder as soon as it comes into view. In the kitty corner across the street from the bank, a resplendent defunct furniture shop from the Showa era sits unused, but unaffected by the passage of time.
A few doors down from the Mitsubishi bank, one is free to leisurely wander into the Sawara Machinami Koryukan. Housed in a defunct bank – with its shiny vintage vault door still left untouched – part regional museum, part contemporary art gallery – it offers a taste of the breadth and depth of the culture found in the Sawara region. Seasonal events are also showcased within this establishment, such as an exhibition of Hinamatsuri (girl's festival) dolls in the month of March. However, perhaps the most stunning displays within this facility are the scale-models of the riverside's heritage buildings.
Mixing the old with the new, the riverside walk also offers many shops selling confections like kakigōri – shaved ice covered in your choice of many flavored syrups – refreshing and reviving you before resuming your walk. For something of a slightly higher class, Japanese tea shops are also quite abundant.
Finally, for those who crave immersion into these showcased eras, the best perspective is gained from the boat tours which operate on the Ono River. From these half-hour trips, one can take in the the views enjoyed by merchants of the region hundreds of years ago. Whichever way you choose to enjoy Sawara's riverside be sure to bring your sense of wonder, and a quality camera, as vintage views like these are rare sights.