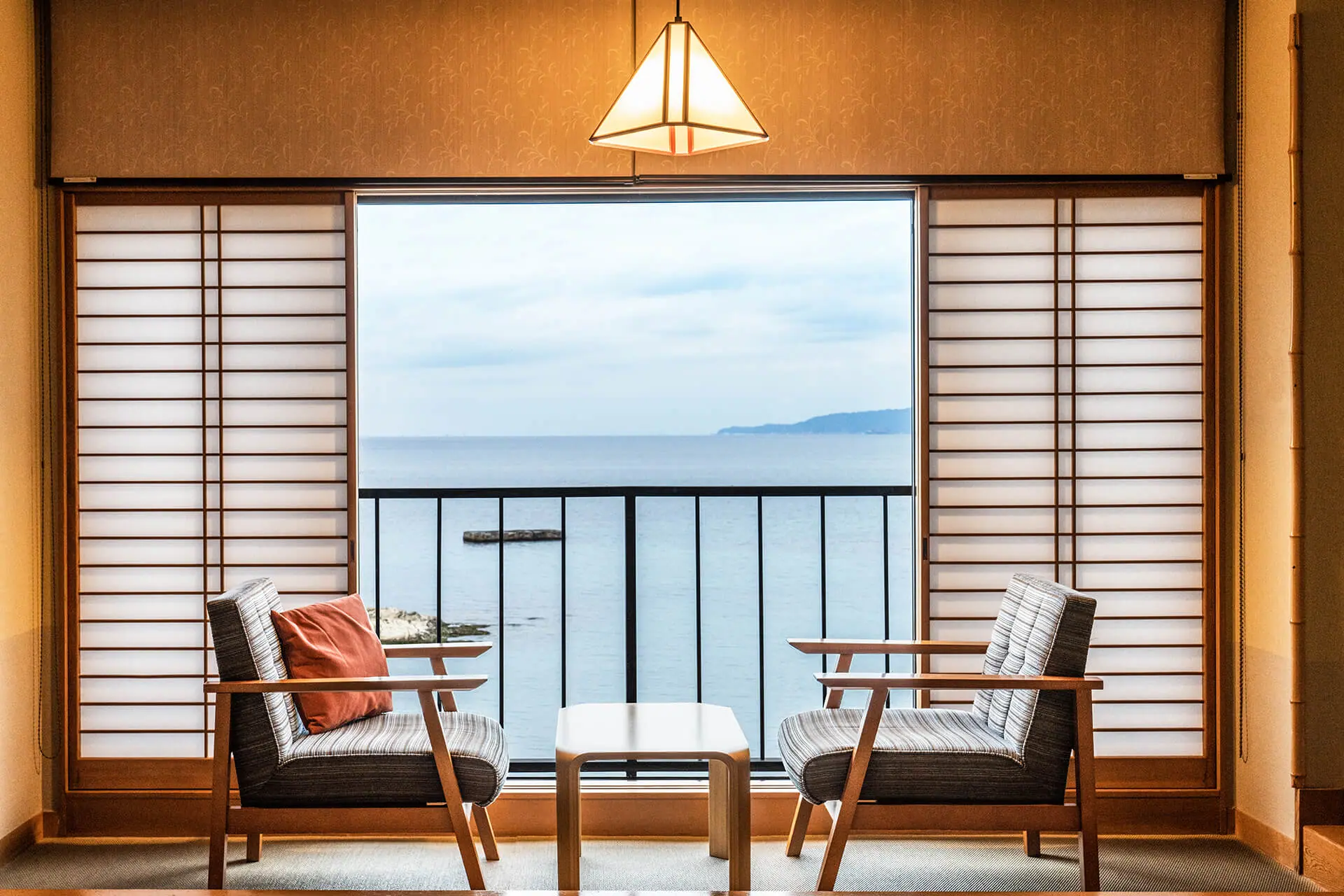 Hotel Sunosaki Kazenosho: Seaside Serenity
Things to Do | Visit Chiba | Latest update:2023/04/04
Kazenosho dubs itself as an inn on its English homepage, but is best described as a "ryokan" in Japanese – a traditional Japanese inn typically featuring tatami-matted rooms, communal baths, and other public areas where visitors may wear yukata, a light cotton kimono that's suited to summer or indoor usage. Although these amenities are typical for a Japanese ryokan, Kazenosho distinguishes itself as an upscale ryokan, offering a level of luxury one would expect from a first-class accommodation.
Traversing its sliding front doors, the elegant amber lighting and stately intricate woodworking of the entrance's far wall confirm that one has entered an inner sanctum of luxurious comfort. Just beyond, the lounge beckons with its exquisite opulent tatami flooring exuding a level of class and caliber that is apparent even to the untrained eye. Its furnishings appear to be crafted in a hybrid of antique and modern styles, supporting both the room's ambience, and the needs of the sitters themselves. The ocean views from the large-pane windows grace the far wall like a perfectly designed painting.
Most travelers in the league of this ryokan's clientele would concern themselves first and foremost with the quality of their onsen (hot spring) baths. As with most ryokan, Kazenosho possesses two bathing areas – separated by gender – which alternate after dinner; to give guests the chance to sample each one, as both vary slightly in design. The bathing area at the end of the hall stuns with its beauty as one crosses its threshold; designed with the highest of sense, dim lighting, cypress floors, brilliant craftsmanship, and the apex of sophistication. The adorable cypress stools in the shower stalls – taking a shower is mandatory before entering a Japanese bath – add yet another touch of class. All necessary amenities await one's needs nearby; fresh towels, razors, and all manner of quality toiletries.
This bathing area also possesses the most baths of the two; with two outdoor baths flanking the main room, and one to the left of the showers. The bath to the far-right possesses a floor of large smooth soothing stones, and is set in a quintessential Japanese garden; not large as to feel lost, and not too small as to feel cramped. The indoor bath, constructed of raw wood – as many traditional baths are – is lined with porous rock tiles which sooth the soles of your feet with their unique texture. Lastly, the outdoor bath to the left – a granite tub in the shape of a coffee cup – has its floor lined with smooth black stones. Bathers here can stand up and view the ocean while still maintaining privacy, thanks to the surrounding foliage and fencing. A fully private onsen room is also reservable, for a modest additional cost.
Every room was designed to provide impeccable views of the lagoon upon which this ryokan was built. The rooms are also outfitted in a traditional Japanese style; Shoji (translucent paper inner windows), superior tatami, and dignified classic and contemporary art set a peerless atmosphere. As an added bonus, traditional hand fans – crafted by local artisans – sit waiting to be used on a stand in every room. Also, true to traditional ryokan, guests are served both dinner and breakfast in their room or in the private dining room, upon request. A kimonoed chambermaid arrives at scheduled times to set up and stow your futon bedding. Additionally, guests are always free to enjoy nature by taking a stroll on the terrace below, and in the rock garden, wearing geta (Japanese wooden sandals) provided by Kazenosho. The adventurous may even stroll down to the beach.
Being the crowning glory of your stay at Sunosaki Kazenosho, and the reason why many cross the ocean to visit this island nation, the meals are exquisitely executed with the choicest ingredients and the finest finesse. A typical twelve-course dinner includes delicate hors d'oeuvres, scallops, a dreamlike platter of sashimi, your choice of wagyu steak or Japanese spiny lobster, and champagne jelly topped with cotton candy; all served with impeccable timing.
Breakfast is also stunning and satisfying; a one-course affair featuring items like a scrumptious salad with your selection of two handmade dressings, grilled fish, a bite-sized omelet, a sample of tuna sashimi, yogurt with fruit, Japanese pickles, and unlimited rice. Hot tea is served standard with the meals, and coffee is offered afterwards to help you start your day. One departs from Kazenosho exceptionally satisfied, yet harboring the hope of returning to its bliss.