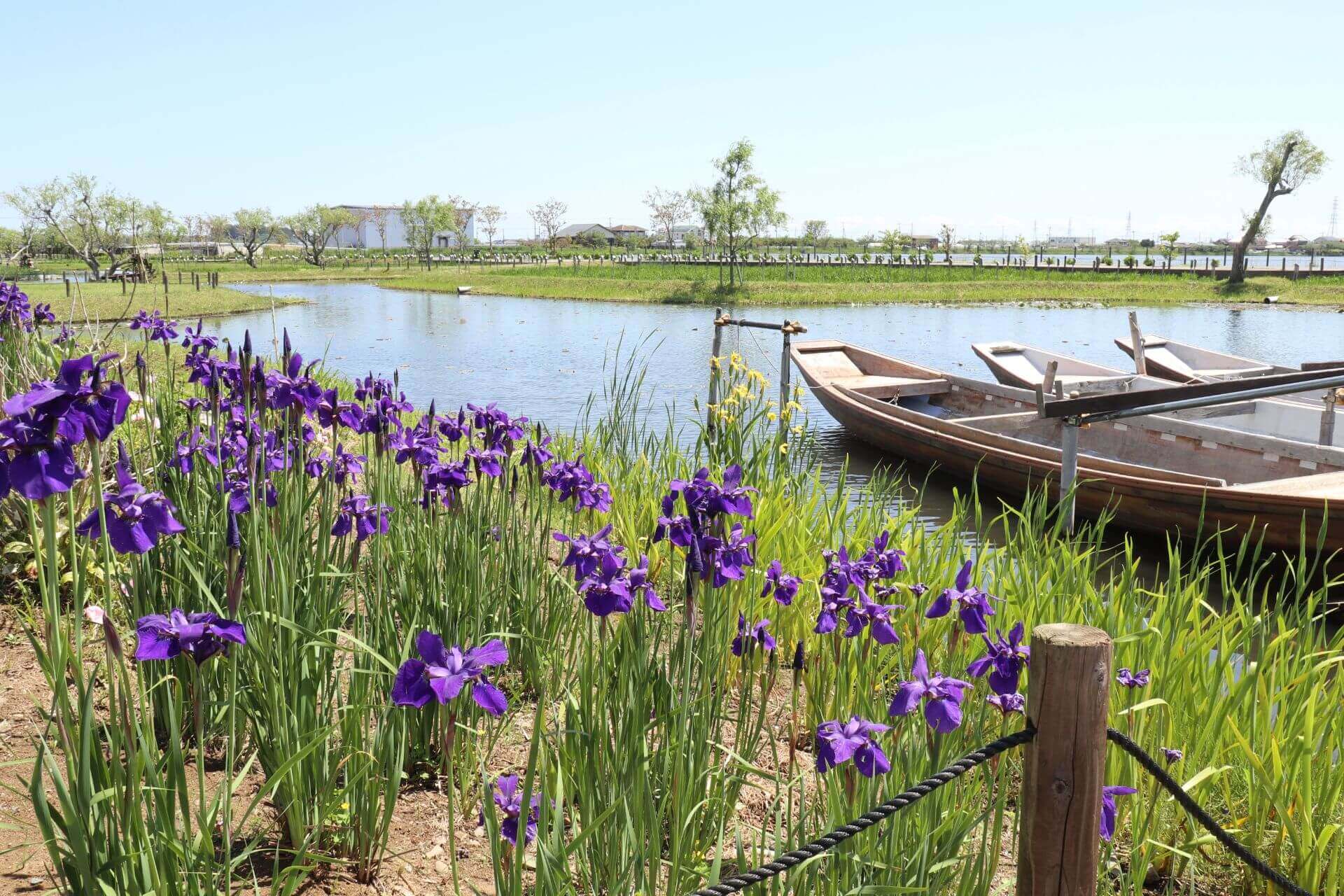 Ayame Park: The World of Water Flowers
Things to Do | Visit Chiba | Latest update:2023/04/04
Complex river systems are the veins coursing through Japan, providing transport, leisure, and the water resources to grow the rice that requires so much of it. The areas just next to rivers are rarely if ever developed heavily, and there is always space left along the riverbanks for nature to flourish, sports parks, and general sightseeing and enjoyment. Suigo is a Japanese word for where rivers converge to make scattered lagoons and lakes, and the suigo area near Katori City is perhaps the most famous in Japan. Just downstream of the massive Lake Kasumigaura, Suigo Sawara Ayame Park is famous for bringing together all the floral beauty the rivers in Japan have to offer.
The park sits near a confluence of rivers and lakes, providing hydration for the flowers that adorn the park grounds in beautifully patterned lines. Koi fish greet you in the inlets of water, which are also open for boat cruises along the flowerbeds. The rows of flowers wind through the park, creating excellent views from any angle, and the hills, arching bridges and lookout points let you admire the spectacle from higher up. See herons coming and going, taking long strides in search of small fish that make their way into the maze of vegetation.
Ayame is a common term for Japanese irises, and as the name of the park suggests, it is indeed the biggest attraction for flower enthusiasts here. There are over 400 distinct varieties from all across Japan, and some from abroad. Each strain is affectionately named by the original cultivator, and more than one are sure to capture you with their vivid beauty. While the iris season is quite short from May through June, the wettest season in Japan, a plethora of other native flowers color the park in nearly all seasons.
As the rainy season in Japan ends and summer sets in, the lotus leaves open up magnificently along the ponds of the lake to reveal their stunning white, pink, and yellow flowers within. The collection here is one of the best in Japan, with over 300 varieties, brushing colorful strokes over the park even after the iris season is finished. The dense summer air is much more pleasant by the river's edge, and the sounds of local fauna such as frogs and cicadas make it a surreal experience.
Roses bloom in fall, and also in early spring along with Japan's most famous flower, the cherry blossom. Aside from these, narcissus, wisteria, licorice, and more bloom in all corners of the park. Even if you miss the season of your favorite flower, you're still guaranteed to be wowed by the lush vegetation here next to the Tone River.