The area surrounding Narita International Airport offers numerous worthwhile ways to start or end your Japan trip. In fact, many travelers choose to combat the effects of jet-lag by spending their first night in Japan right by Narita Airport. Others make one last travel memory by stopping by as they pass through before their departing flights. To help visitors complete their travel itineraries, information about the towns and cities around the airport is displayed below, along with a link to our airport area hotel guide.
Get to Know the Locations Around Narita

Narita City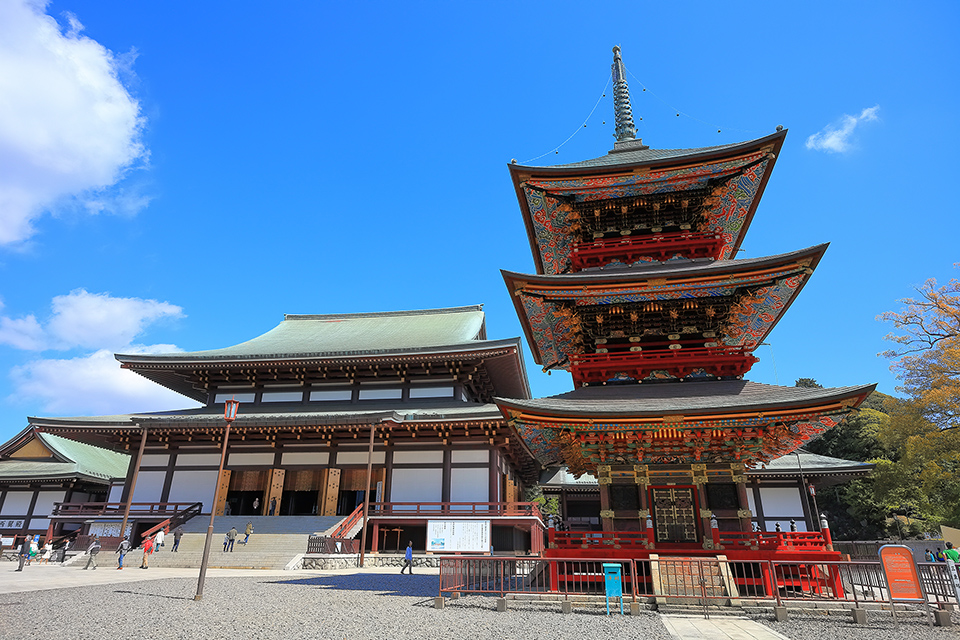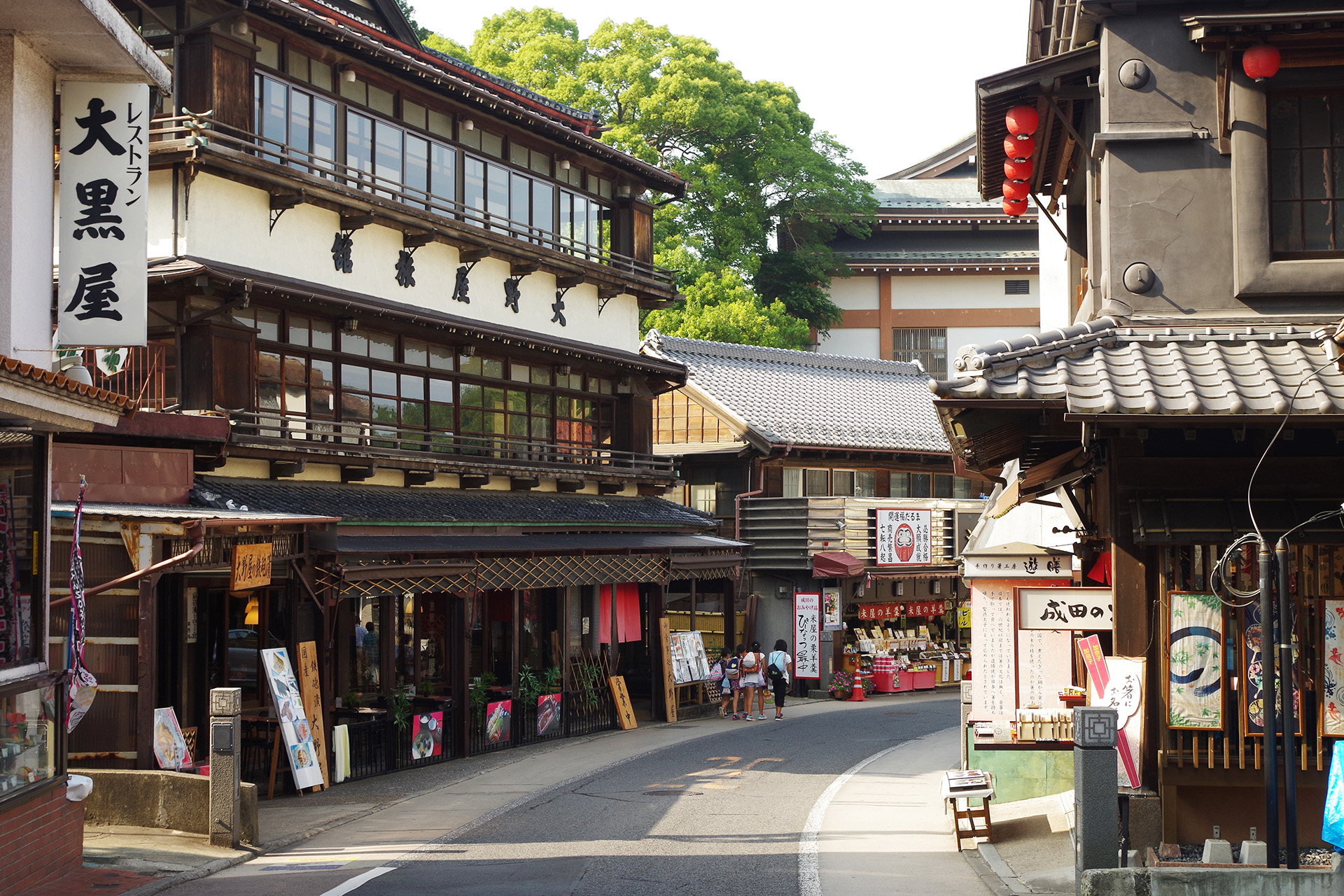 Thousands of travelers pass through Narita International Airport on a daily basis, making it Japan's number one hub of international travel. Just eight kilometers from the airport you'll find Narita's other famous destination, Naritasan Shinsho-ji Temple. This venerable temple has over 1,080 years of history, and its hallowed grounds attract over ten-million visitors per year! The temple also has a long-established connection to Kabuki, offering a window into the world of this classical Japanese performance art.
Today, the Omotesando Street leads visitors from Narita's two main train stations (JR Narita and Keisei-Narita) through the old temple town, and is lined with traditional shops and restaurants, including those serving the local specialty, unagi. Various events held here draw crowds throughout the year, including the New Year's festivities in January, the Taiko Drum Festival in April, the Gion Festival in July, and the Fall Foliage Festival in November.
Featured articles:
https://www.visitchiba.jp/things/naritasan-shinsho-ji-temple/
https://www.visitchiba.jp/things/narita/
Sakura City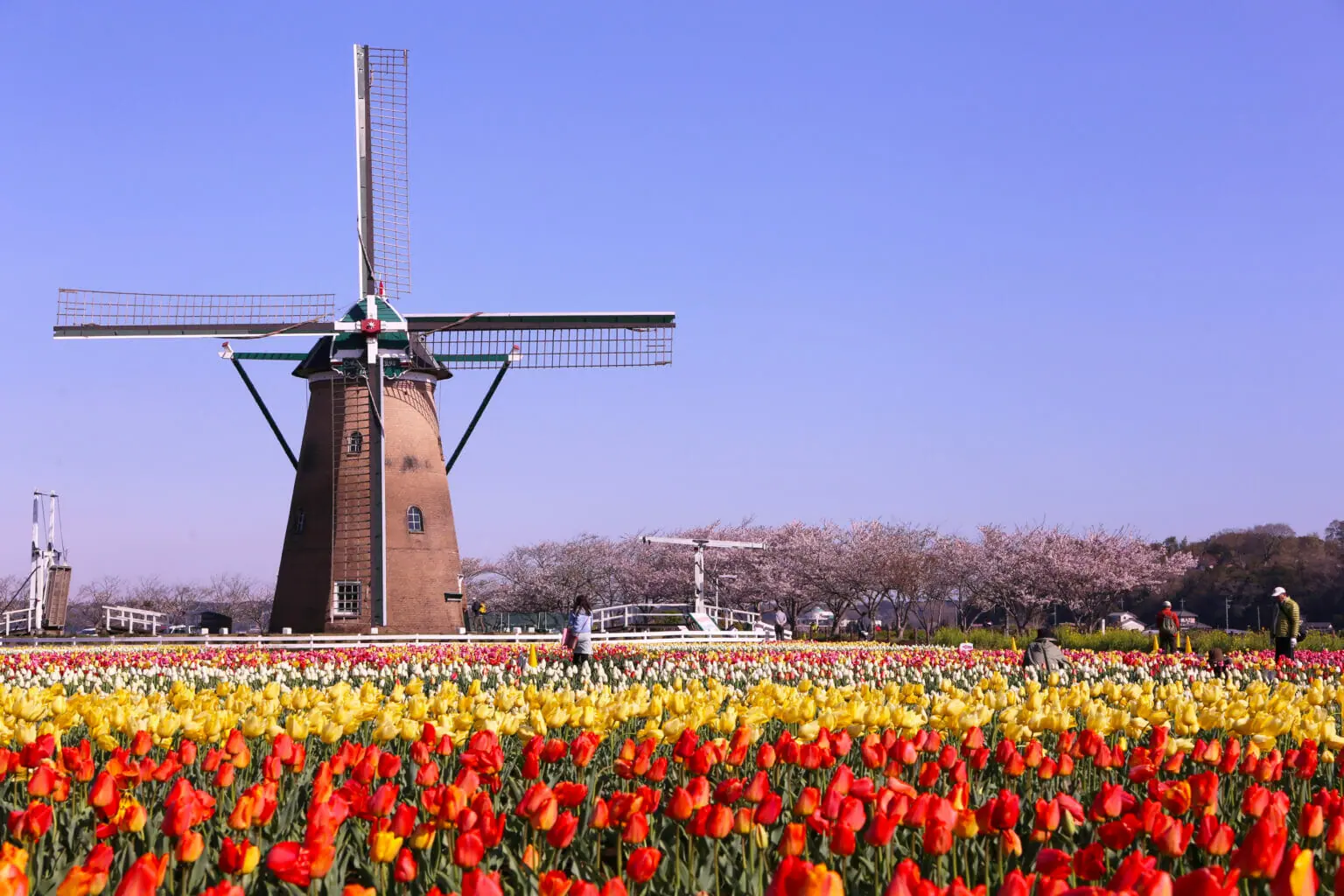 Much of Sakura's history was defined during the days of the samurai, and parts of this warrior past can still be experienced today. The Old Samurai Houses of Sakura are a popular tourist destination, with the journey there itself taking you through an old samurai path, known as the Hiyodorizaka Slope, which runs through a preserved bamboo forest. Nearby, the National Museum of Japanese History provides history buffs another chance to learn about Japan's rich past.
As Japan's ruling class began forging ties with the western world, Sakura became a center for relations with the Dutch. Today, this legacy still shapes sites around the city, particularly the Dutch-style windmill found at the Sakura Furusato Square. The square is a well-known gathering point for flower admirers, as scenes of the windmill standing alongside seasonal displays like tulips, sunflowers, and cosmos make it an idyllic floral photo spot!
Featured articles:
https://www.visitchiba.jp/spot/sakura-furusato-square/
https://www.visitchiba.jp/things/hiyodori-zaka-and-old-samurai-residences/
Sakae Town
The town of Sakae is home to Boso no Mura, an open-air museum known in English as "Boso Village." Visitors here can explore a recreation of a typical village–complete with an old townscape and country homesteads–that would have been found in the 19th century in Chiba. Old ways of life are on full display here, including craft making, traditional farming and food production, and reenactments of seasonal events. For further immersion into classical Japan, visitors can also take part in hands-on experience workshops. Stop by the Cosplay Annex to rent a ninja or samurai costume, or a kimono, to don while you stroll around the museum grounds, perfect for taking your Japan-trip photo memory!
Featured article:
https://www.visitchiba.jp/things/travel-to-a-day-in-the-life-of-japans-past/
Katori City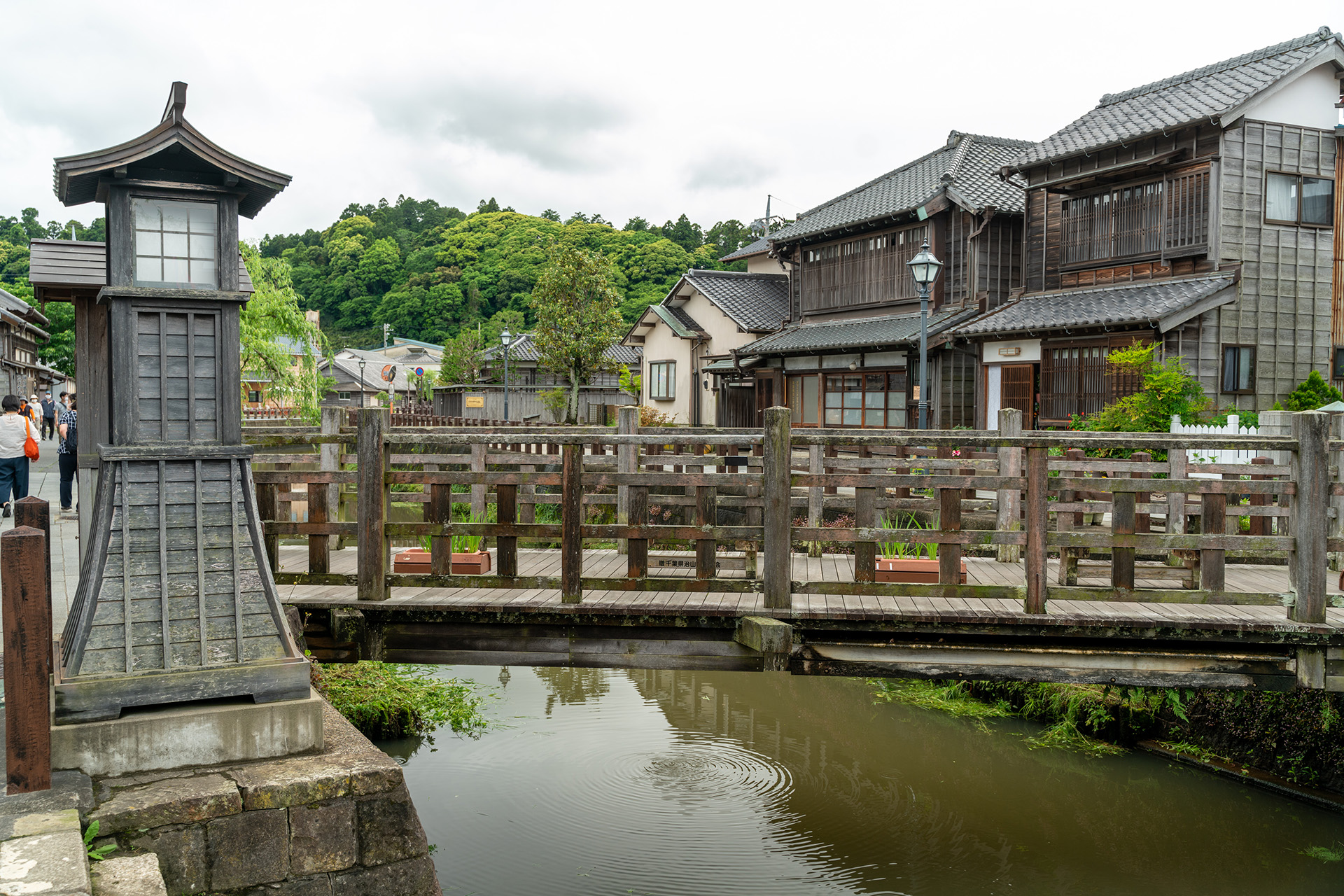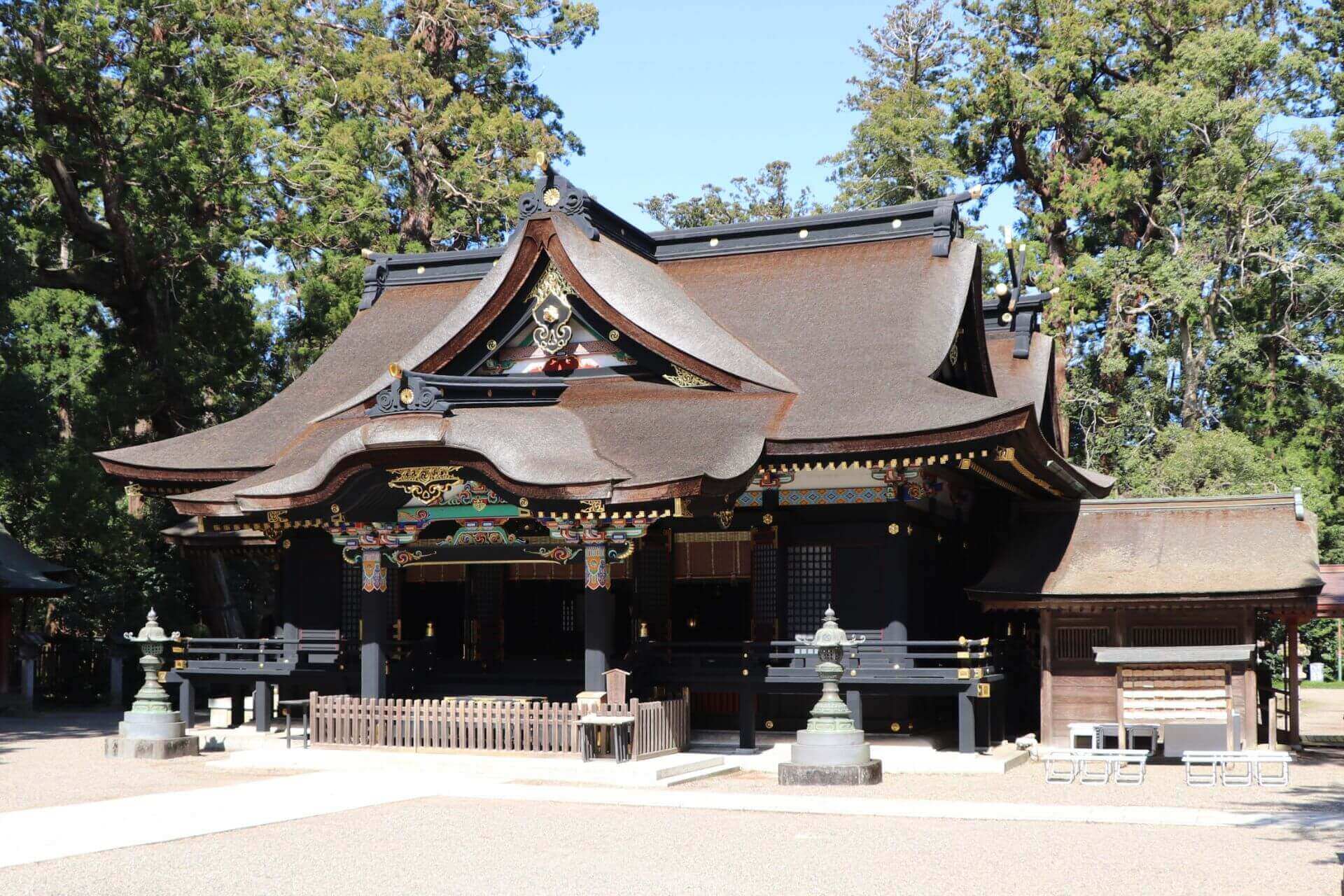 The district of Sawara, which is now part of present day Katori, was once one of the major hubs of commerce along the network of waterways that led to Edo, the former name of Tokyo. A section of the old town along the Ono River remains preserved to let this legacy live on, making it a popular sightseeing destination.
The city is also home to Katori Shrine, one of the oldest shrines in Japan, which boasts a history of over 2600 years. Today the grounds are home to centuries-old structures that are Designated Important Cultural Properties of Japan, and a long-preserved forest that is a Designated Natural Monument of Chiba Prefecture.
Katori also offers a chance to enjoy nature at Suigo Sawara Ayame Park, which features seasonal flower displays, most notably the over 400 varieties of irises that bloom in June. From March through November (or by special reservation from December through February), visitors can also tour this riverside park with a ride on a traditional row boat.
Featured article:
https://www.visitchiba.jp/things/sawara-riverside-timeslip/
Shibayama Town
Numerous kofun, ancient Japanese tombs, and the decorative haniwa figures that adorned them, were found here in the town of Shibayama. Visitors can see the artifacts unearthed here and exhibits related to ancient ways of life at the Shibayama Kofun and Haniwa Museum. Haniwa figures can also be seen along the local roads, and the Haniwa Festival is held here every fall.
Shibayama's location along the edges of Narita Airport's runways also attracts fans of aviation. The Museum of Aeronautical Sciences features exhibits related to the history of flight, and visitors can even try their hand at the museum's flight simulators. For an only-in-Japan plane spotting experience, complete your Shibayama itinerary with a visit to the Sora no Yu Spa Resort where you can watch planes taking off and landing while you bathe in an outdoor hot spring bath!
Featured Articles:
https://www.visitchiba.jp/things/explore-your-interest-in-airplanes-while-in-narita/
https://www.visitchiba.jp/things/rest-relax-and-rejuvenate-near-narita-airport/