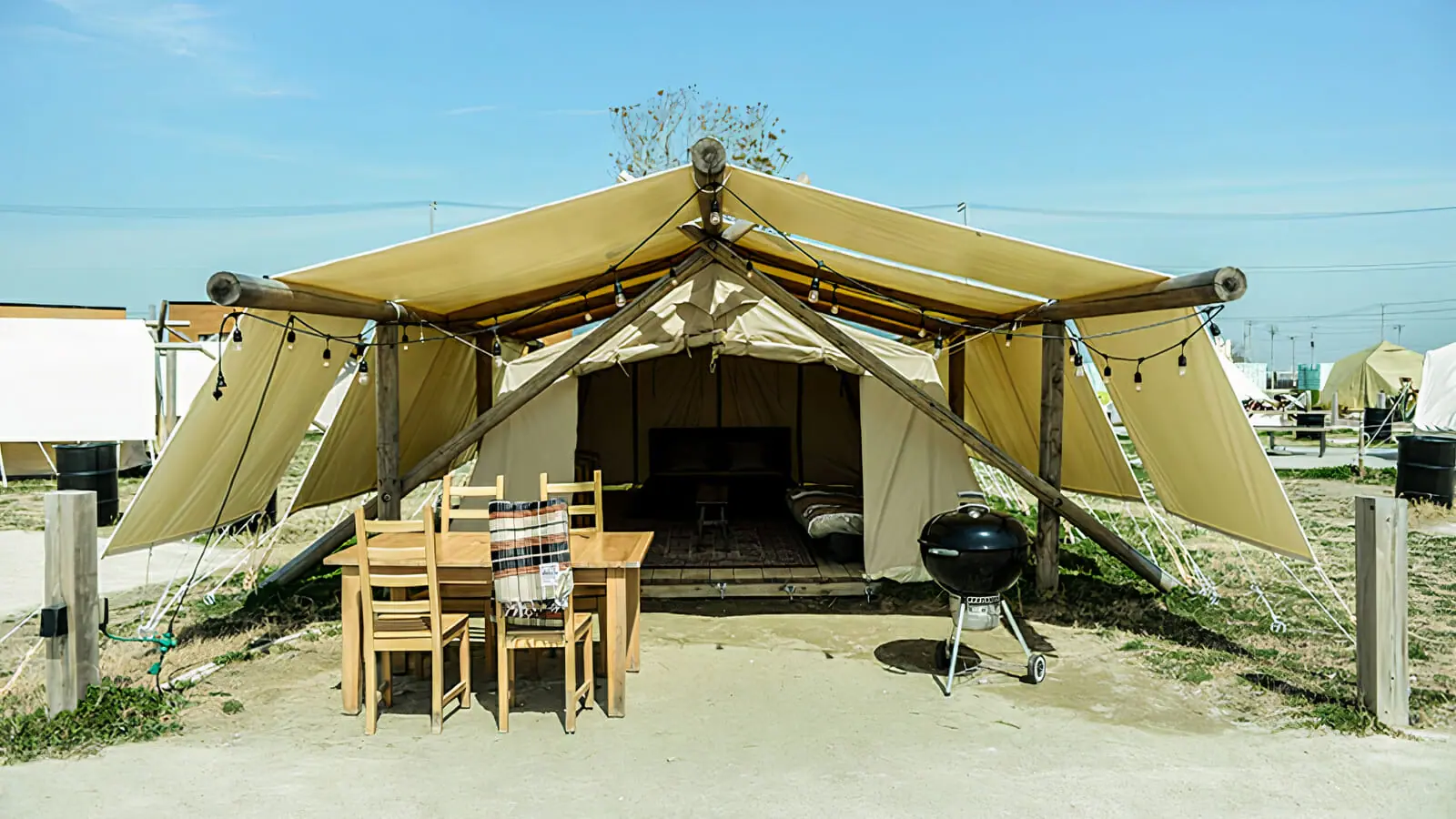 Glamping in Japan: WILD BEACH is ready for you to let loose and relax
Things to Do | Visit Chiba | Latest update:2023/03/30
"Glamping" has taken off in Japan as an alternative to traditional, arduous camping. Glamping removes setup and cleanup, boiling down the process to what you really want to do: hang out in and around your tent or trailer, eat meals cooked over an open fire, and spend the night outdoors. WILD BEACH offers plans for both barbecues throughout the day, as well as overnight plans in furnished tents of varying sizes, stylish trailers, and small lodge units with balconies. You can order food and drinks through the restaurant, or if you're staying over, bring as much of your own as you think you'll need.
You'll enter WILD BEACH through the restaurant to the "beach" area; a wide-open expanse of white sand for you to enjoy patio barbecues and meals, and of course kick off your shoes. The campground spans off to the side of the beach, encompassing the different zones.
Thick canvas tents line the sides of the campground, and are resilient to any and all weather conditions. The rugged exteriors of the tents are deceiving though, because inside you'll find a fully furnished and clean living space, with the lanterns and fluffy pillows you'll need to sleep soundly (power outlets too, of course). The staff is a bit "hands off", which is exactly what you want for camping, so the idea is to get set up in your spot, make sure you have what you need, then hunker down for the night with campfires, barbecues, and really whatever you want; read, drink, sing, watch your tablet. Such is the glory of camping.
Now, you're probably wondering what kind of food you'll have. Generally, the barbecue plans are quality cuts of pork, beef, and chicken, as well as an assortment of veggies. You'll be grilling your meat yourself, so you'll of course have gloves, tongs, and serving plates for when the food is ready to eat. Feel free also to bring any of your own food, drinks, and snacks too!
Naturally, the location is also part of the appeal here. WILD BEACH is right next to the Mitsui Outlet Park Kisarazu, as well as a small amusement park with rides. Do some shopping earlier in the day at one of the countless shops, or take a ride on the Ferris wheel to get excellent views of Tokyo Bay just off to the side. As you'd expect with a name like WILD BEACH, the sea is just a close walk away, so enjoy strolling along the coastline if you feel like getting out and about.
If you find yourself coming to Chiba and want to give camping a shot, "glamping" at WILD BEACH is a great place to start. Camping on your own is nice, but it requires a lot of gear, and moreover experience and preparation. Glamping is a good introduction to those new to camping, but also a nice break for seasoned campers who may not have the time or capacity to bring all the necessary equipment.