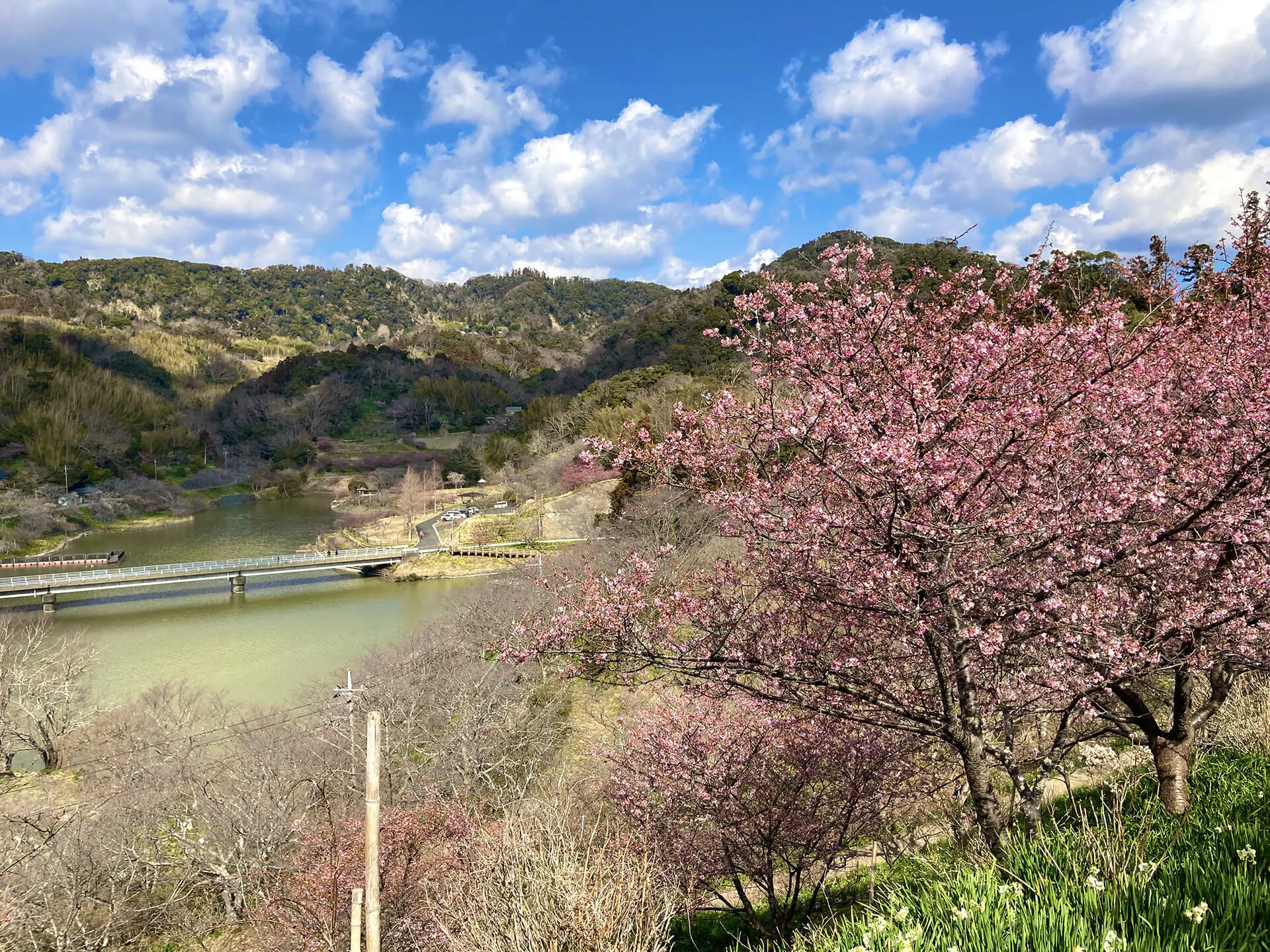 The treasured Kawazu-zakura trees lead the bloom in early Spring
Things to Do | Visit Chiba | Latest update:2023/03/30
The cherry blossom bloom is one of the most celebrated times of the year in Japan, and it starts earlier the further south you travel. The lower part of Chiba, which is accessible by train from Tokyo, is a great place to go if you find yourself wanting to see the cherry blossoms in the earliest weeks of spring. While you generally have to wait until the end of March to see cherry blossoms near Tokyo, southern Chiba starts seeing blooms much earlier. In fact, starting early as mid-February, you'll find early-blooming cherry trees known as the "Kawazu-zakura" starting to blossom and show their vibrant colors. We want to introduce this special cherry blossom variety to you, as well as suggest a quaint location to go see these trees. Walking or picnicking, hanami (cherry blossom viewing) is an enjoyable experience no matter how many times you do it, so make this your first stop of the season.
Kawazu-zakura Intro
This variety of cherry blossom originated in the Kawazu area of Shizuoka, an area rich in landscape and water, also famous for its waterfalls. The bloom is very early with this variety, producing a more vivid pink color, and large individual petals. In fact, this type is treasured to the extent that the top half of the Kawazu trees are sometimes cut off and "joined" with the bases of other varieties using bonding techniques. This makes it possible to spread this variety around Japan faster than doing a full transplant, or planting new saplings.
Sakuma Dam and the Hota River
Walking down the winding Hota River in Kyonan Town, Chiba, will show give you a tour of the early bloom of Kawazu cherry blossoms. This is one of the few rivers with such an impressive collection of these trees, as a mandate in the late 1990's prevented new trees from being planted on riversides. It provides a great starting point for a cherry blossom adventure. Another main objective however for flower seekers is the lake area further south, formed from the Sakuma Dam.
The Sakuma Dam Shinsui Park is a lesser known gem of cherry blossom viewing, and is surrounded by sprawling walking paths and nice places for a picnic. Hike the perimeter of the lake for panoramic views of the area, leading up to the one of the highest points around the lake. The small rest areas, humble souvenir shops and cafes make this spot a remote and beautiful hanami getaway.
Hanami in Chiba
While it's possible to do hanami cherry blossom viewing all over the Kanto region, it's very rewarding to make the flowers not only a single event, but a general theme of your spring. Travel around to different parks, lakes, and temples to see the stunning cherry blossom trees in various environments. Southern Chiba sees an early bloom, and if you take the trip, you can treat yourself to a day enjoying the flowers much earlier than a lot of people who wait to pack themselves into the most famous spots in Tokyo such as Yoyogi Park or Ueno Park. Come down to Chiba for a mellow experience, ahead of the crowds.