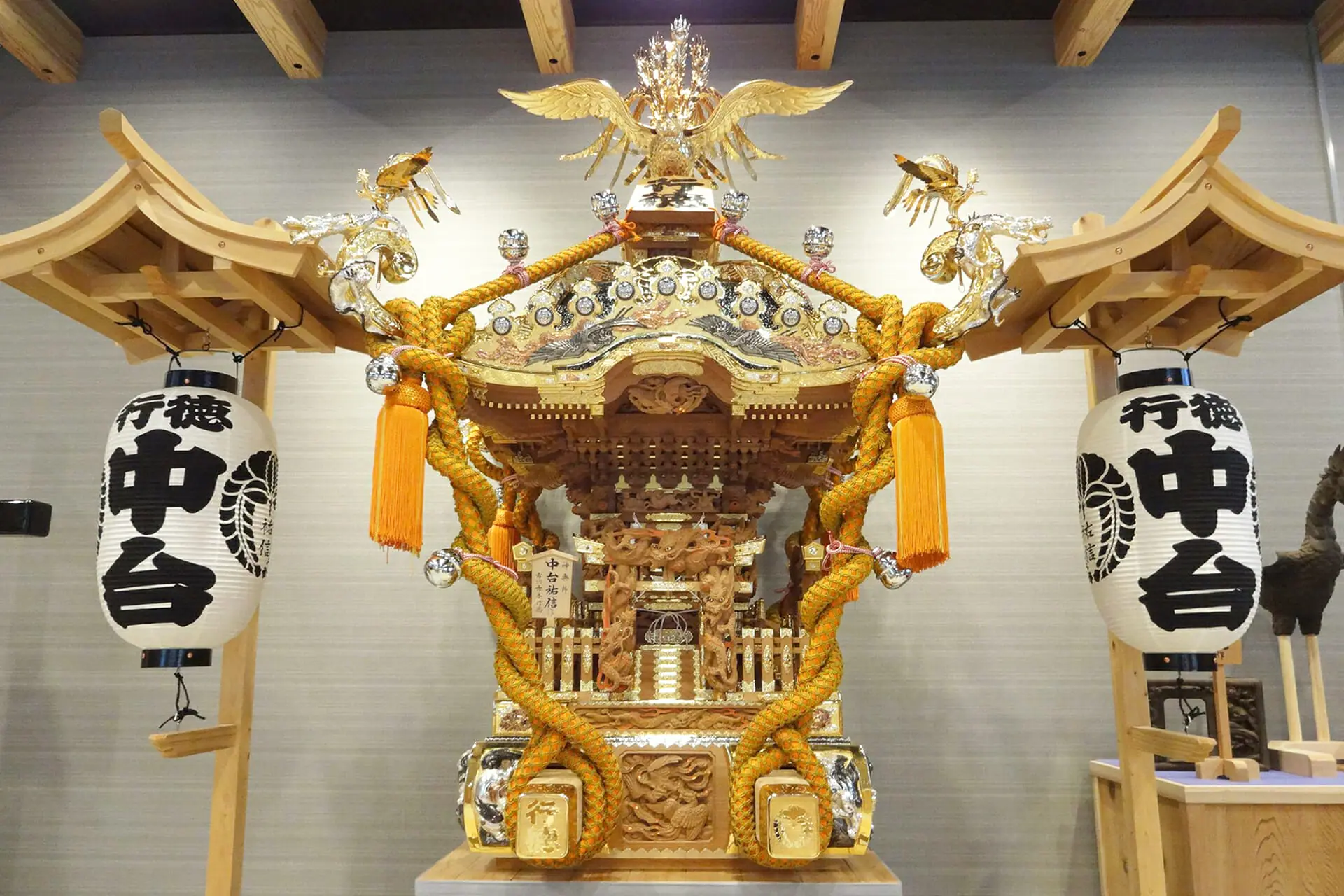 Nakadai Seisakusho: Preserving Tradition Through Craftsmanship
Things to Do | Visit Chiba | Latest update:2023/03/30
Matsuri, traditional Japanese festivals, have long served an important role in strengthening communal bonds in localities throughout Japan. Not only do these festivals help us connect with each other, they also help us connect with our past. Even today, festival goers can still experience a ritual that has lasted through the centuries, the carrying of o-mikoshi. As part of this tradition, participants chant and march down the street while hoisting mikoshi, portable shrines that were built to transport the gods.
Nakadai Seisakusho is a company here in Chiba that manufactures mikoshi from start-to-finish, the only one of its kind around Tokyo. This family-owned business has been making mikoshi here in the Gyotoku District of Chiba's Ichikawa City for over 150 years. This part of Chiba sits on the northern edge of Tokyo Bay, bordering Tokyo. The company's origins date back to the Edo period, when Tokyo was known as Edo. Gyotoku had been known by then as an area along Edo Bay for harvesting salt, and eventually a network of waterways was built through here to transport salt and other goods to Edo. As more and more tradespeople began settling in the area, Gyotoku became an influential hub of commerce.
Gyotoku also became a region with religious and cultural significance, as it served as a gateway between Edo and the venerable Narita-san Shinsho-ji Temple about fifty kilometers to the east. Temples and shrines began being built all over the area, giving Gyotoku a reputation as an otera machi, or temple town. The confluence of trade, craftspeople, and religion is what gave rise to companies like Nakadai Seisakusho. Five generations later, and Hiroshi Nakadai keeps this legacy in mind as he runs the family business. Mr. Nakadai explained, "Festivals inspire pride in communities and build ties between the generations. For me, it's not only about running a business, it's also about preserving culture."
Nakadai Seisakusho is in a unique position to keep the traditions of building mikoshi alive thanks to its team of skilled craftspeople. The mikoshi manufacturing process can be divided into six stages, and each step involves utilizing unique skillsets and expertise. Selecting the wood requires a discerning eye for high-quality wood, and then the wood must be carefully shaped to specification. Other artisans carve elaborate designs into the wood, often depicting the animals and beasts of Japanese mythology. Carefully crafted metal kazari decorations are then made to be fitted onto the wooden frame. Next, the lacquering process gives mikoshi their smooth and elegant shines. Finally, gold foil gives the mikoshi their final touch of opulence, as artisans apply thin and delicate gold foil strips one-by-one to the mikoshi's surface. By employing craftspeople who specialize in their respective stage of the manufacturing process, Nakadai Seisakusho can also repair old mikoshi, some made as long as two centuries ago.
In 2018, in an effort to display the fruits of this laborious manufacturing process, Mr. Nakadai opened the Gyotoku Mikoshi Museum, the first mikoshi museum in the world, next to the Nakadai Seisakusho workshop. The street-side museum gives visitors a chance to get an up-close view of mikoshi, catch a rare look at their interior components, and survey the specialty tools used in the manufacturing process. To actually see the manufacturing process itself, tours of the workshop are also available for small groups, and reservations can be made in English here: mikoshiya.com/en/visit/
A chance to experience a matsuri should be on every traveler's itinerary when they visit Japan. However, it may not always be possible to plan your visit in order to coincide with a local festival. Even if you do, it is rare for visitors to get a behind the scenes look at what goes into creating the elaborate matsuri rituals. The Gyotoku Mikoshi Museum and Nakadai Seisakusho workshop tours provide visitors to the Tokyo area―even those just passing through on their way to or from Narita Airport―a chance to get an intimate look at the time-honored festival tradition of mikoshi. Not only can you learn about history at Nakadai, you can have a one-of-a-kind, authentic, and immersive experience, becoming part of the effort to preserve this tradition for future generations.