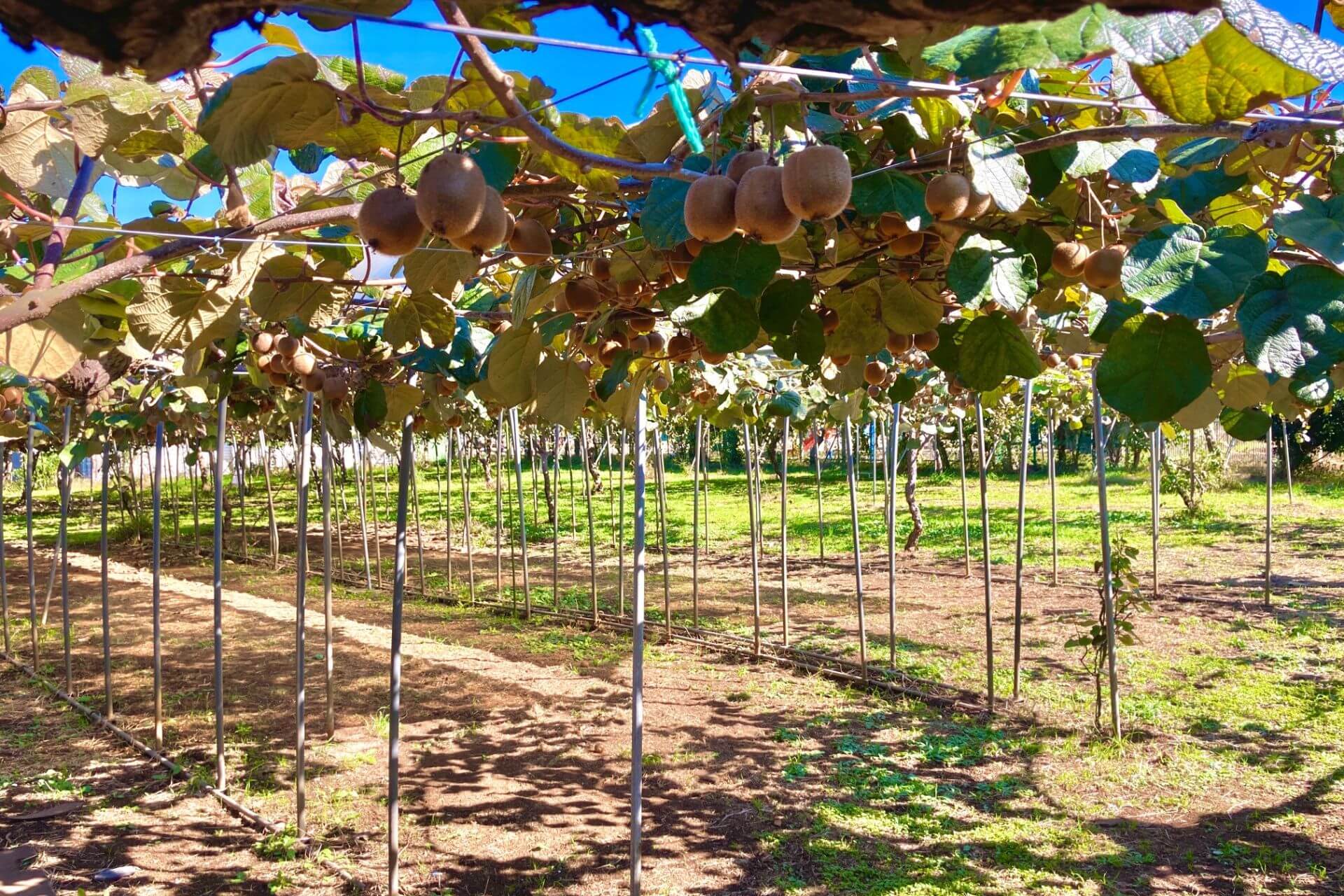 Mizushiro Orchard-Garden: fruit, farming, and a feast to top it off
Things to Do | Visit Chiba | Latest update:2023/04/04
Chiba has an abundance of fruitful farmland, and is a major producer of many crops. Fruits and vegetables alike, you can expect to enjoy healthy and tasty delights in the many cities of Chiba. The Tokatsu Area in northwest Chiba, home of Kashiwa and Nagareyama cities, is among Chiba's most famous areas for farming. We visited an orchard called Mizushiro Orchard-Garden, located here on the Nagareyama side of the Nagareyama-Kashiwa border.
Mizushiro Orchard-Garden is famous for fruit, as the name suggests, but you'll also find a variety of vegetables here. Surprisingly, it is known as a great place to come and pick kiwi fruits. The kiwi trees intertwine with a metal awning that stretches over the area, and you can choose which fruits to pluck from above at about head height. There were different varieties of kiwi: the typical green one with fur on the outside, and a red variety as well. At about 1000 yen for a kilogram of kiwis, this is both a fun and frugal way to get your fruit. Many other orchards across Chiba also offer similar experiences, but with different fruits such as pears and strawberries.
Another exciting activity that many come for is Imo-hori, digging your own potatoes. November is the season for sweet potatoes in Japan, so that's what we were aiming for at Mizushiro. The potatoes are planted deep under long rows of soil, and the stalks are visible from above. Put on some work gloves, and start digging! You don't want to simply yank on the stalk to get the potato, as you risk snapping it if it is a thin one. Carefully feel the position of the potato, and loosen the soil around it to unearth it smoothly.
The potatoes vary in shape and size, and it's quite exciting to see just what kind of potato you'll get next. It's also very addicting, and you'll find yourself going again and again to find bigger and more shapely potatoes. The potatoes need time to mature out of the ground, so you actually can't cut them up and eat them right away. However, they'll have plenty for sale at the shop near the entrance, ripe and ready to eat.
After being surrounded by nature's bounty, you'll naturally want to indulge in some of it! Mizushiro Orchard-Garden has a large barbecue area which you can use to unwind after some time on the farm. This isn't a full-service barbecue park, as they only provide the grill, cooking tools, and space, so you'll be continuing the theme of "do it yourself". You can bring in any food and drinks you want from the supermarket across the street, or purchase veggies from the orchard's wholesale shop.
The barbecues for rent are large, gas-powered skillets, making it easy for everyone to pitch in with cooking. Since you won't be using coals, you can start right away, and since it's a skillet, you won't have to worry about food falling through the grill. Stir-fry some meat or noodles on the skillet along with fresh veggies, and better yet, have some of the fruit you picked as a side dish as well!
Come pick, prepare, and enjoy the fruits of Chiba at your leisure.