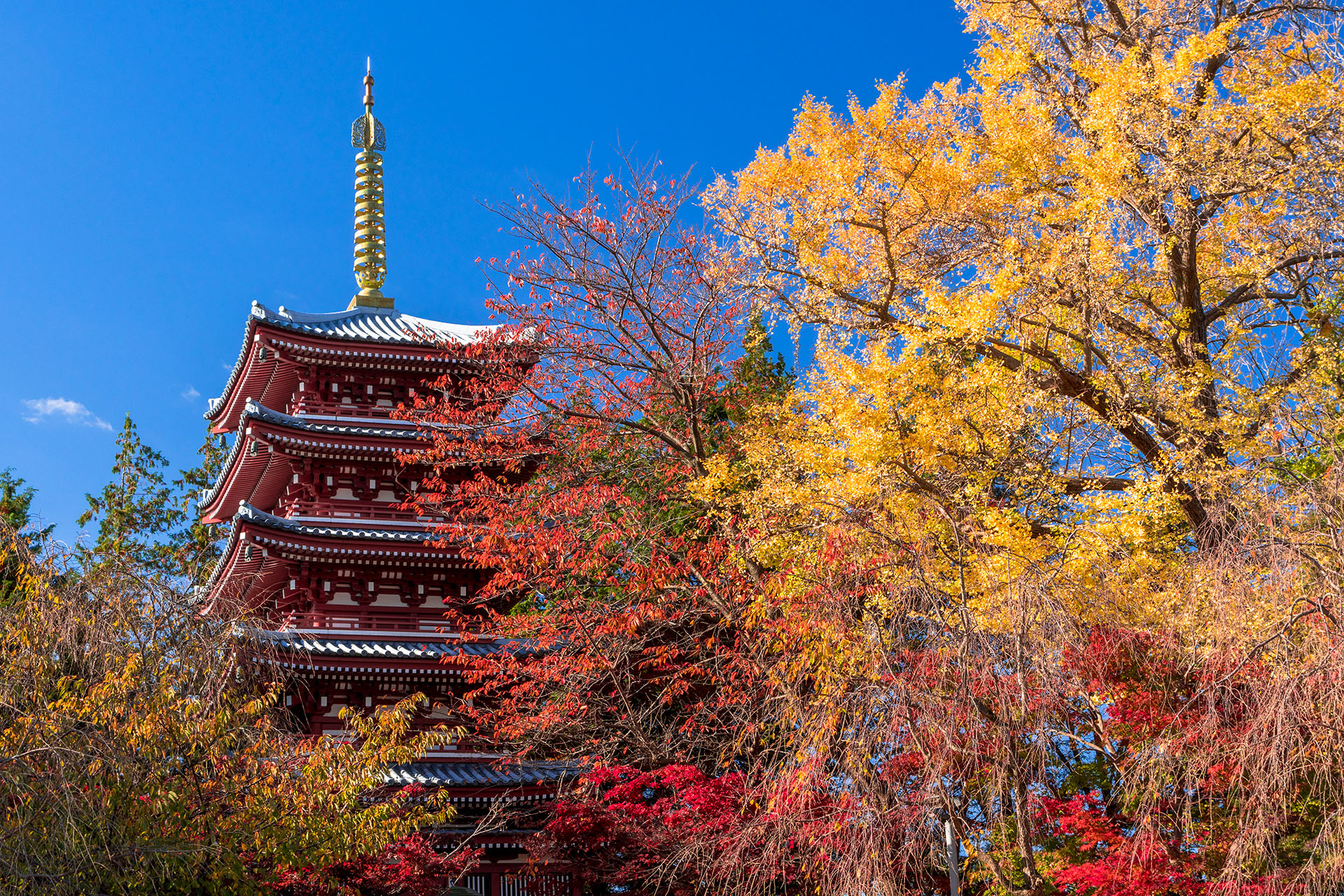 Matsudo City: Sample Day Trip Itinerary
Things to Do | Visit Chiba | Latest update:2023/10/02
Matsudo City is located right along Chiba's border with Tokyo, making it a great day trip destination from Tokyo and Chiba alike. The city offers visitors an historic "flower" temple, a preserved 19th century residence, and one of Japan's most famous ramen shops. Since Matsudo is just outside Tokyo, it's considered a bit of a hidden gem, allowing you to avoid crowds of tourists and explore an authentic side to Japan, without having to venture too far. The Visit Chiba staff took a trip to Matsudo and created this model day trip itinerary in order to help guide visitors around this charming city.
Hondo-ji Temple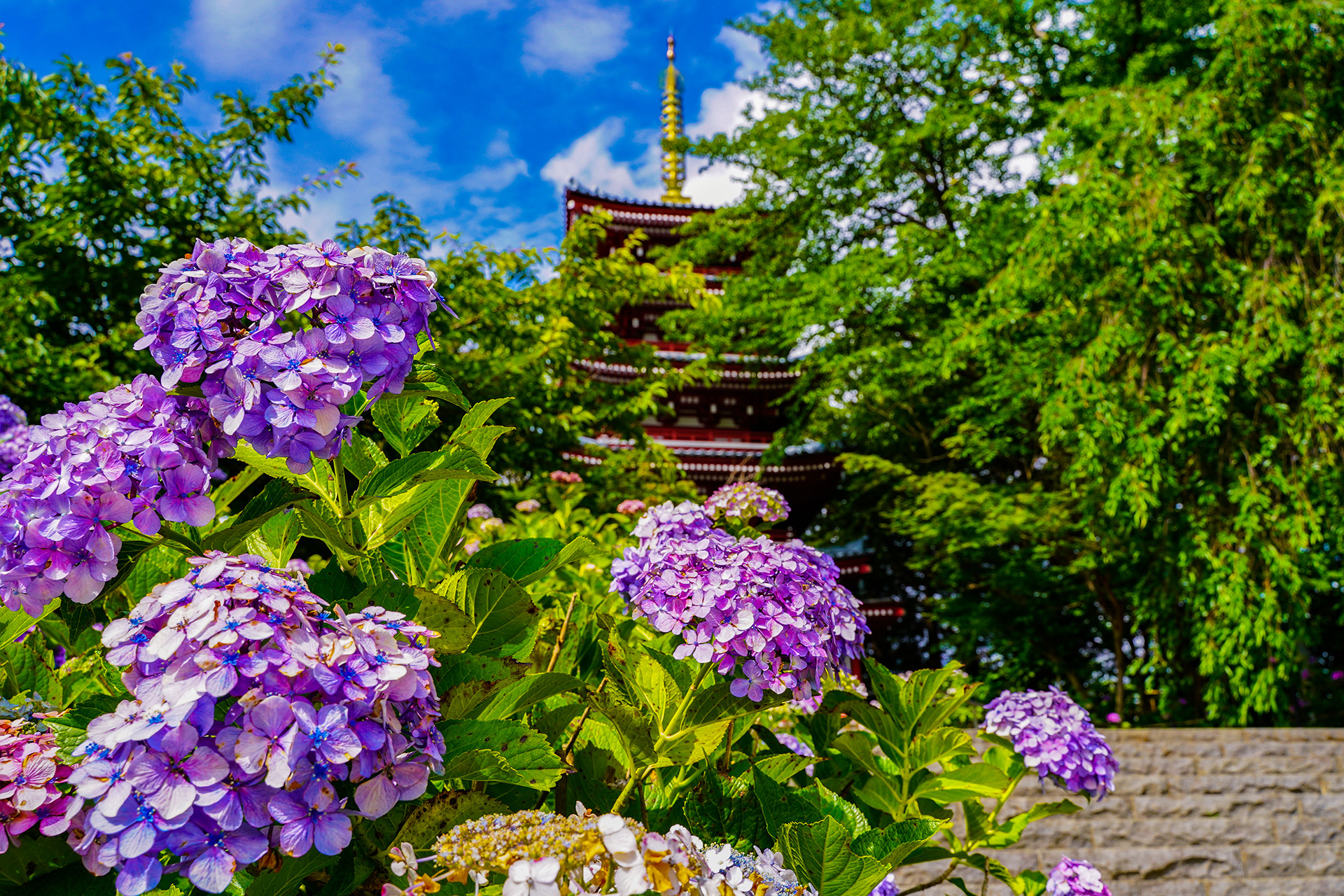 We started our day in Matsudo from Kita-Kogane Station, en route to Hondo-ji Temple. Hondo-ji Temple has over 740 years of history, having been founded as one of the major Buddhist temples of the Kamakura Period. The road leading to the temple starts just outside the north gate of the station, and is lined with various restaurants and local shops. The small open-air market just outside the temple is a great place to sample some locally made treats.
After about a ten-minute walk down the temple road, you'll be greeted by the temple's red main gate. Walk under the gate and down the walkway through a tunnel of maple trees toward the main entrance of the temple grounds. As soon as you enter, you'll be treated to a view of a towering five-story pagoda. The walking paths will take you through the temple's serene gardens, with different Buddhist sites and halls dotting the temple grounds at each turn.
Hondo-ji Temple also goes by the nickname "hydrangea temple" because of the estimated 50,000 hydrangeas that bloom there every June. We visited just in time to catch the hydrangea festival, but any time of year is a great time to plan a trip to Hondo-ji. The temple is known as a spot for all four seasons, from the cherry blossoms in early spring to the red maple and yellow ginkgo leaves of fall.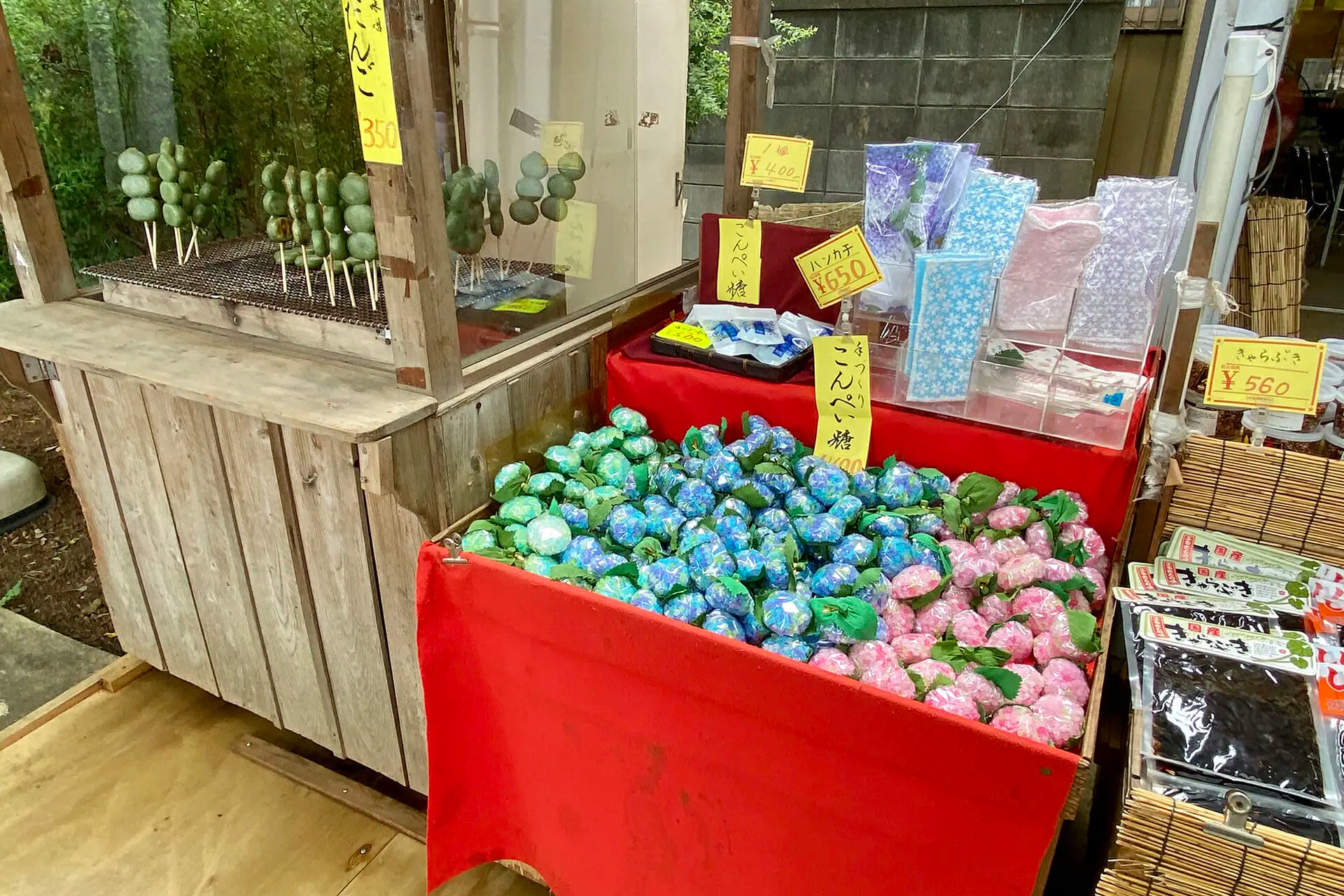 A small shop on the street leading to the temple.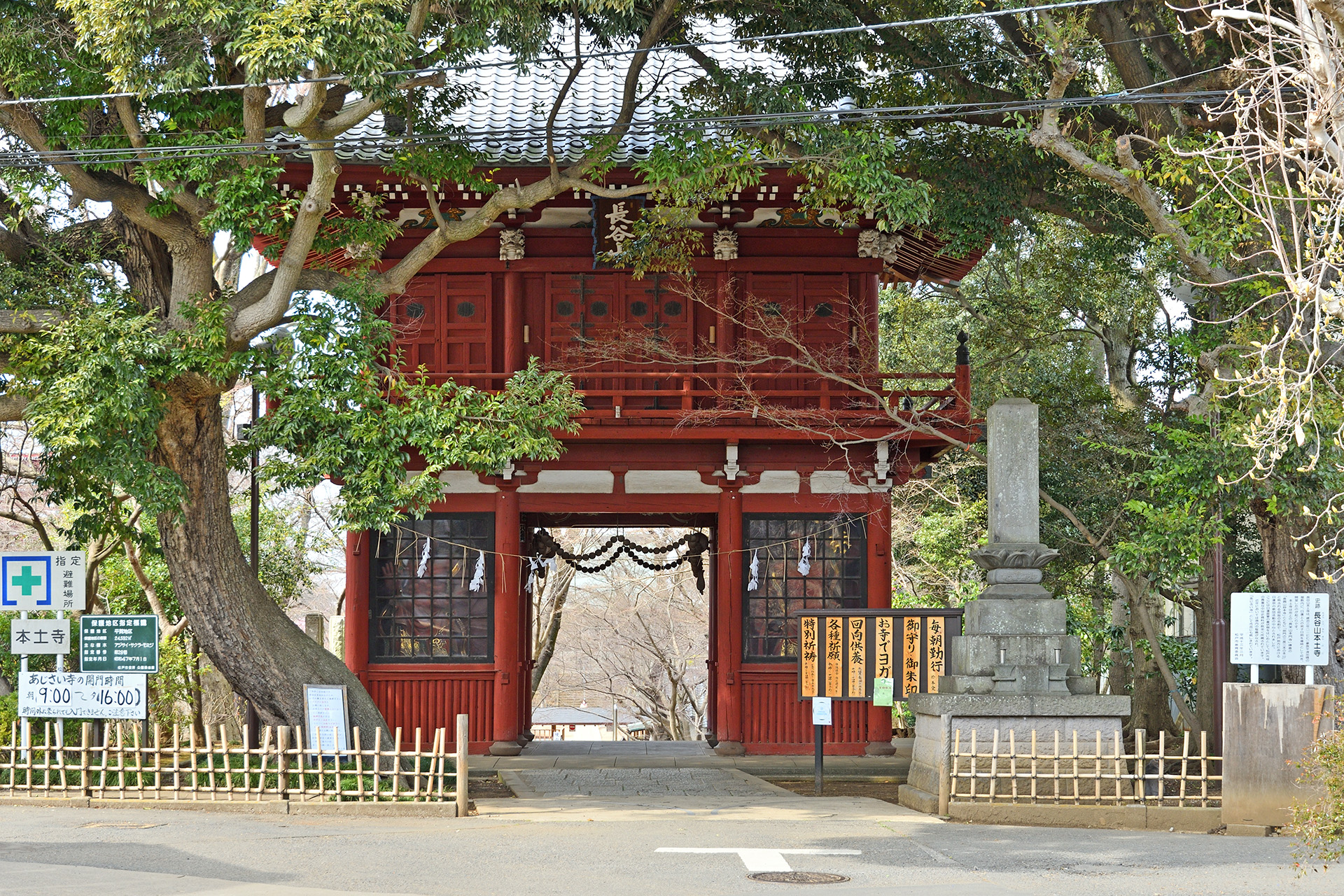 The temple's red main gate.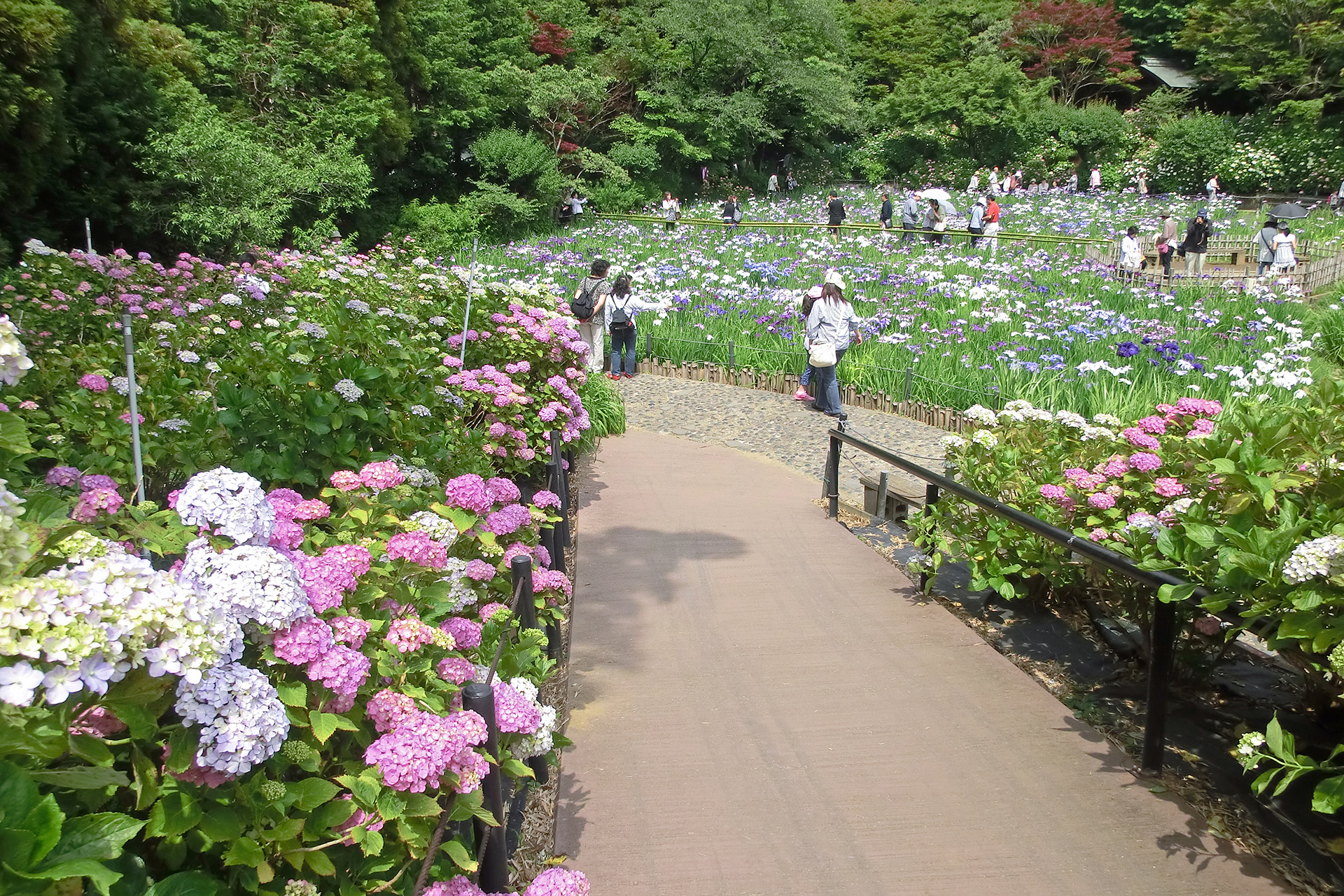 Hydrangeas blooming alongside a garden of irises in June.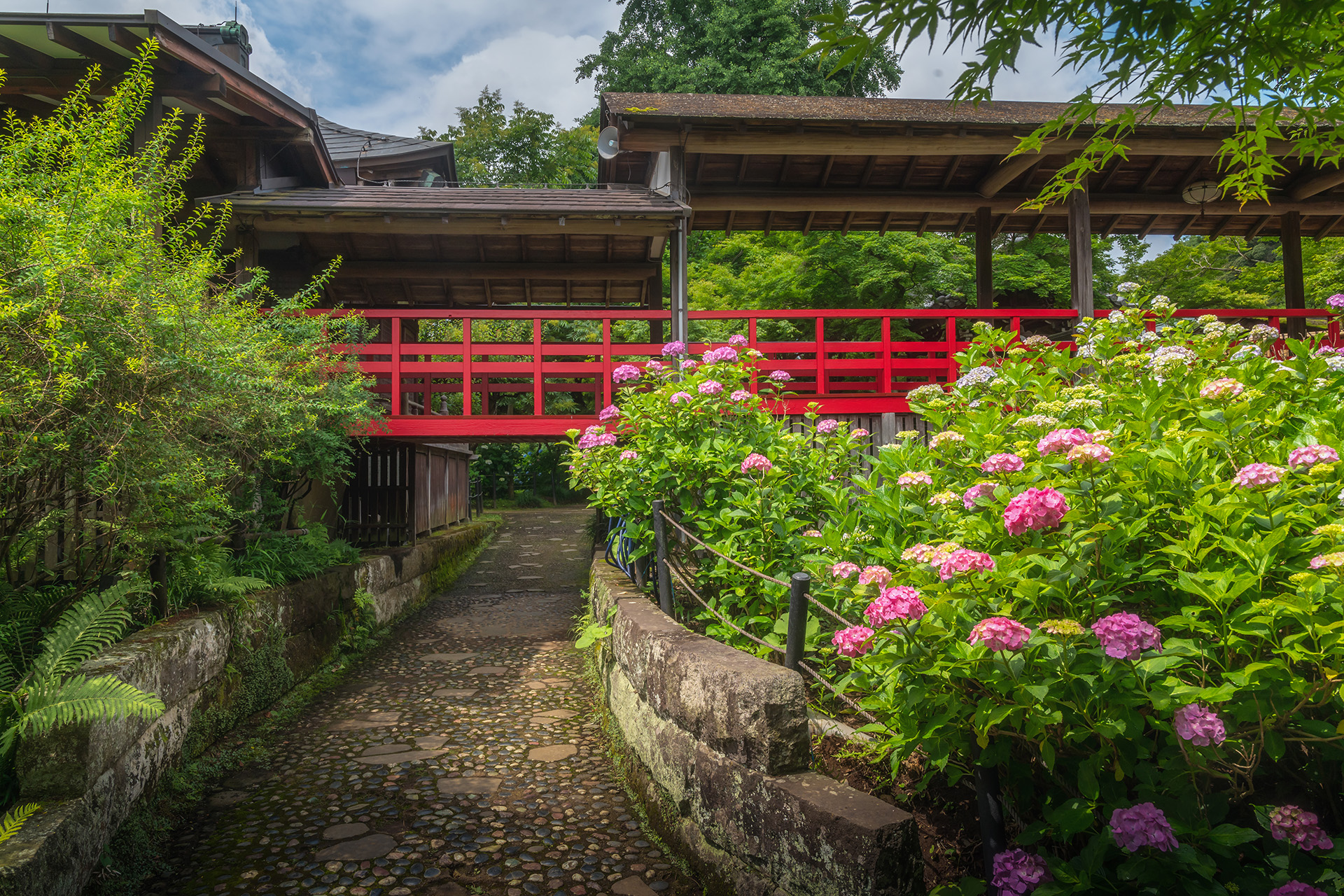 A walking path through the temple grounds.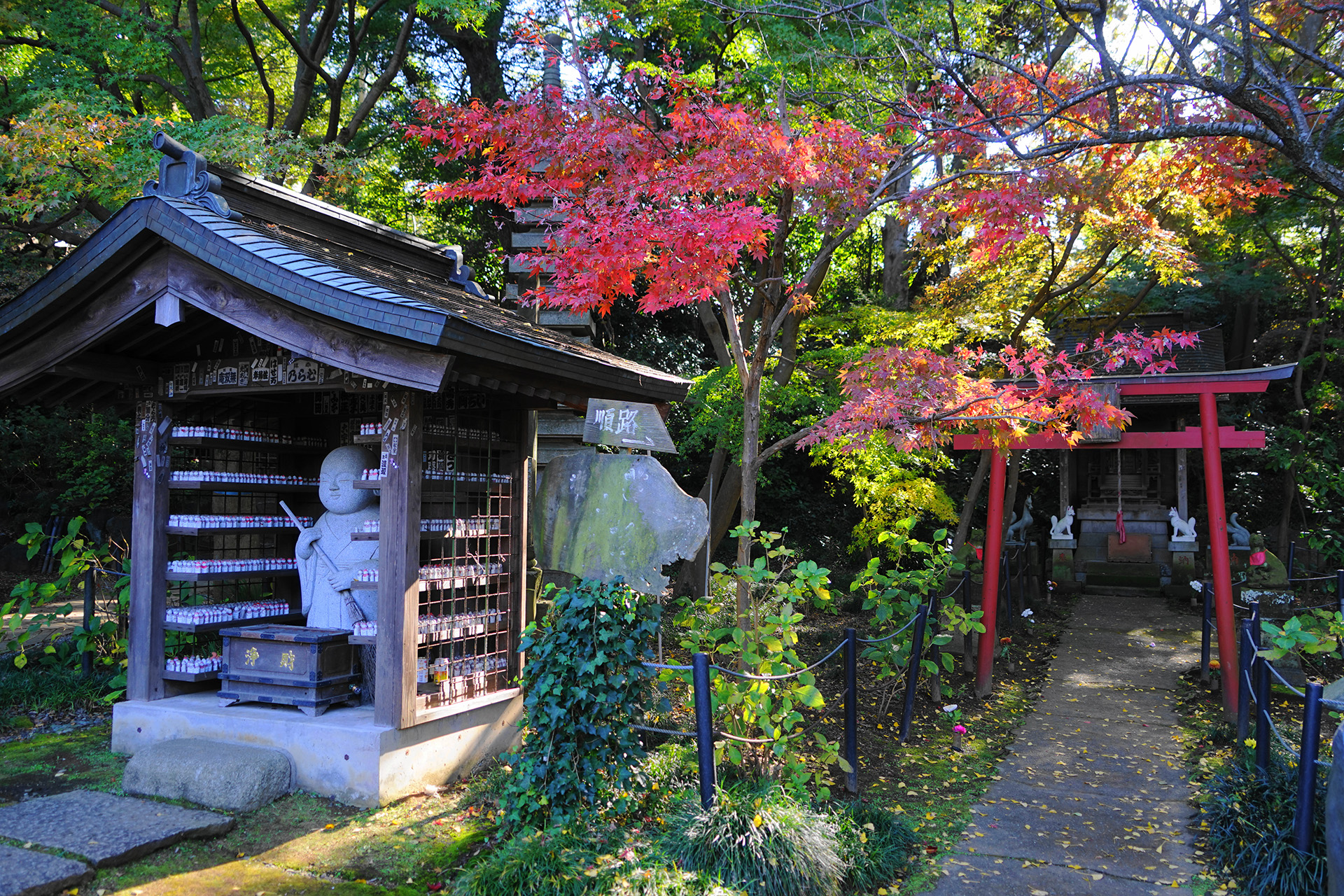 The colors of fall.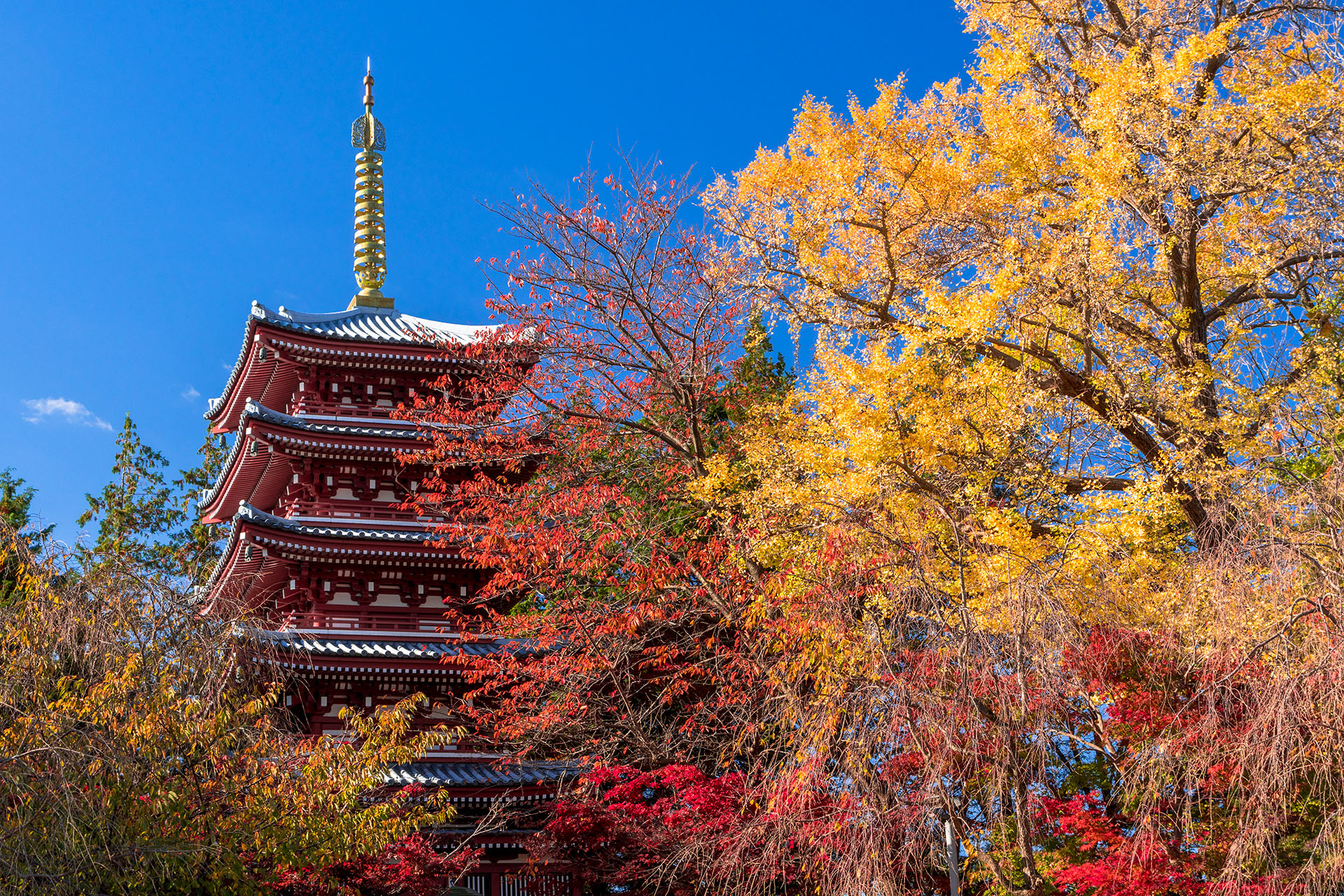 The temple's five-storied pagoda in fall.
Tojo-tei House and Garden, Tojo Historical Museum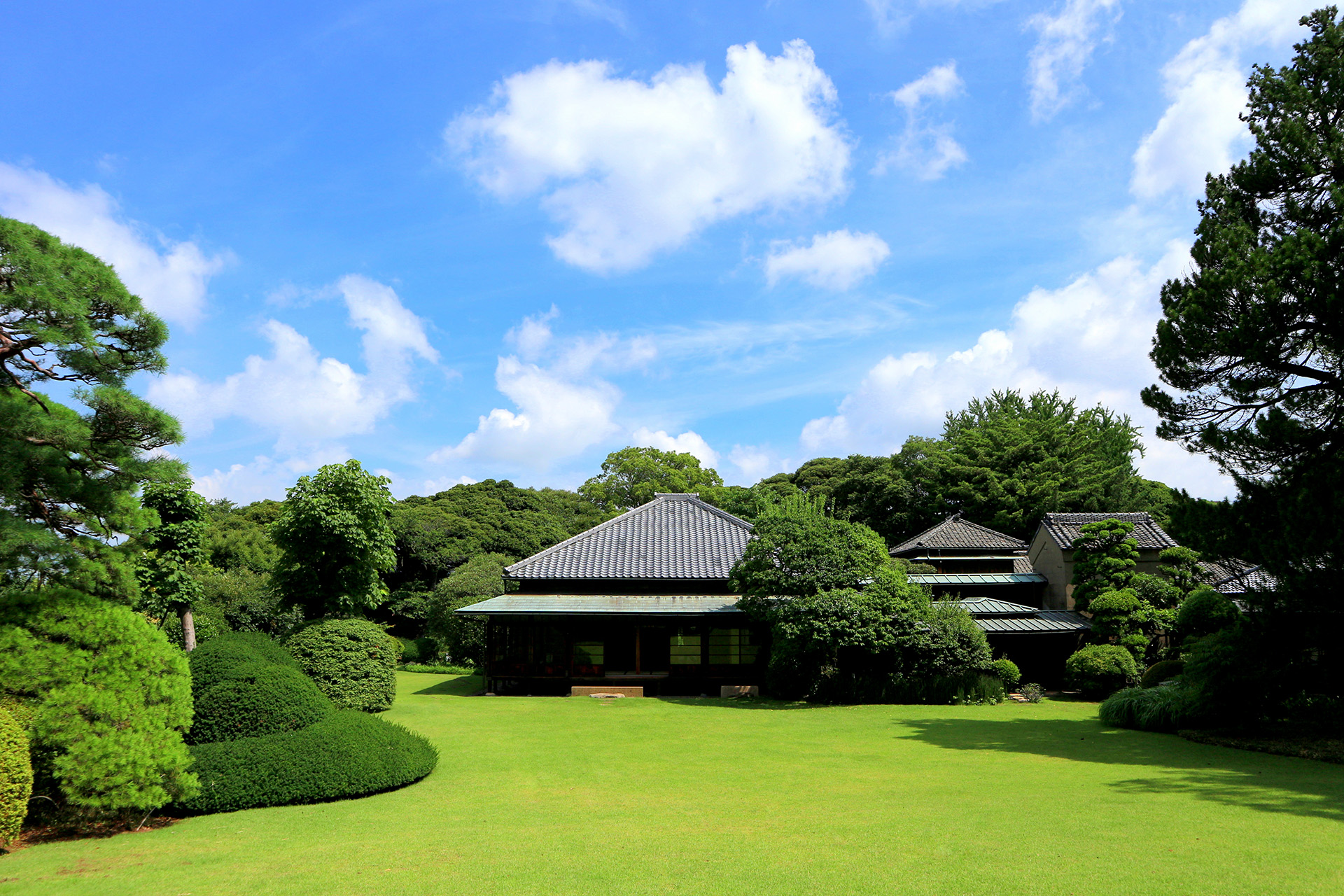 After returning to Kita-Kogane Station, we headed five stops down on the JR Joban Line to Matsudo Station. As you come out the east exit of the station, you'll see signs for the Tojo Historical Museum. After about ten minutes of following the signs, you'll reach the entrance to the Tojo-tei House and Garden.
The Tojo-tei House was originally built in a classic wooden Japanese style in 1884, and has since been extended to include nine inter-connected buildings. Visitors are welcome to tour through the rooms and corridors and take in the elegance of the cedar wood spaces and their ornamental carvings. Throughout the house, you will find information displays with QR codes linking you to detailed information in multiple languages, including English.
The house was built as a residence for Akitake Tokugawa, the younger brother of Japan's last shogun, Tokugawa Yoshinobu. Akitake himself was once a candidate to become shogun before the shogunate system was abolished at the onset of the Meiji period. He served in the new imperial government, and eventually went to study in France, where he became interested in gardening, a hobby he would begin pursuing earnestly at this residence. The garden features classical Japanese and Western-style landscaping techniques, representing not only Akitake Tokugawa's tastes, but the tastes of an era in which Japan was beginning to open itself up to the world.
The edge of the garden rests on a hill, offering a view of the Edogawa River, and on clear days a peak at Mt. Fuji too. Also, check out the Tojo Museum of History where you can learn about the House of Tokugawa, which ruled Japan for 260 years. The museum displays a rotating series of exhibitions and artifacts related to the history of the House of Tokugawa.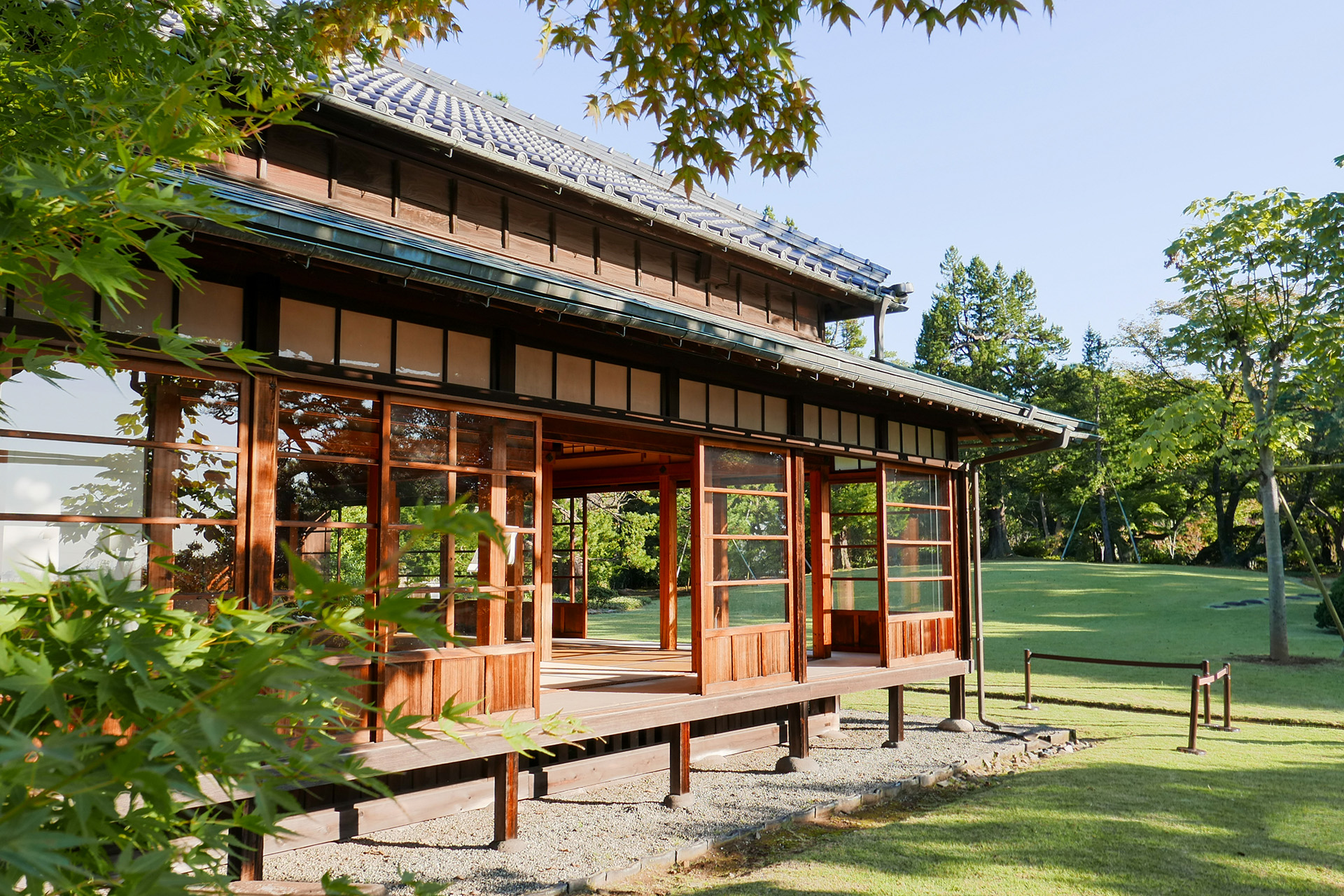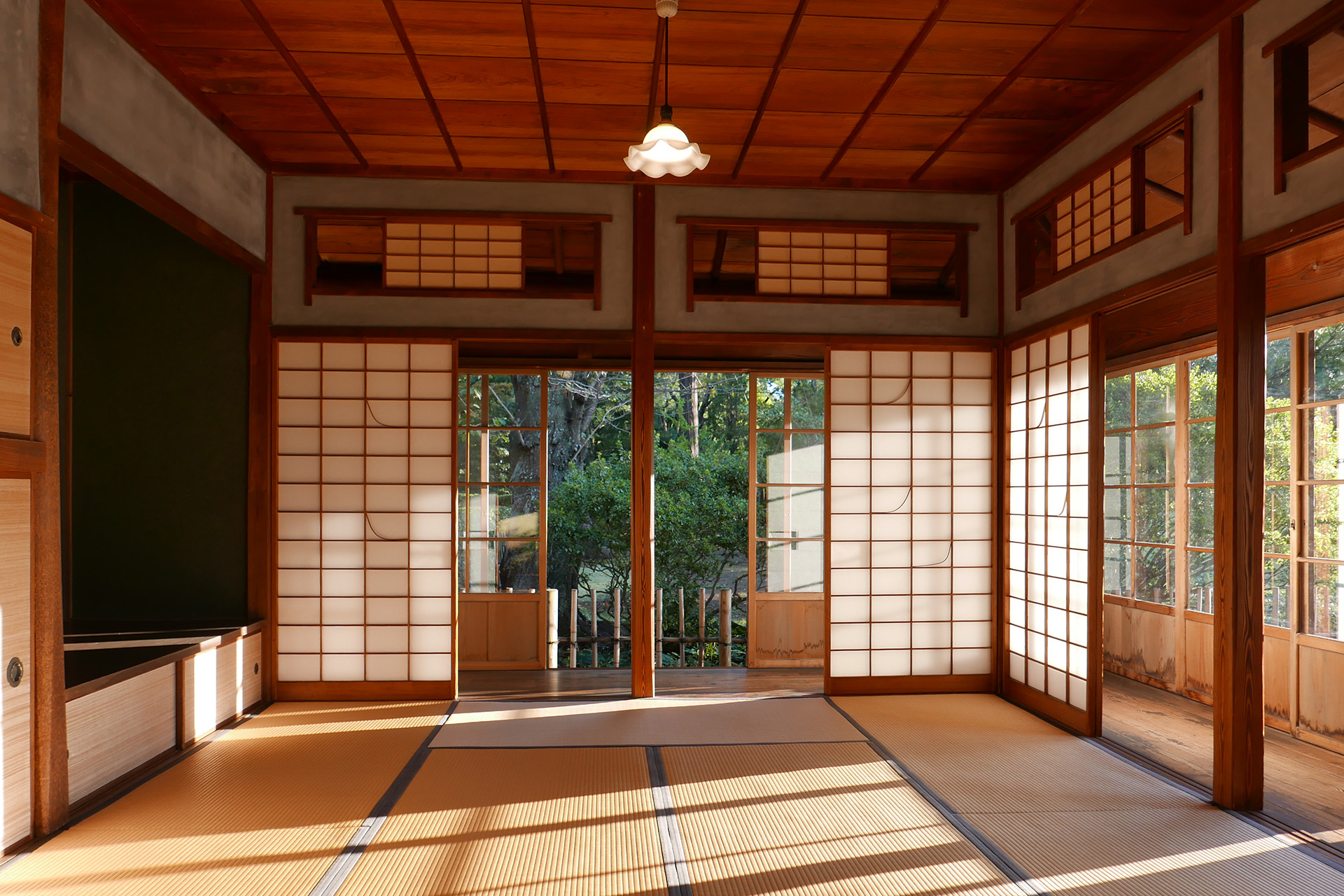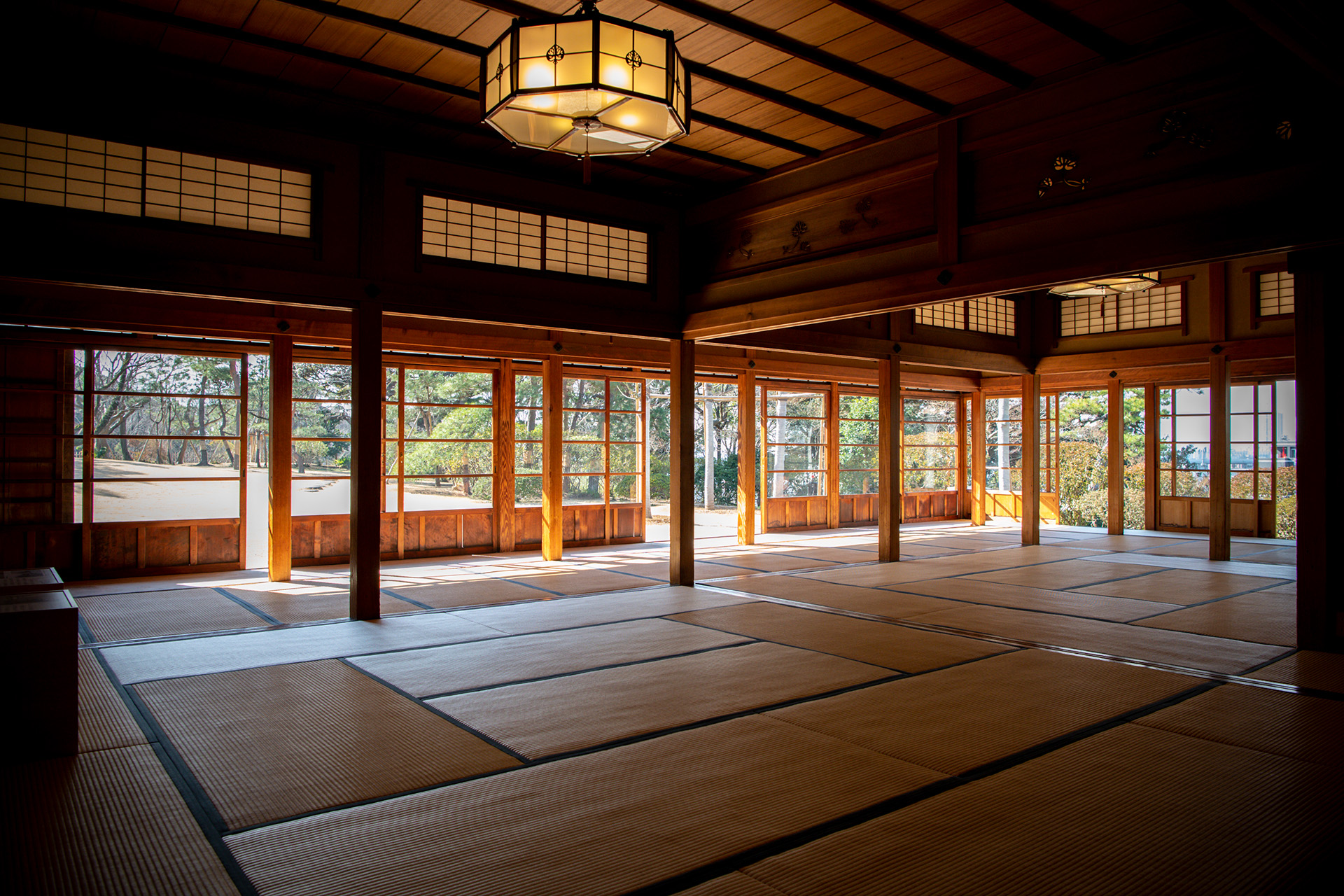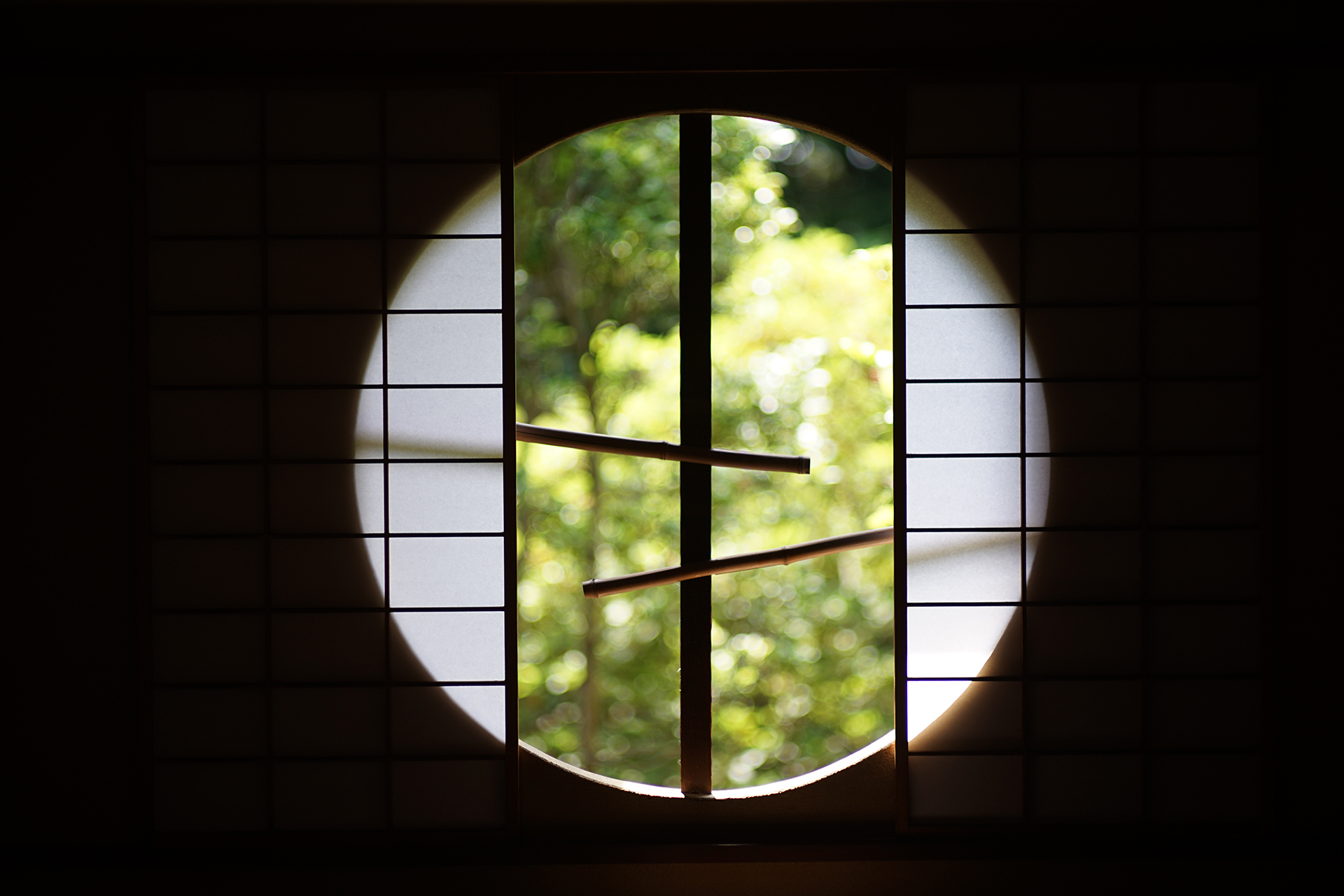 Tomita Ramen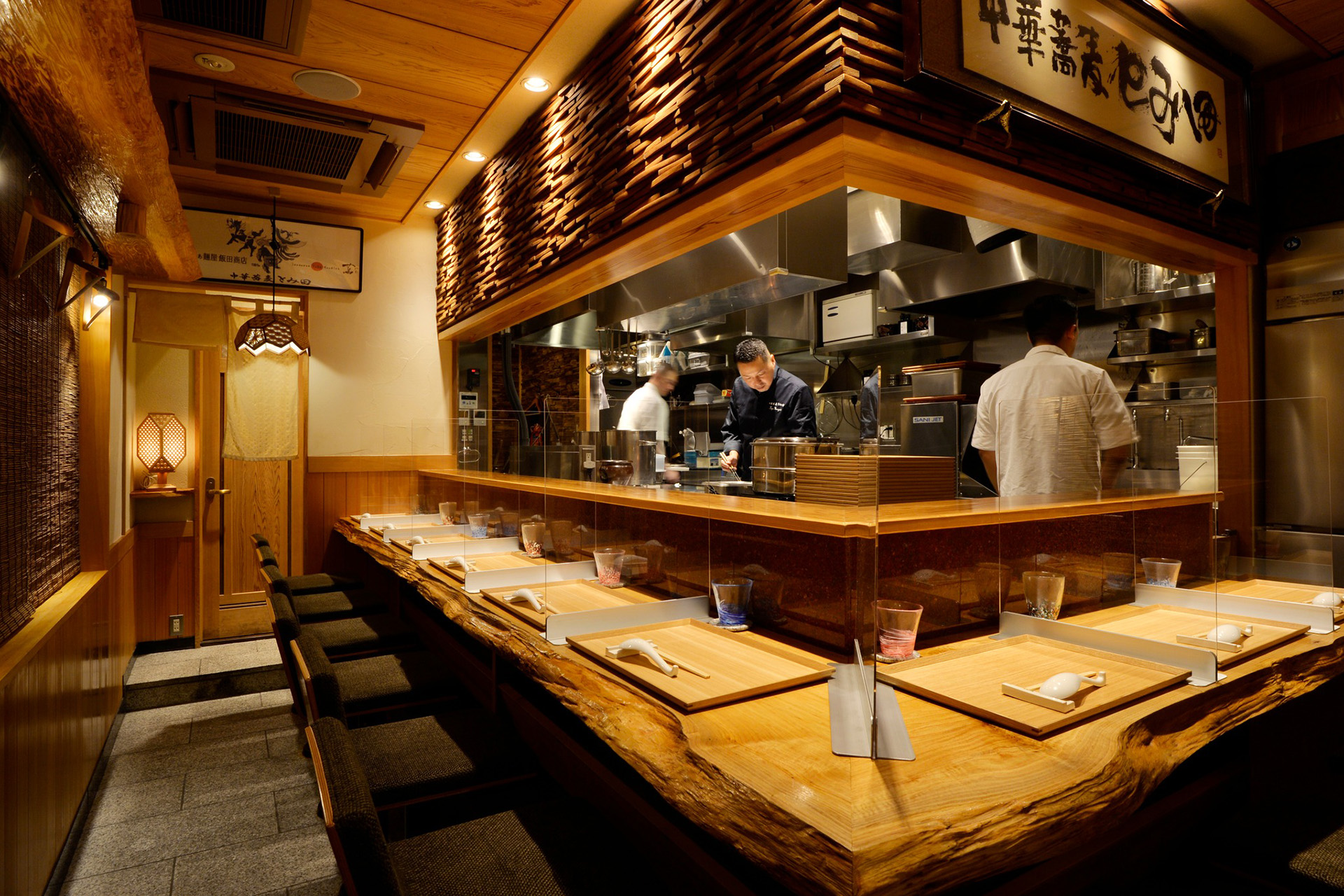 Chuka Soba Tomita (main shop).
We had worked up quite an appetite after our first two destinations, so on our way back to Matsudo Station, we stopped by the locally famous Tomita Ramen shop. Matsudo is known as a hub of delicious ramen restaurants, and Tomita Ramen is a chain based in Matsudo with shops all over Chiba. Even if you can't make it out to Matsudo, there's always the convenient option of grabbing a quick bowl of ramen at their shop inside Chiba Station.
Tomita's flagship restaurant (Chuka Soba Tomita) is so popular at lunchtime that we had to go down the street to one of their satellite shops (Tomita Shokudo) just to get a table. Customers order on the ticket machine as they enter. We ordered three types of ramen: tsukemen dipping ramen with a fish-based dipping broth, tsukemen dipping ramen with a soy sauce-based dipping broth, and ramen in a salt-based broth.
If you're a true ramen fan, then you may want to consider trying to get a table at their flagship restaurant. The legendary owner Mr. Tomita is present here in the kitchen preparing each dish with precision, making a visit here a very exclusive experience. In fact, you'll need one of the numbered tickets that are distributed here from 8 AM each morning to enter the restaurant. Tickets have a designated time slot on them, and you return to the restaurant for your meal when it's your assigned time. Since this is such a popular place, tickets can even run out within the first 30 minutes!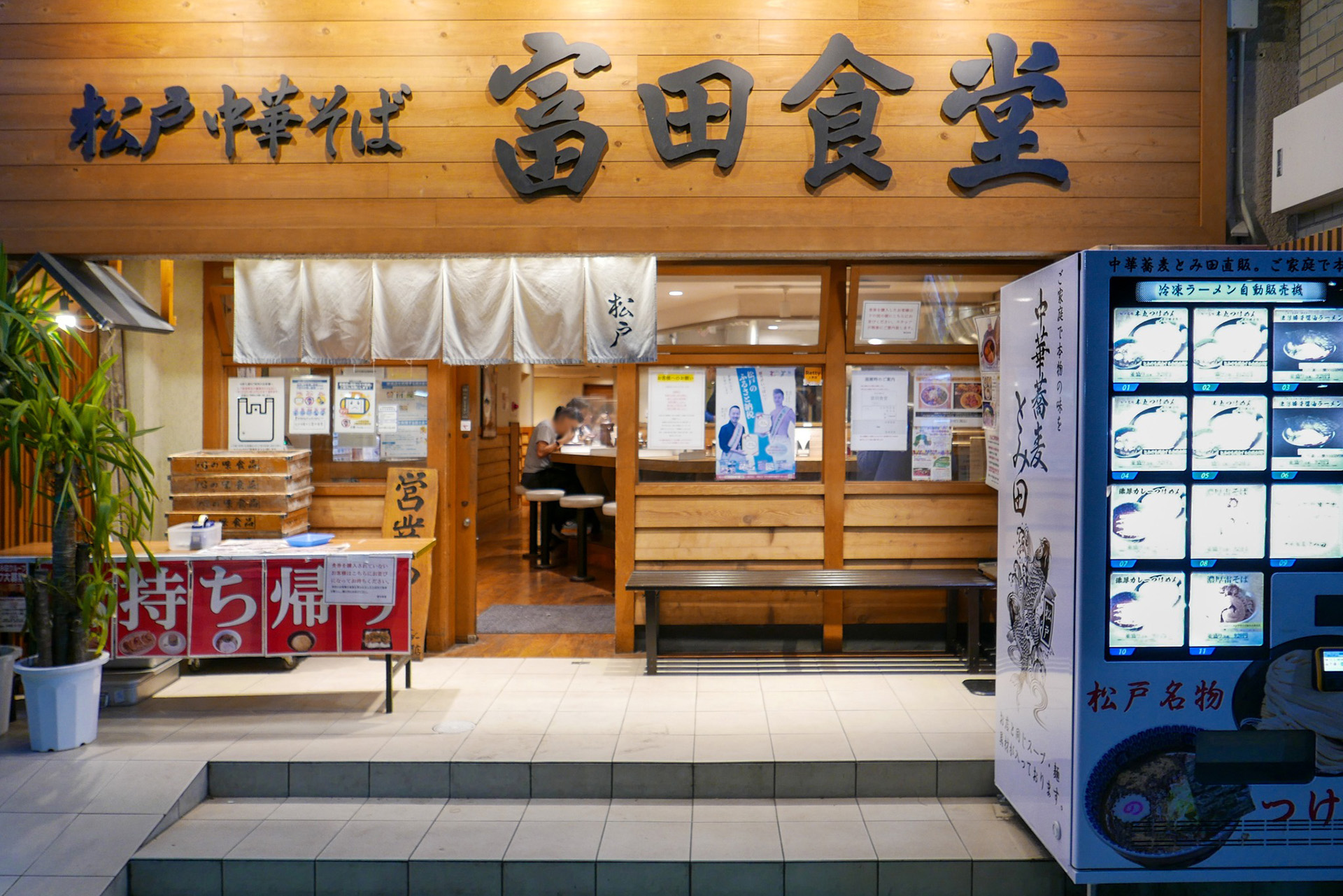 Tomita Shokudo (satellite shop) storefront.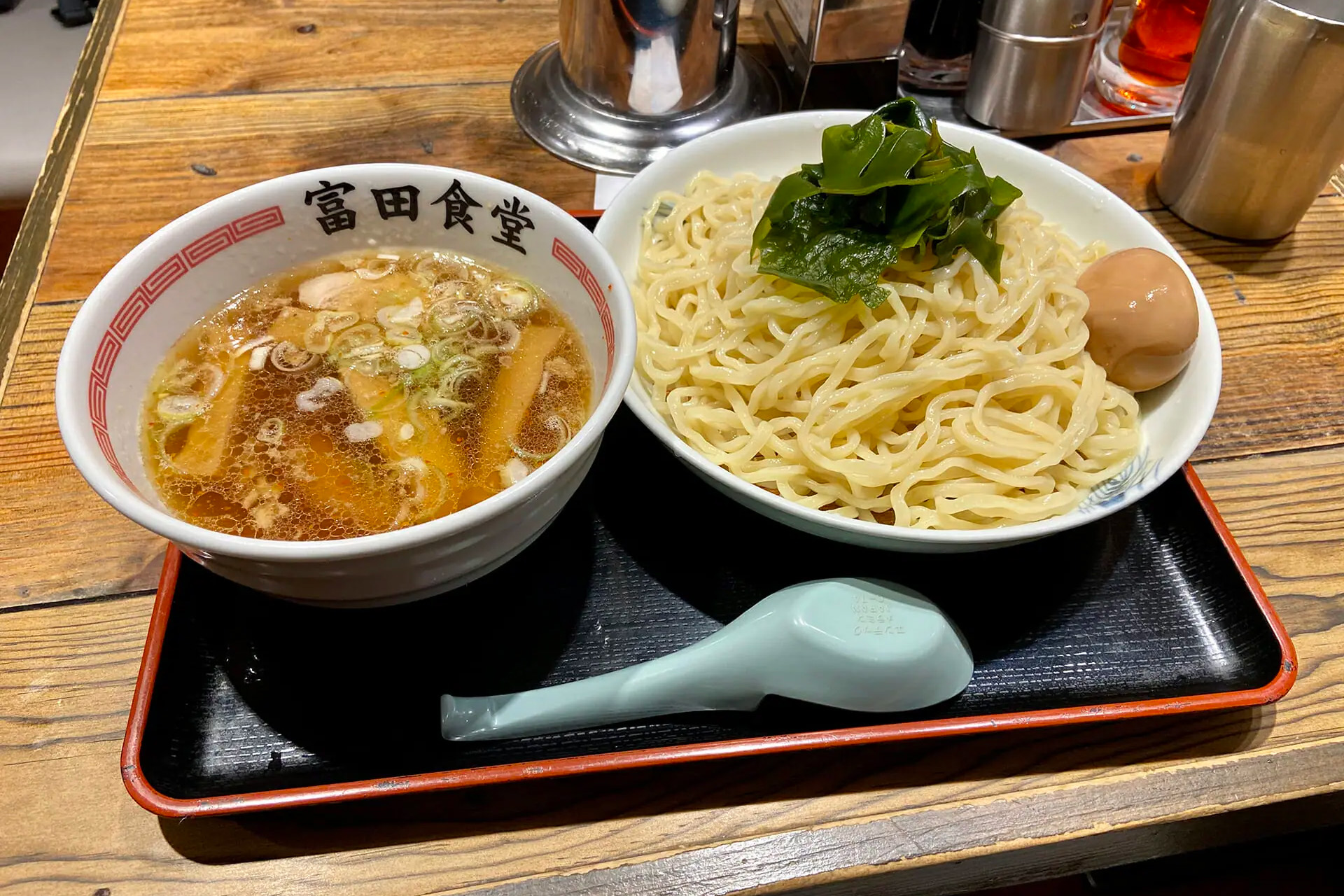 Tsukemen (dipping ramen) served at Tomita Shokudo.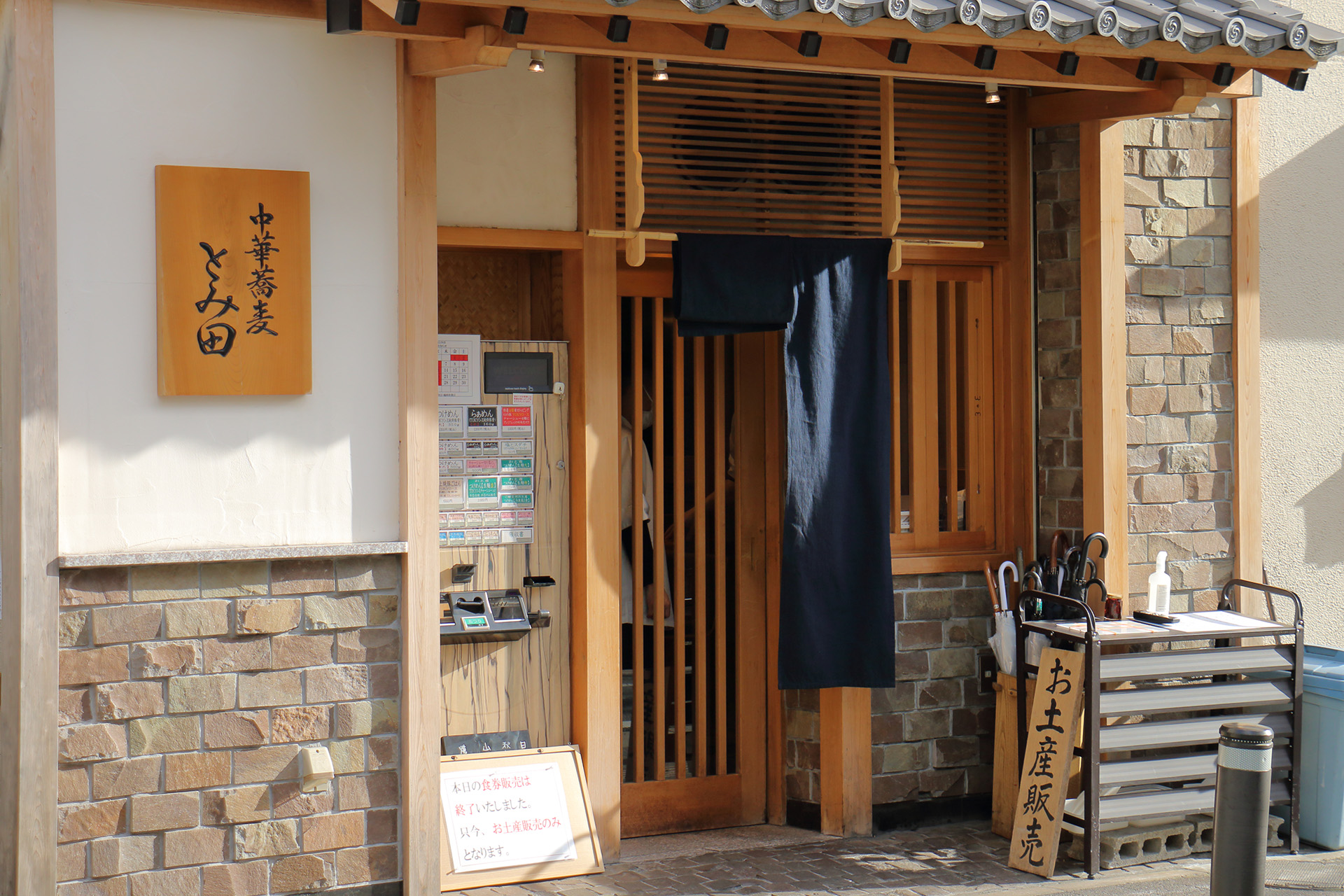 Chuka Soba Tomita (main shop) storefront.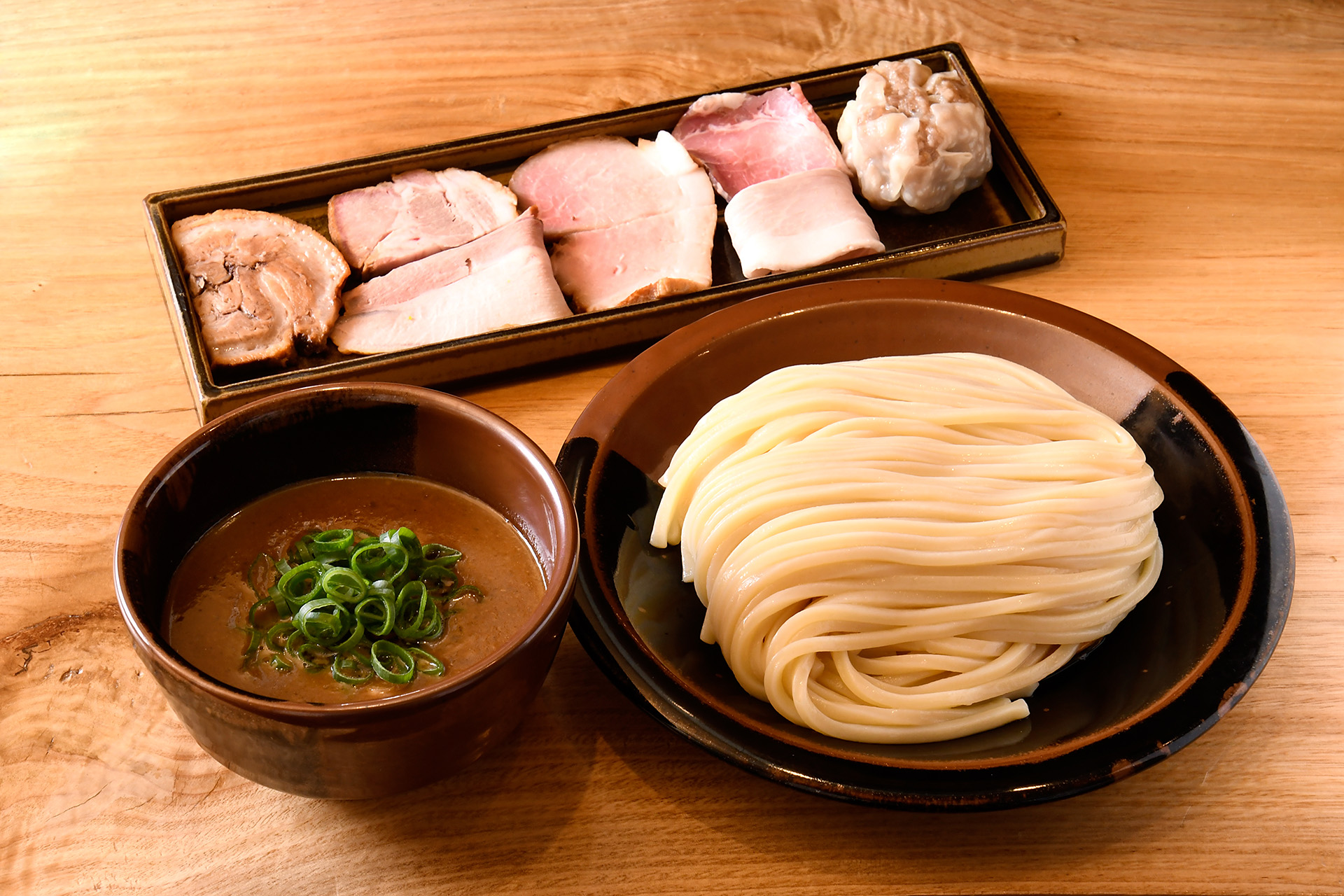 Tsukemen (dipping ramen) paired with 'tokusen-zenbu-nose' ("everything" special topping) served at Chuka Soba Tomita (main shop).