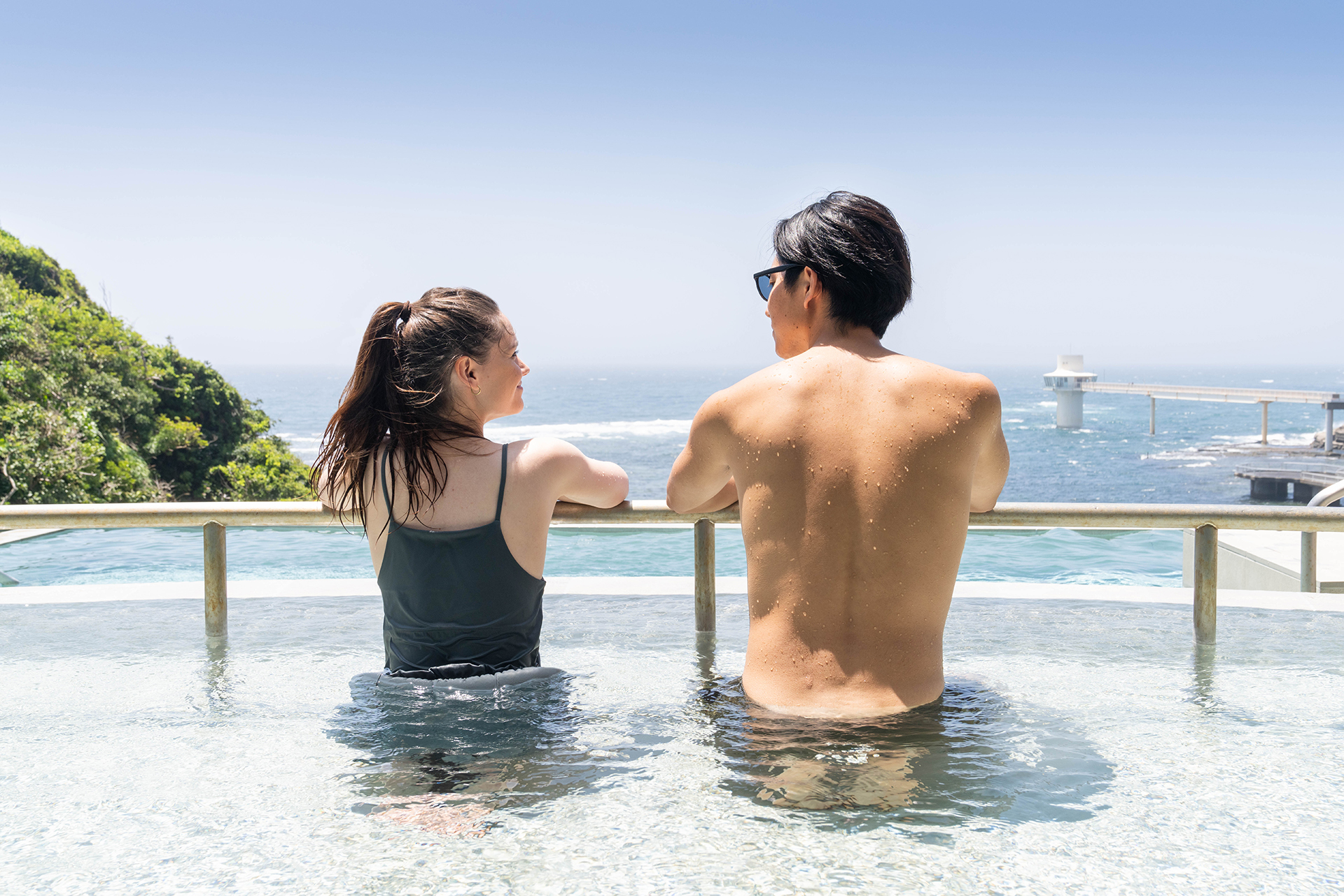 edén | Relax and dine in a local slice of paradise
Things to Do | Visit Chiba | Latest update:2023/08/28
If you're looking to discover the true character of Japan, it helps to understand that much of the nation's charm emanates from the spaces where the land and sea meet. Here in Chiba along the shores of the Pacific, you'll find edén, a restaurant & spa facility offering you a way to savor the unique blessings of coastal Japan. Found within a cove along the rugged Katsuura coastline–just 90 minutes from Tokyo–edén was built with the intention of it fitting in seamlessly with the area's natural beauty. It also serves as an integral part of the local community, while providing visitors a chance to enjoy top-tier relaxation and dining.
Relax in the Spa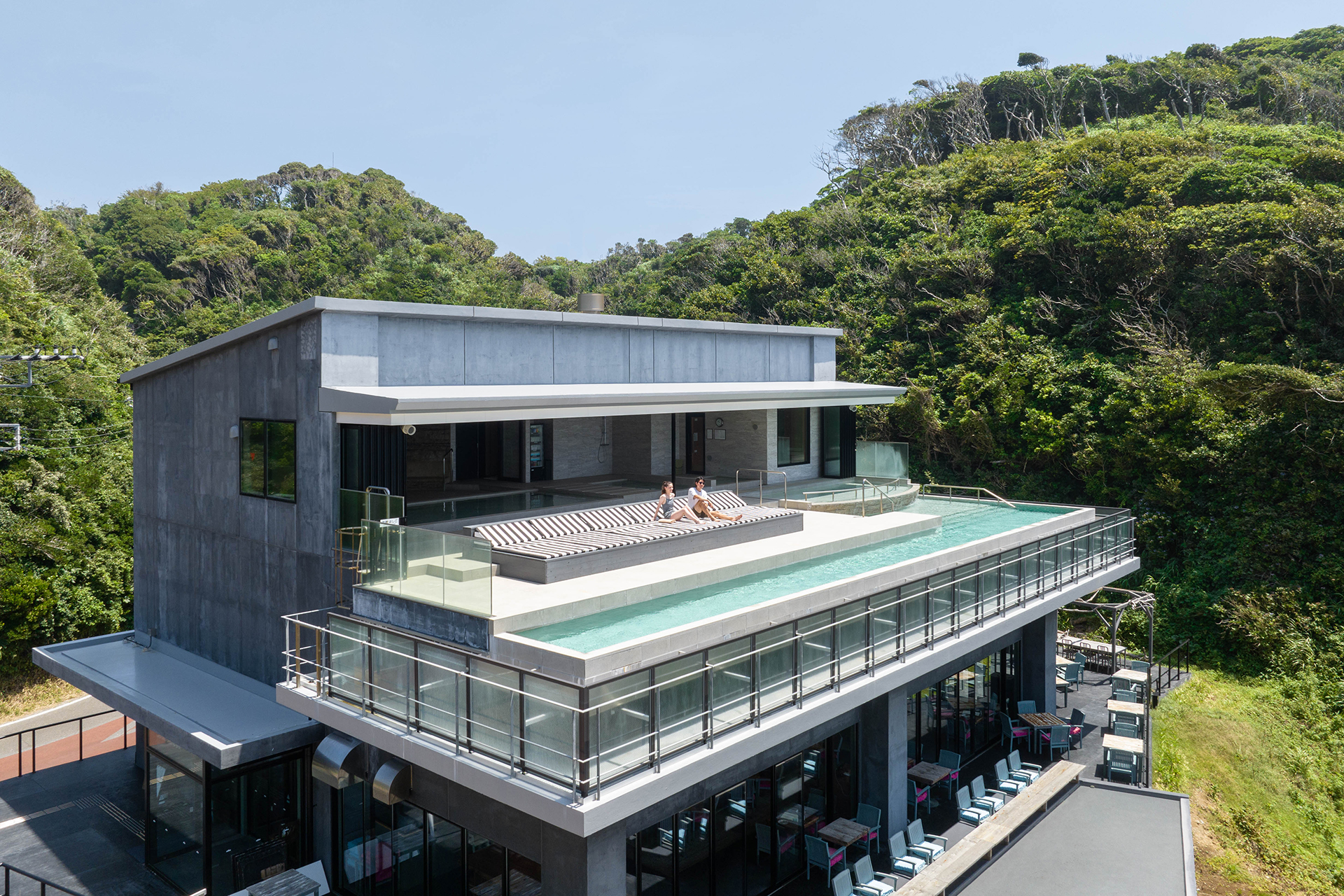 As a restaurant and spa, edén is best enjoyed at the dining table and in the hot spring waters. Of course you can experience both at your leisure and in the order of your choosing, but first we'll start by introducing the spa. After changing into your swimwear* and heading up a staircase, you'll emerge on the top floor: an outdoor area with a lounge space, sauna, roof covered baths, and a heated terrace pool. The spa is perched over a beach, unveiling a scene of sea cliffs on both sides, calm sheltered waters below, and the expanse of the Pacific beyond.
*This is a unisex spa and the facility will provide you with swimwear. Please understand that it's a widely accepted custom in Japan that patrons with visible tattoos are not allowed to bathe in most public hot springs. Fortunately, unlike more traditional hot springs, bringing and wearing rash guards and other similar garments is allowed in the edén spa. If you have a tattoo, the facility asks your understanding in covering it before entering the spa.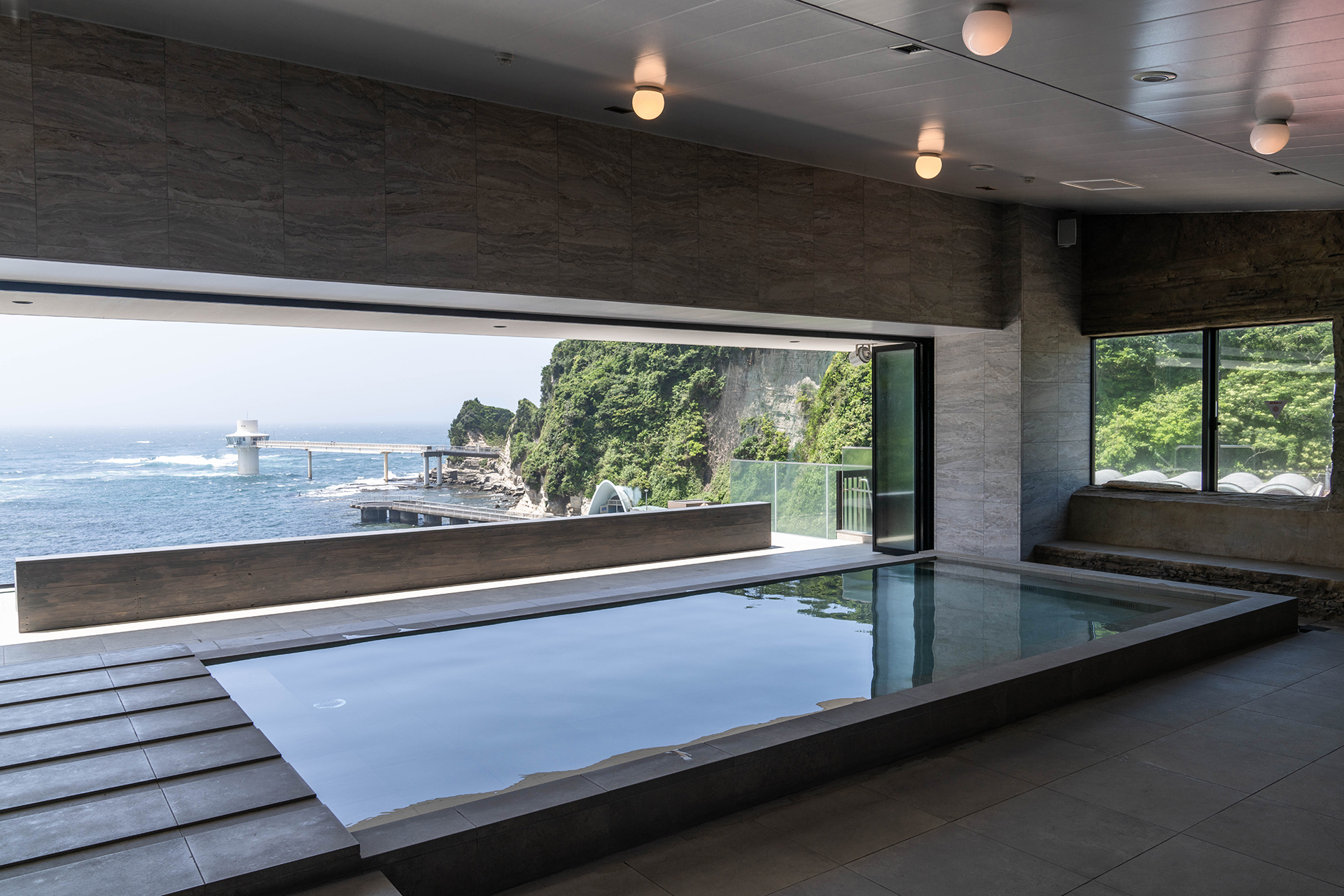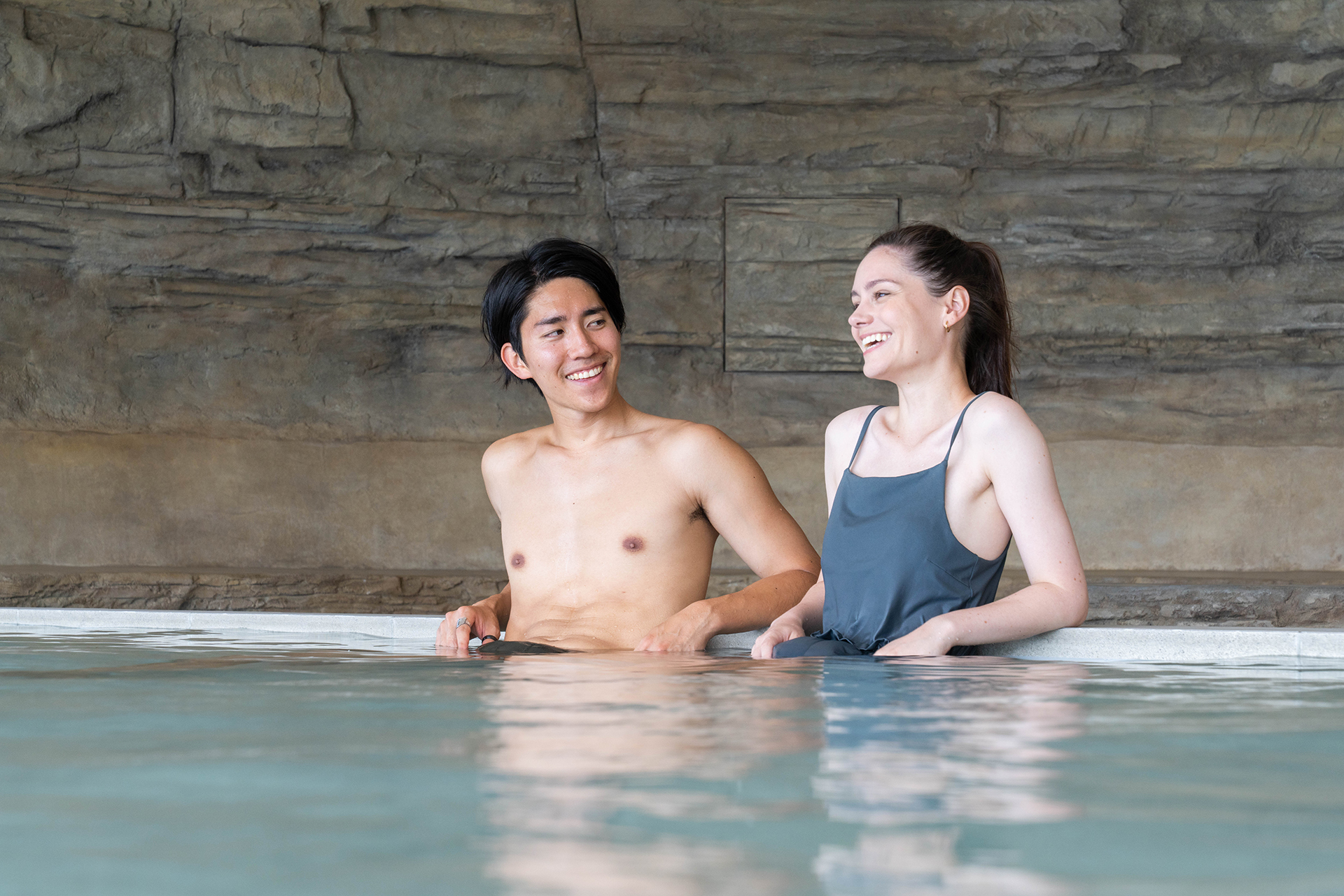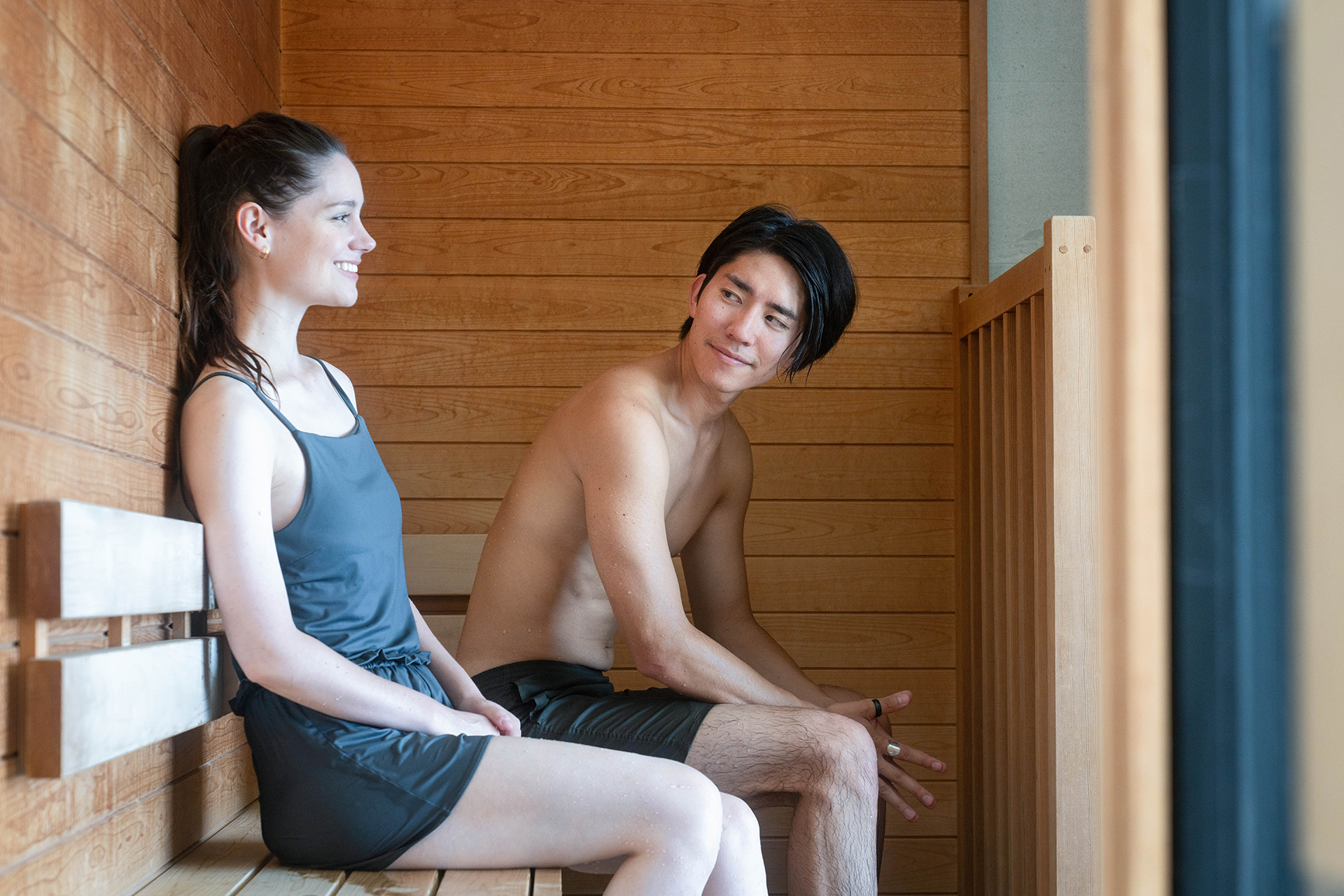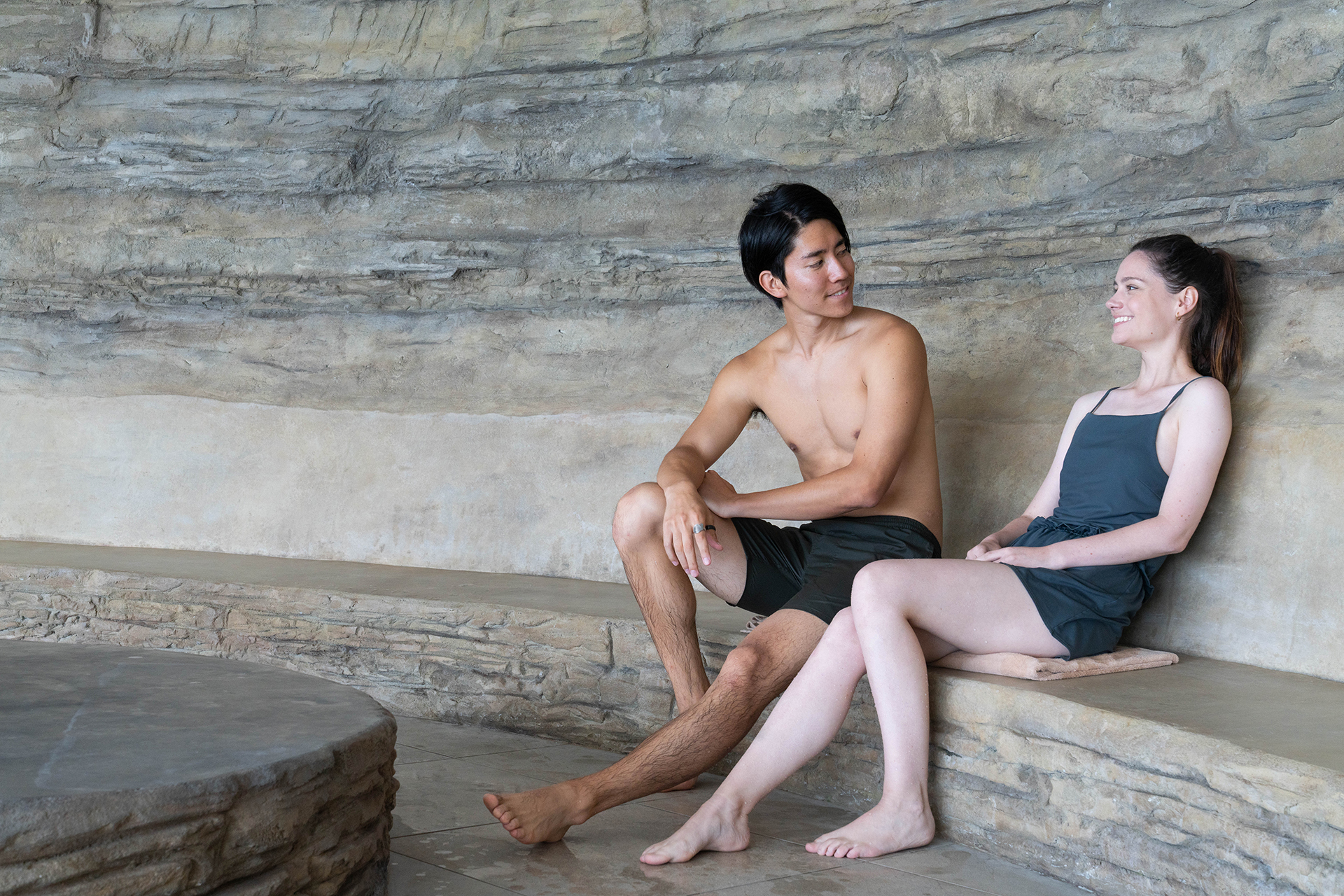 The baths are filled with a bicarbonate-rich mineral water that's sourced from a local Chiba thermal spring. These minerals are known to cleanse excess oils and keratin from your skin, leaving it refreshed anew while helping to remove stains and impurities. Aside from the physical health benefits, you will also find a soak in the baths will soothe your spirit. You'd be hard pressed to find a more appropriate place to relax, to connect with the beauty of nature, and to let the sounds of the ocean send your mind adrift. Depending on the timing of your visit, you'll also find the temperature of each bath may vary, and the surrounding space modified, in order to provide the best possible experience given the current conditions.
Savor Local Flavor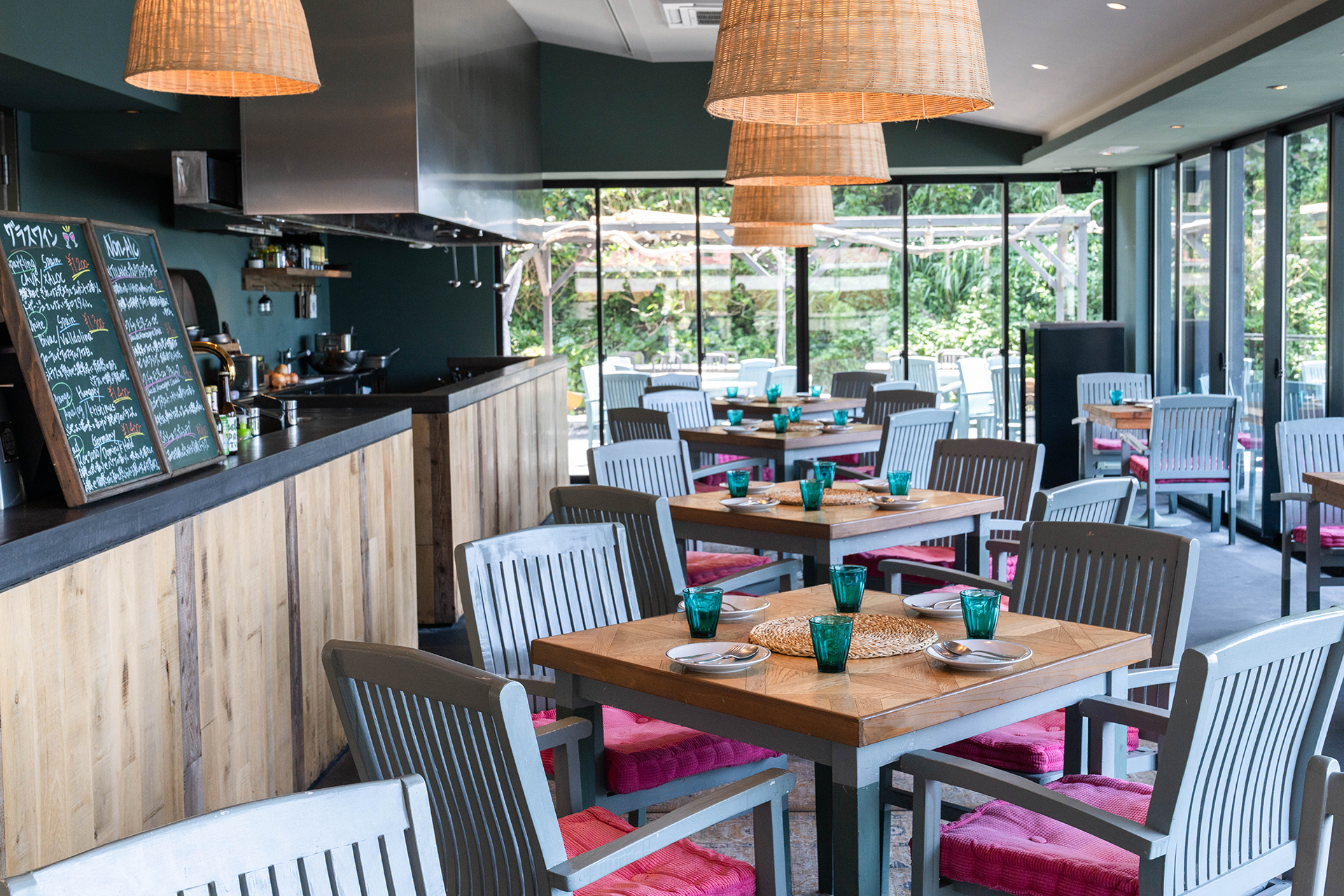 With a relaxed body and mind, it's now time to feed your appetite back downstairs with a one-of-a-kind dining experience. The mission here at the restaurant is to serve up as much local food as possible, helping you to immerse yourself in the culinary treats of the area. The menu is updated monthly to make the best use of select seasonal ingredients, and the option to order lunch and dinner sets or dishes à la carte means everyone in your party can enjoy a meal to their liking. The bar, open-air kitchen, and overall aesthetic of the dining area–which features a variety of recycled and reused materials–adds to the experience, further embedding this space as part of the local environment.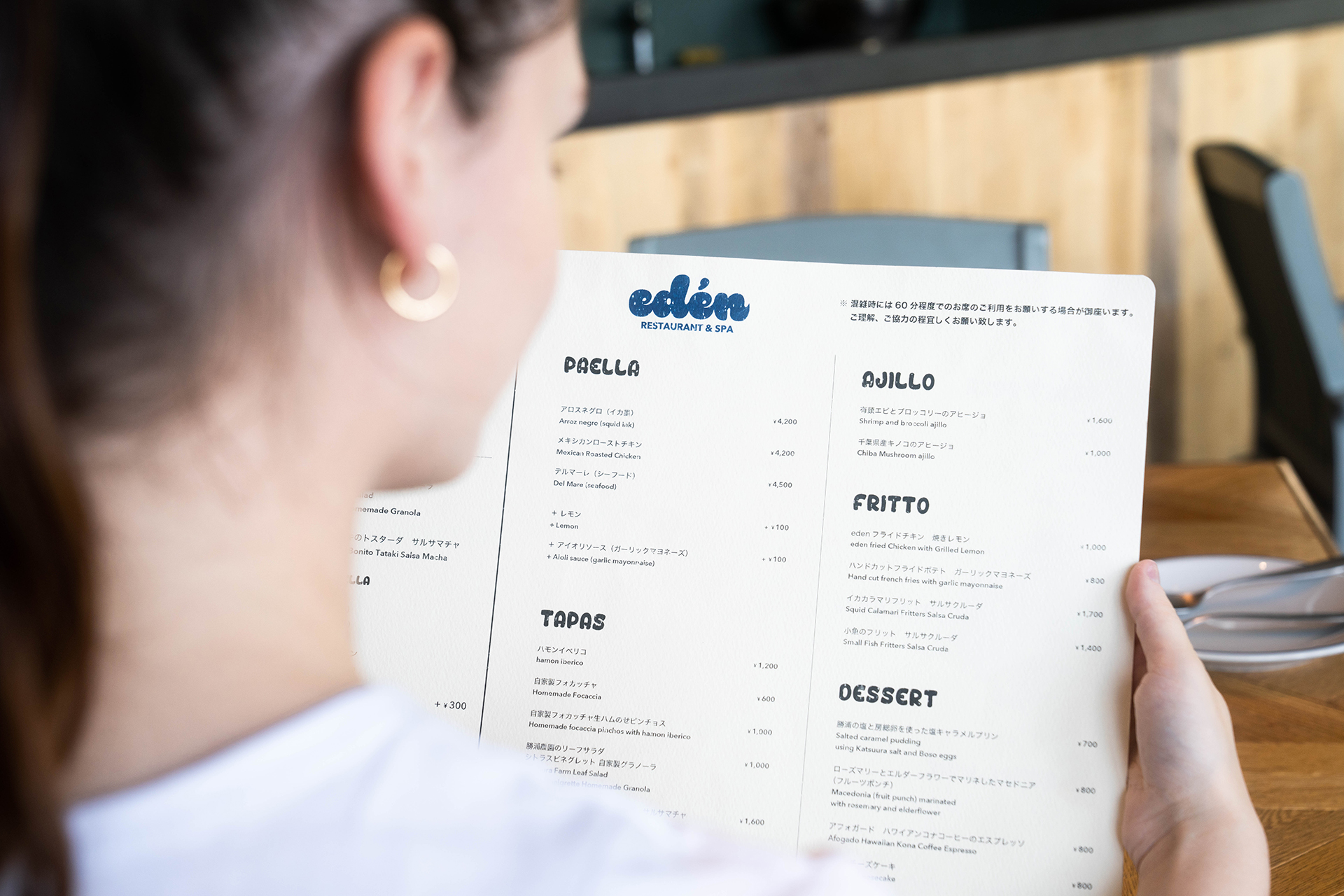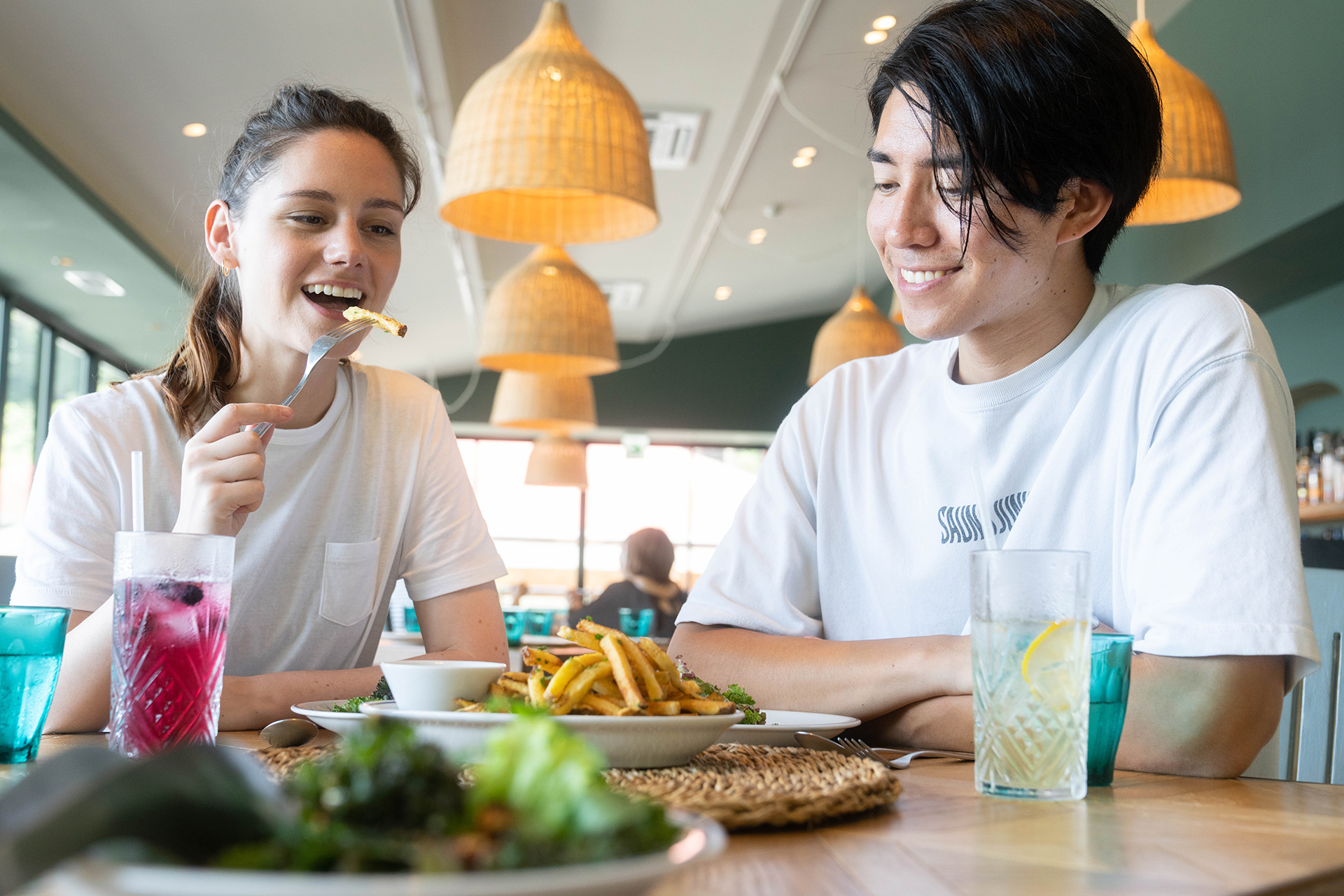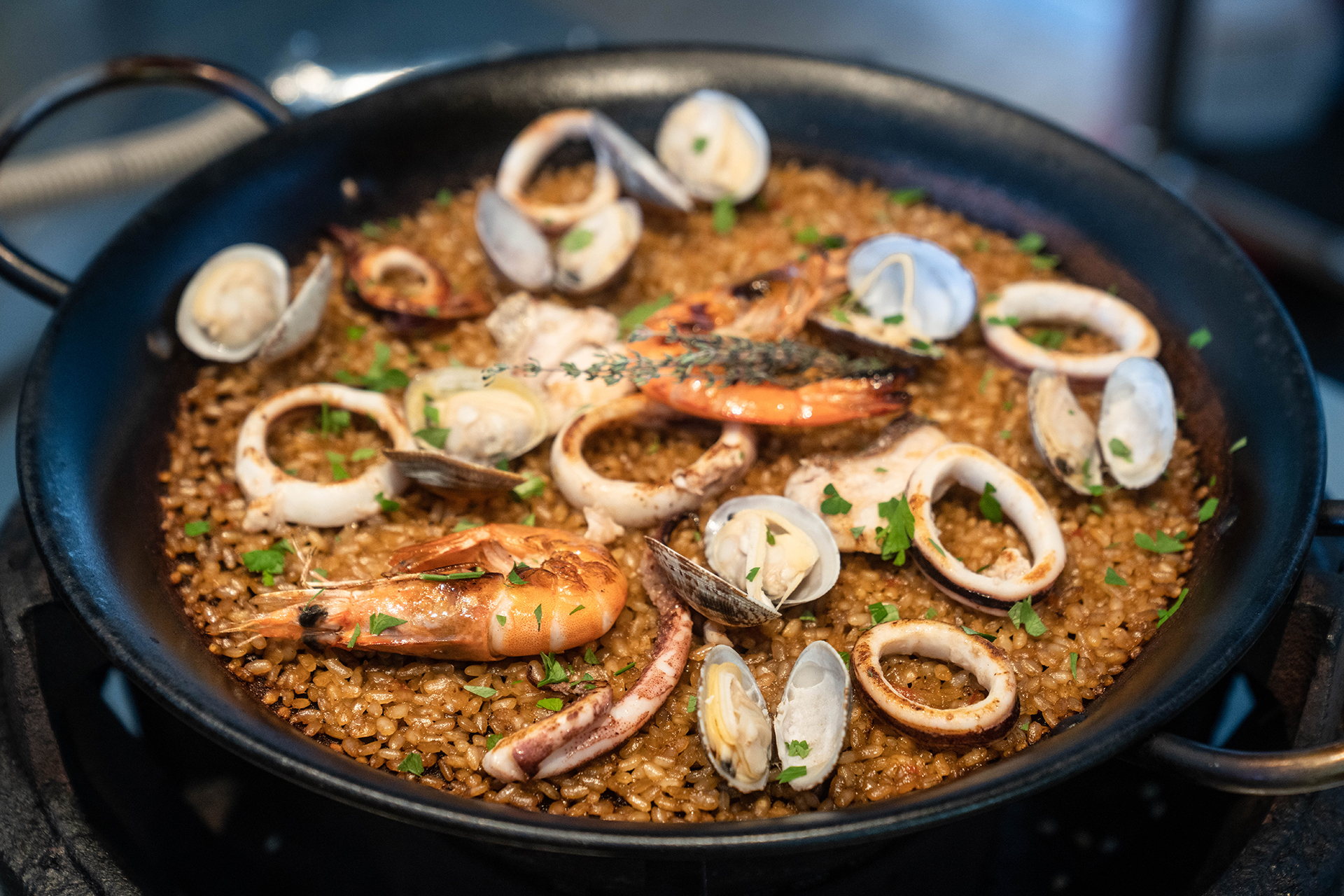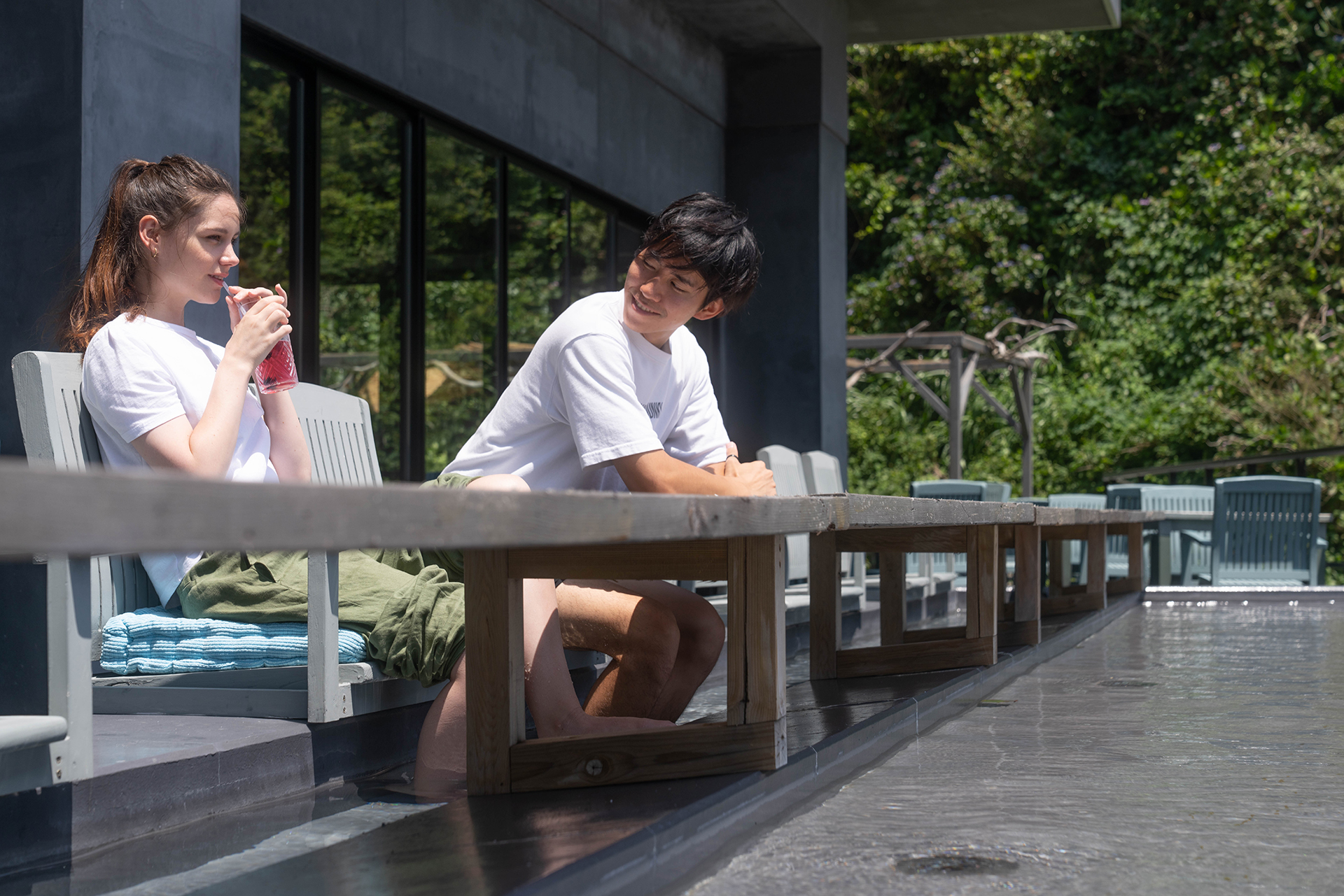 edén's signature dishes are their paellas, which are made with locally caught seafood and Katsuura-harvested "Fusakogane," an original brand of rice cultivated in Chiba. Watching the chef prepare the paella in their open-air kitchen was quite the thrill, as was getting to taste the freshness of the seafood brought in from the nearby Ohara fishing port. Locally grown vegetables are also featured on their menu, with many coming from Katsuura area farms, like the greens which went into the salad we enjoyed on our visit. Naturally, availability of local vegetables depends on the season, which is one reason the menu changes each month. But even when ingredients from Chiba aren't available, efforts are made to bring in select items from all over Japan. For example, it was explained to us that Hokkaido-grown potatoes were made to use the french fries we were served, but the following month Katsuura potatoes would be in season and thus will make an appearance on the menu then.
Connect with the Katsuura Community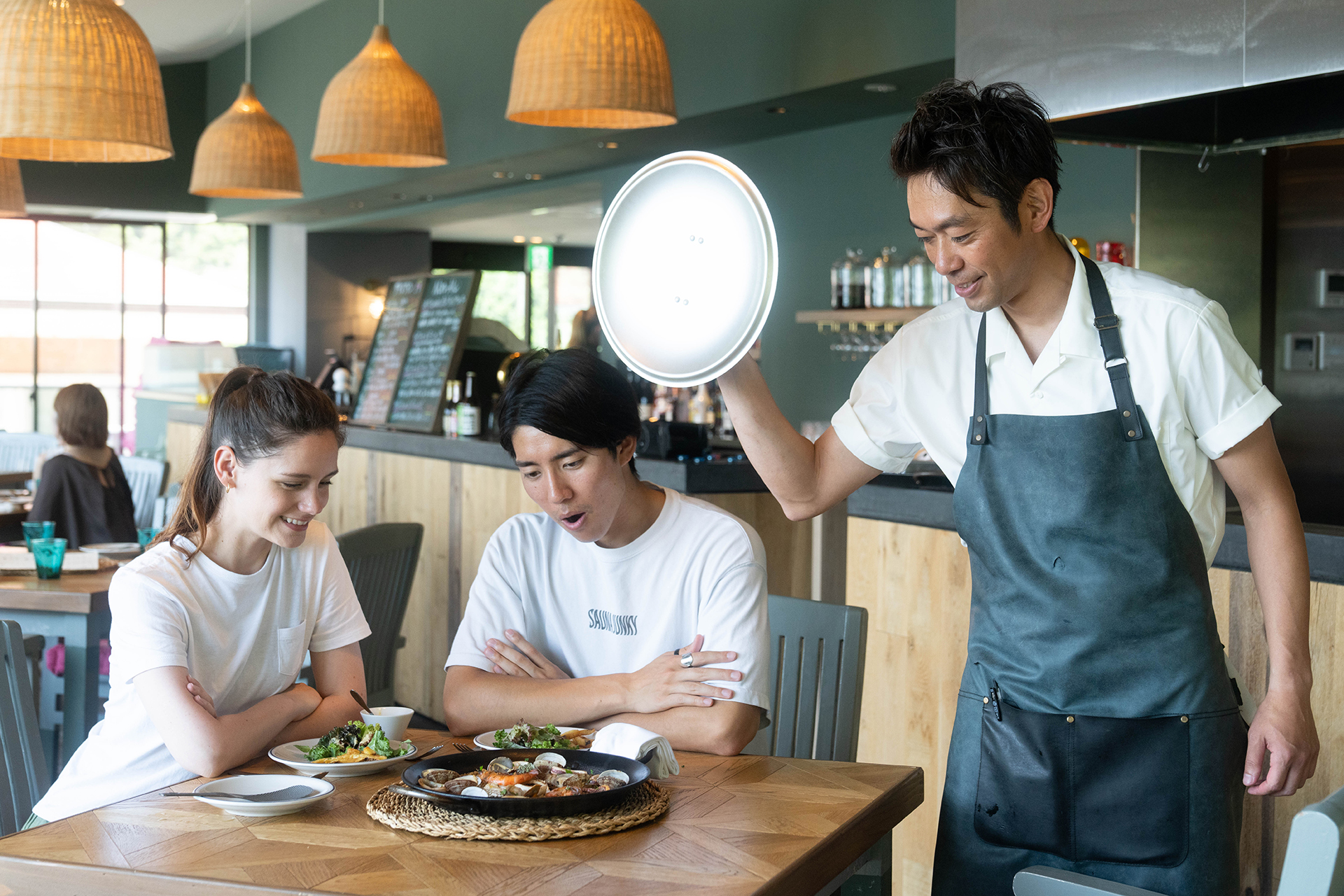 The food served here is a part of a larger picture that paints edén as a contributing member of the local community. Toshita-san, edén's general manager, was kind enough to show us around during our visit and explain some of the ways the facility hopes to give back to its home city. Throughout the year, events are held here which showcase local vendors selling their products and goods. You'll also find local treats sold at the small shop as you walk in, with items like locally harvested sea salt and locally brewed craft beer on sale. Environmental sustainability is another one of edén's objectives, with one example being their specialty sauna hats available for purchase which are made of recycled materials.
Perhaps most emblematic of edén's mission was the passion Toshita-san exhibited as he talked to us about not only the facility's story, but also his own as a local. He explained to us how after spending parts of his life going back and forth between Katsuura and Tokyo, he appreciates that he currently lives and works in a place where he can enjoy a surf session in the morning, access to delicious local food, put in a day's work, then spend his evenings looking up at a quiet star-filled sky. The facility states that one of their aims is to show appreciation for the gifts nature bestows to us. Having spent a day as a guest under the hospitality of the dedicated staff, it was certainly heartening to see that goal coming into form in a way visitors from all over the world can experience for themselves too.