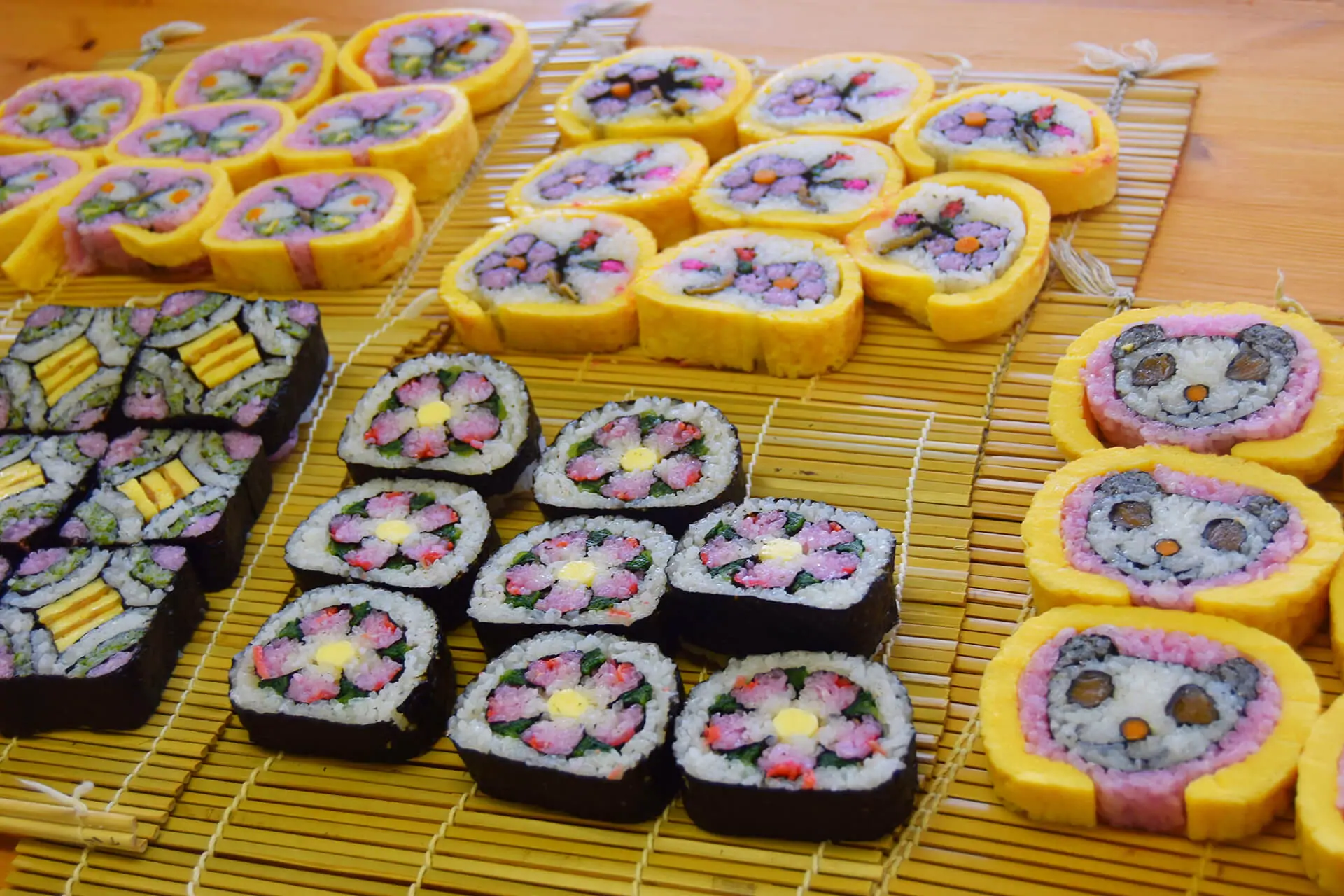 Hanamiyui: Sushi With a Special Twist
Things to Do | Visit Chiba | Latest update:2023/04/04
Sushi is synonymous with Japanese cuisine, and many people the world over enjoy this delicious Japanese treat every day. However, few have heard of "Futomaki Matsuri Sushi," a local specialty of Chiba. Literally translated as "thickly rolled festival sushi," Futomaki Matsuri Sushi is known as more than just tasty treat. It's also meant to be a festive decoration, made to resemble different symbols, characters, and motifs. In fact, because of their beauty, people often hesitate before eating these hand-held works of art.
If you are curious about the tradition of Futomaki Matsuri Sushi and how to make it yourself, you can head over to Mrs. Hirano's place in Kamogawa City for lessons. Hanamiyui, nestled in a quaint farming enclave in the hills of Kamogawa, is where Mrs. Hirano teaches guests how to make these treats step by step. The location of the shop is like a scene out of a postcard, with the perfectly lined rice paddies, green hills, and small country houses.
Mrs. Hirano originally started out 18 years ago along with a few other local women. The other women have since retired, but Mrs. Hirano keeps at it, and for the past three years she has taught sushi enthusiasts by herself. At the beginning, the basic pattern taught at the workshop was a tulip, but as of now over 50 other patterns and motifs have been cataloged at the shop. Some of my favorites included familiar Japanese images like Mt. Fuji, cherry blossoms, and even popular anime characters.
I had the experience of learning from Mrs. Hirano how to make Futomaki Matsuri Sushi with a butterfly pattern. We used a local rice that's known for its deliciousness called "Nagasamai", vegetables from local farmers, and a variety of other unique ingredients that gave the sushi its vibrant colors. Some of those ingredients included: plum flavored powder, which produces a pink color; dried seaweed and sesame for the color black; and a mixture of soy sauce and katsuobushi which creates a brown blend. These are just a few of the many ingredients, but what amazed me most was how the simple items we used eventually created beautiful patterns once the Futomaki Matsuri Sushi was cut.
After it was cut, I was pleasantly surprised how well my butterfly motif turned out, even if it wasn't as sharp as Mrs. Hirano's. Mrs. Hirano was kind enough to keep things simple and carefully guided me through each step, making the process a smooth one. It was my first time trying to make this type of treat, and I am not particularly artistic, but I was able to make the roll by just simply following along with Mrs. Hirano's instructions. Like with so many other Japanese crafts, the art of making Futomaki Matsuri Sushi is much more difficult than meets the eye. It may take several lessons with Mrs. Hirano to finally gain the confidence to make Futomaki Matsuri Sushi by yourself.
After all was said and done, I couldn't resist the urge to eat the beautiful creation, and the taste did not disappoint. It was delicious. If making and eating Futomaki Matsuri Sushi interests you, please make sure to visit Hanamiyui for a once in a lifetime experience.
*Reservation required