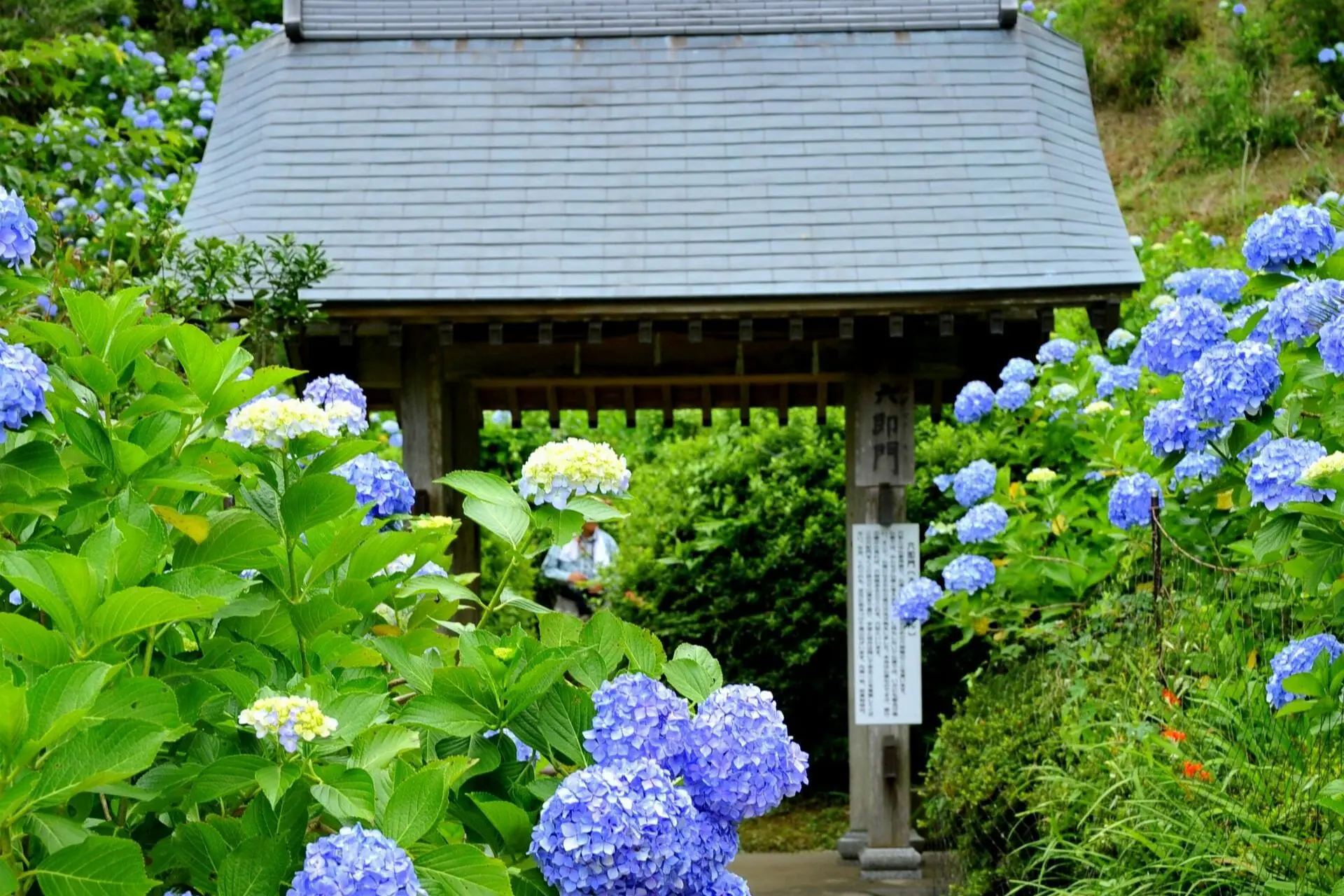 Seasonal blooms at iconic "Flower Temples" in Chiba
Things to Do | Visit Chiba | Latest update:2022/07/08
Famous temples known affectionately as "flower temples" can be found throughout Chiba Prefecture. Visitors are drawn to the enchanting seasonal arrays blooming alongside classical temple architecture, creating quintessentially Japanese displays of natural and manmade beauty blended together in harmony. The two flowers most associated with "flower temples" are hydrangeas and cherry blossoms, and here are three recommended temples where you can enjoy scenes of these stunning flowers for yourself.
Myohosho-ji Temple
Myohosho-ji Temple often goes by the nickname "Hydrangea Temple", and for a good reason! About 20,000 hydrangeas cover the temple grounds with color during the annual bloom between late-June and mid-July. Situated in the remote Mamenbara Highlands close to Chiba's Pacific coast, the serenity of the temple grounds overflowing with hydrangeas is sure to be a calming and memorable experience.
Nihon-ji Temple at Mt. Nokogiri
Nihon-ji Temple is located on the 329-meter-high Mt. Nokogiri, which rises just off Chiba's western coast. It's a pleasant hike up, and historical attractions within the grounds draw 300,000 visitors per year. Jigoku Nozoki, a sheer view over the mountainside, and the two massive Buddhist statues Hyaku-Shaku Kannon and Ishidaibutsu are particular points of interest. During the rainy season of the early summer, you can find beautiful hydrangeas in full bloom along the pathways to these monuments.
Choko-ji Temple
Many temple-goers make the trip here for the famous Shidare-zakura tree, which has distinct hanging branches. Also called a "weeping" cherry blossom tree, it has bloomed every year for over three centuries. The tree is one of the most gorgeous around, but the temple itself and other foliage are deserving of the trip to Choko-ji Temple as well.