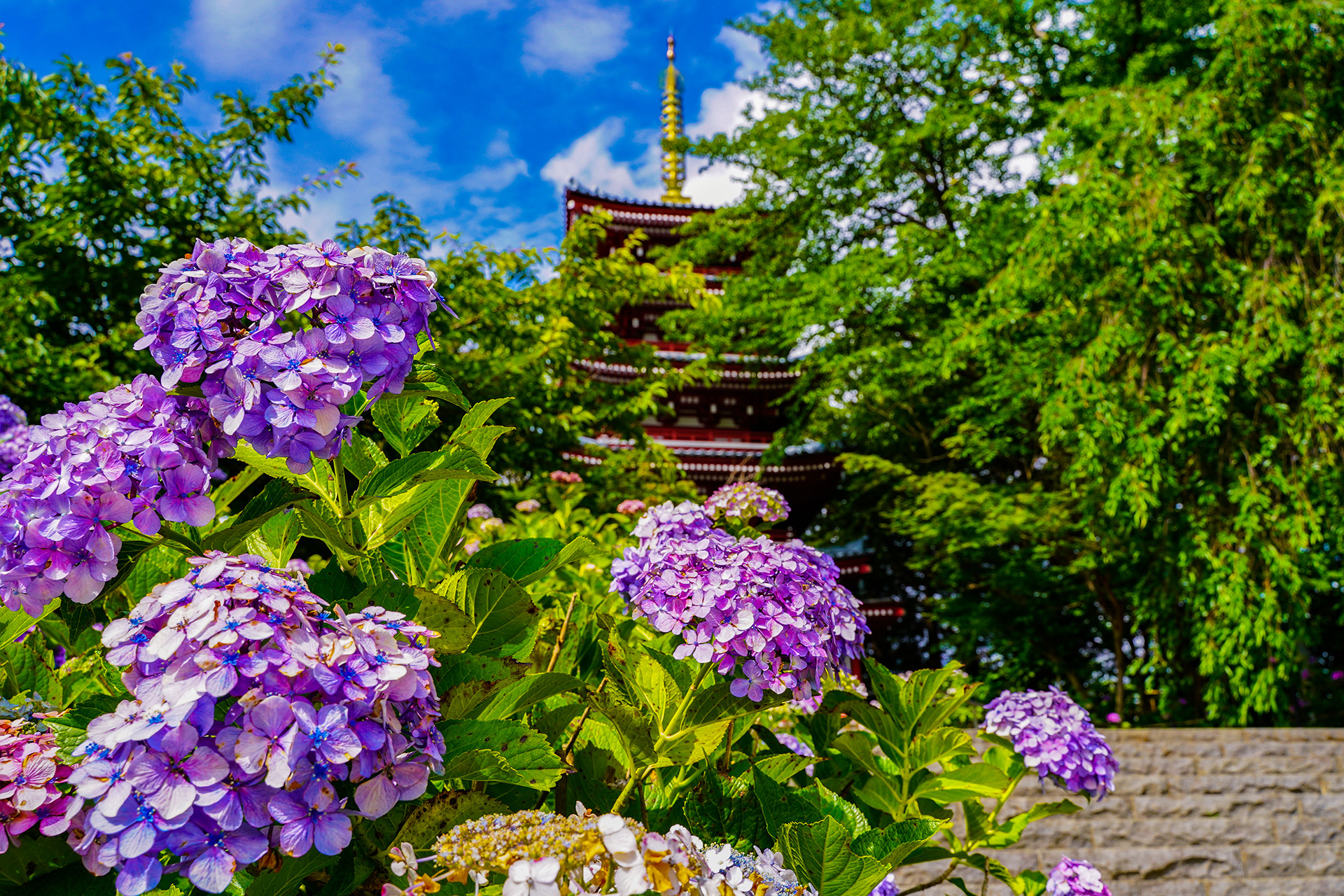 Seasonal blooms at iconic "Flower Temples" in Chiba
Things to Do | Visit Chiba | Latest update:2023/05/26
Hondo-ji Temple
Famous temples known affectionately as "flower temples" can be found throughout Chiba Prefecture. Visitors are drawn to the enchanting seasonal arrays blooming alongside classical temple architecture, creating quintessentially Japanese displays of natural and manmade beauty blended together in harmony.
Hydrangeas (ajisai) tend to be the flower most associated with temples here in Chiba, and we'll start by introducing two hydrangea temples. No flower temple list would be complete without the national symbol of Japan, cherry blossoms, so next is a famous weeping cherry blossom temple. The final spot is a flower temple which boasts a bloom of wisteria (fuji).
Hondo-ji Temple - Hydrangeas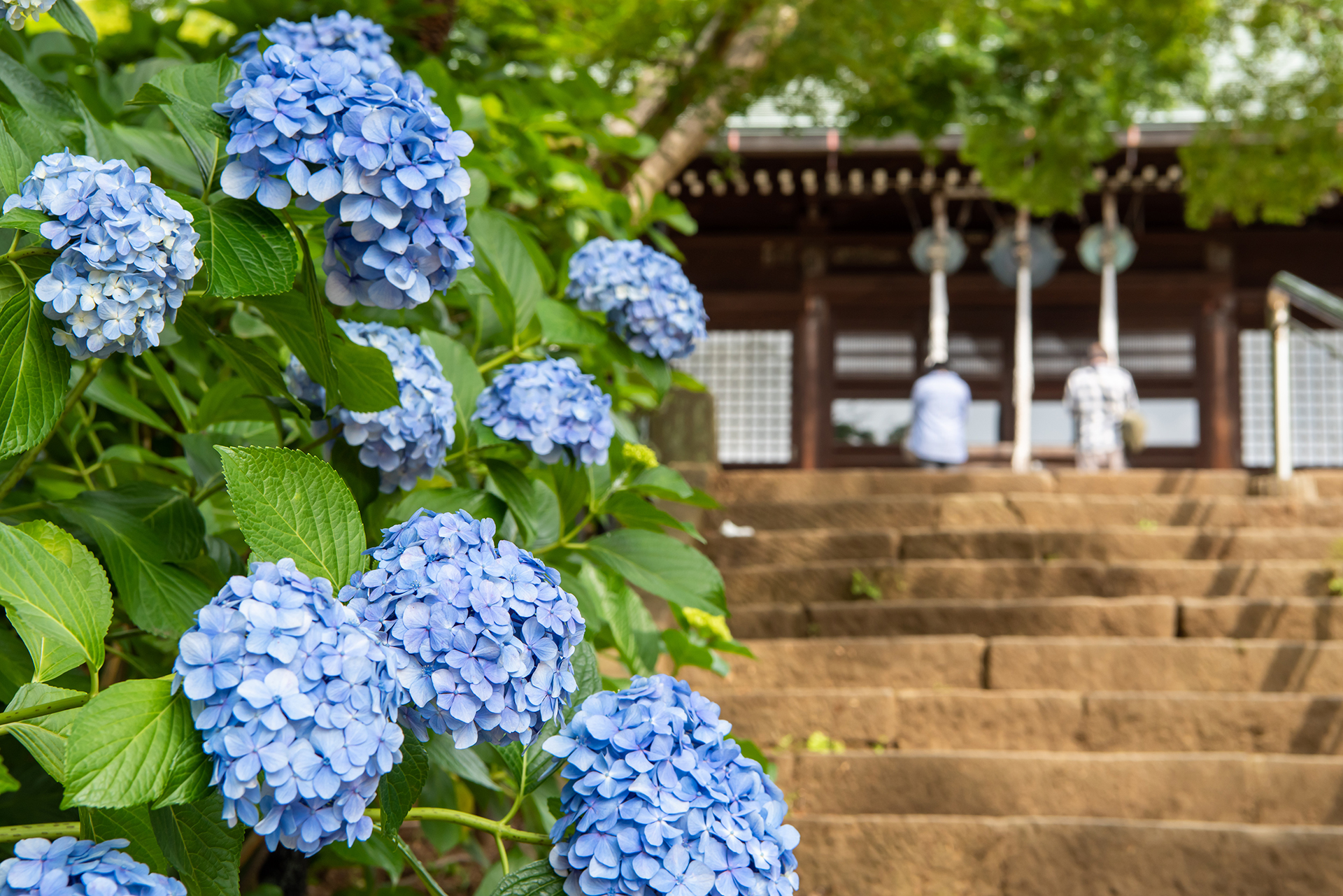 An estimated 50,000 hydrangeas bloom every June at Hondo-ji Temple, earning it the nickname "Hydrangea Temple." A water garden of irises also blooms here during the hydrangea season, letting you enjoy two stunning flower displays side-by-side on the temple grounds. The natural beauty isn't limited to just summer though, as the scenery found here attracts visitors year-round, from the cherry blossoms in early spring to the red maple and yellow ginkgo leaves of fall. This temple has over 740 years of history, and with its location in Matsudo City–right next to Tokyo–it makes for a great day-trip destination.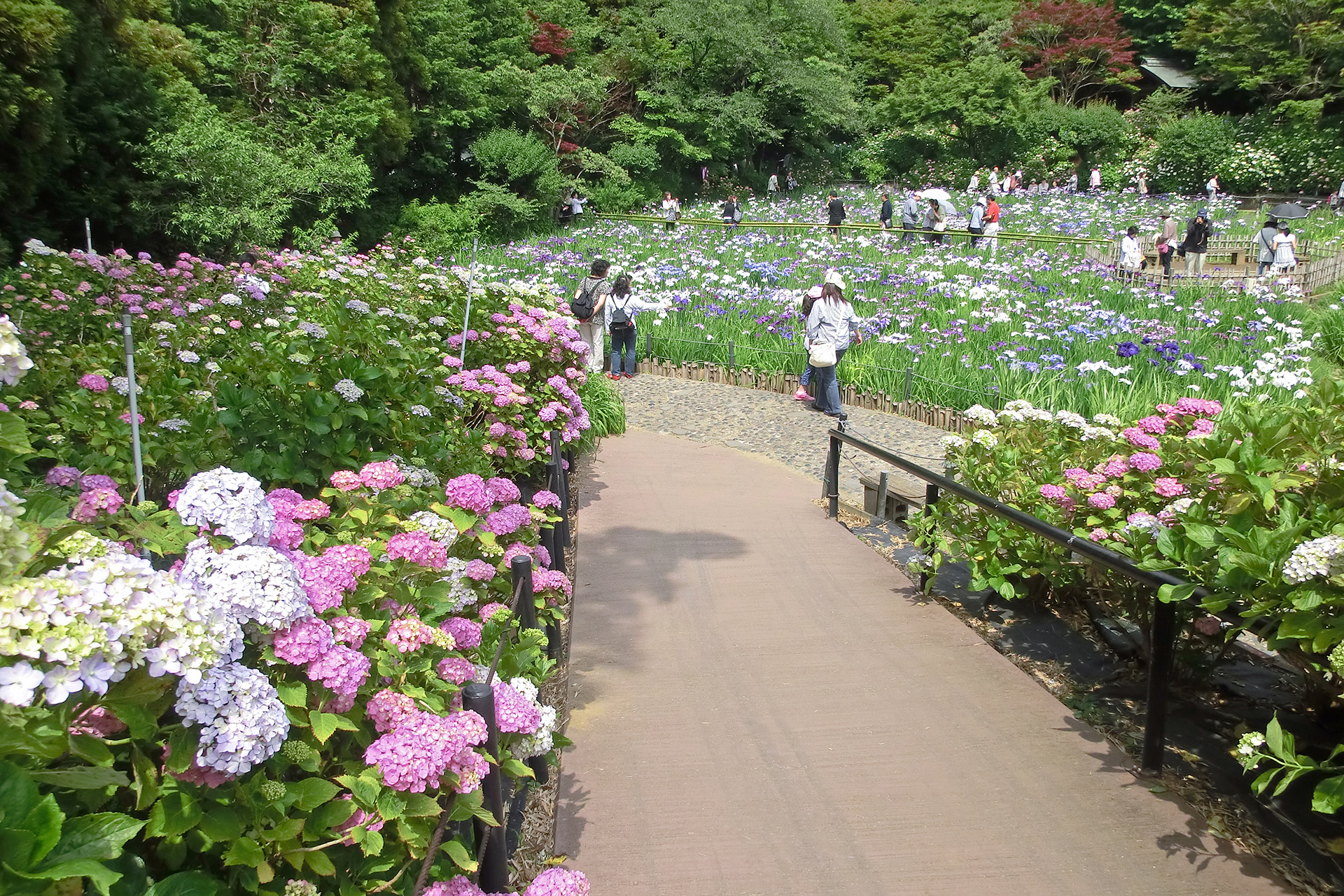 Myohosho-ji Temple - Hydrangeas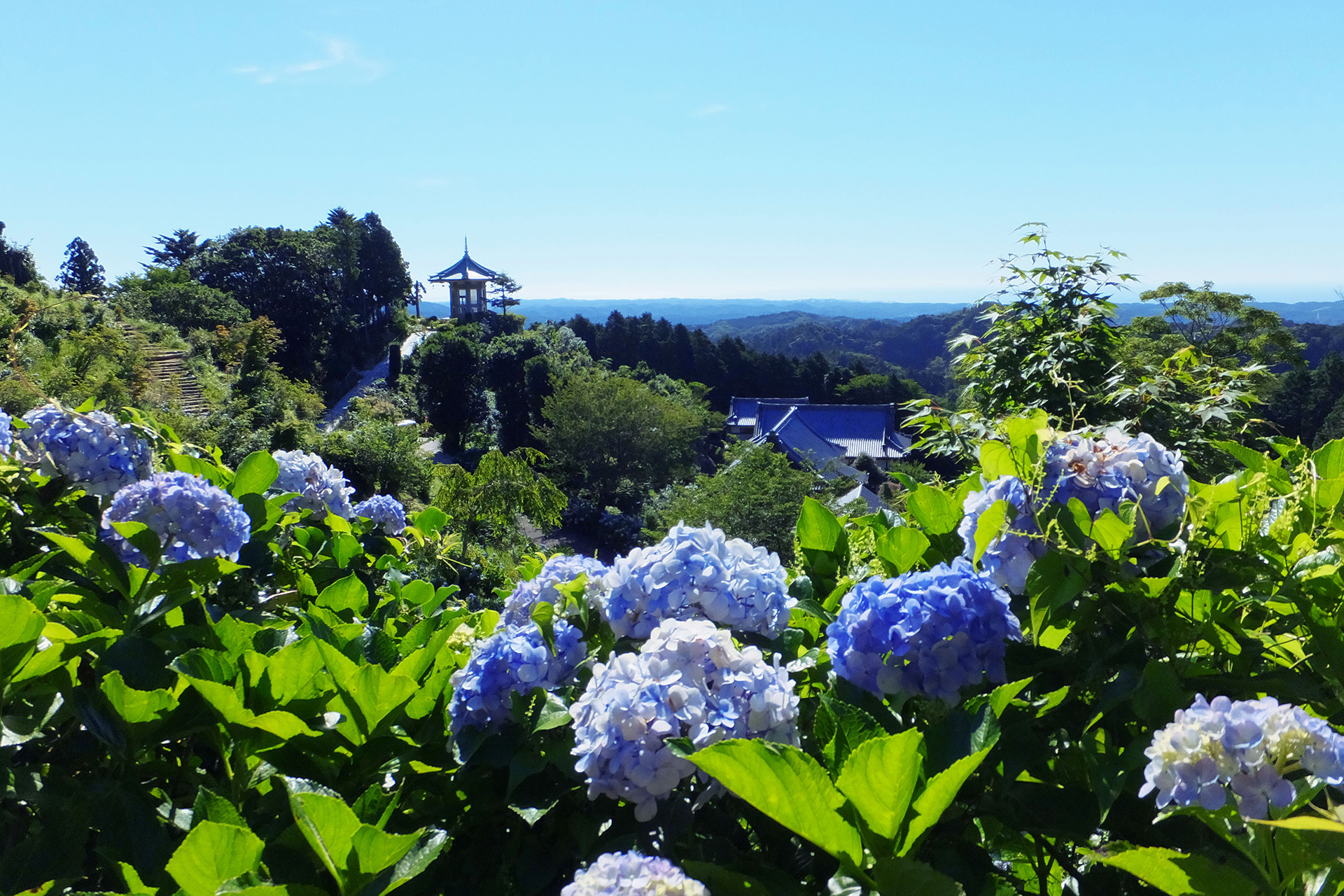 Myohosho-ji is another Temple that goes by the name "Hydrangea Temple," and for a good reason! About 20,000 hydrangeas cover the temple grounds with color during the annual bloom between late-June and mid-July. Situated in the remote Mamenbara Highlands close to Chiba's Pacific coast, the serenity of the temple grounds overflowing with hydrangeas is sure to be a calming and memorable experience.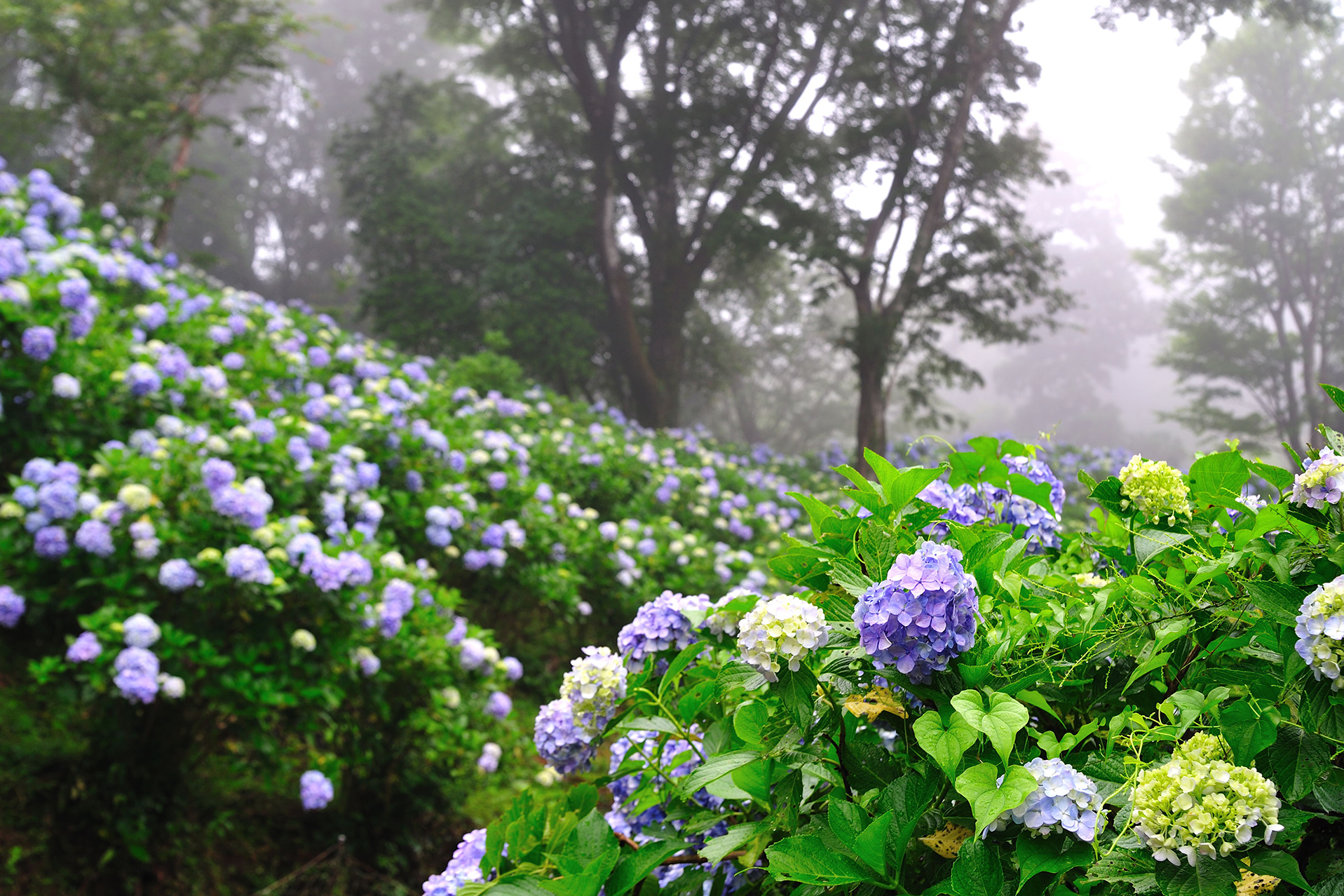 Choko-ji Temple - Weeping Cherry Blossoms
While Yoshino cherry trees tend to garner the most attention during the cherry blossom season, many temple-goers make the trip here for the famous Shidare-zakura tree, which has distinct hanging branches. Also called a "weeping" cherry blossom tree, it has bloomed every year for over three centuries. The tree is one of the most gorgeous around, but the temple itself and other foliage are deserving of the trip to Choko-ji Temple as well.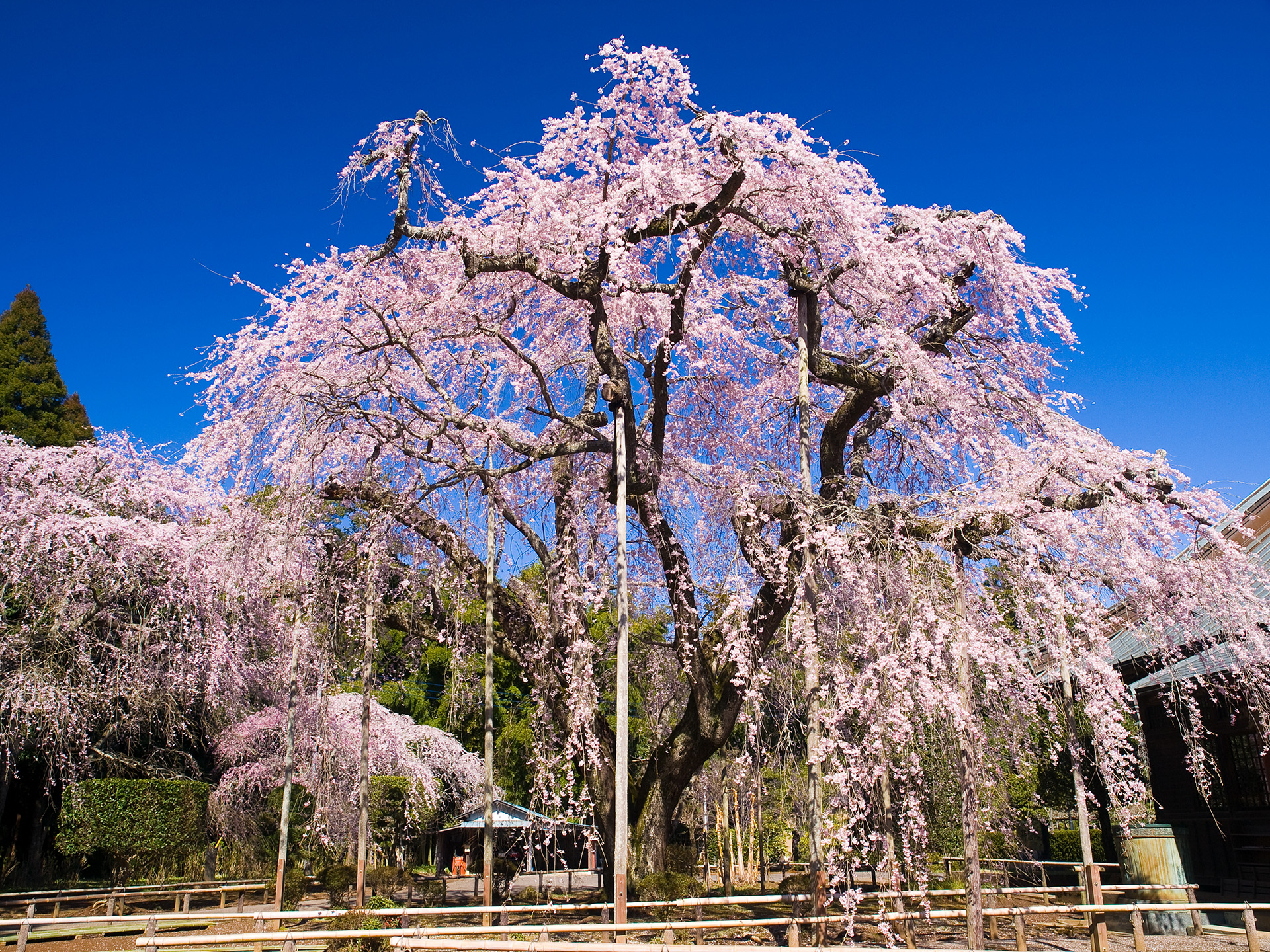 Myofuku-ji Temple - Wisteria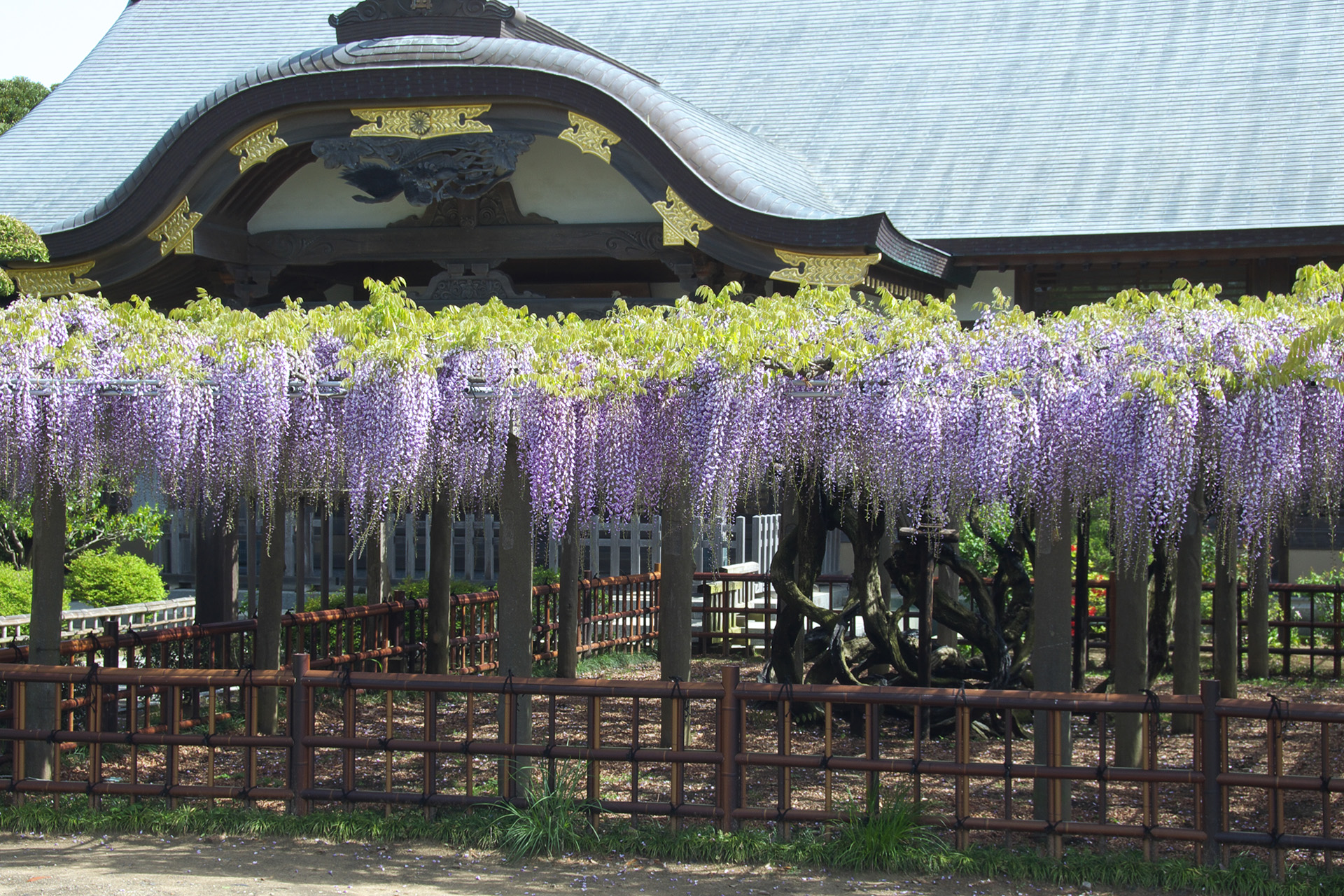 After the cherry blossoms have withered away, another flowering tree takes center stage in Chiba. Purple wisteria flowers are a symbol of this period from mid-April into May, and one of Chiba's best-known wisteria viewing spots is at Myofuku-ji in Choshi City. Usually you'll see wisteria trees propped up by wooden supports, helping extend their lifespans for hundreds of years. One wisteria tree found here has been maintained in this fashion here for over 700 years (some estimates put it over 800 years), creating a nearly mythical sight. In addition to its stunning floral display, its twisted exposed roots have also earned this tree the nickname "Garyuu," as it's said that its form has come to resemble a sleeping dragon.