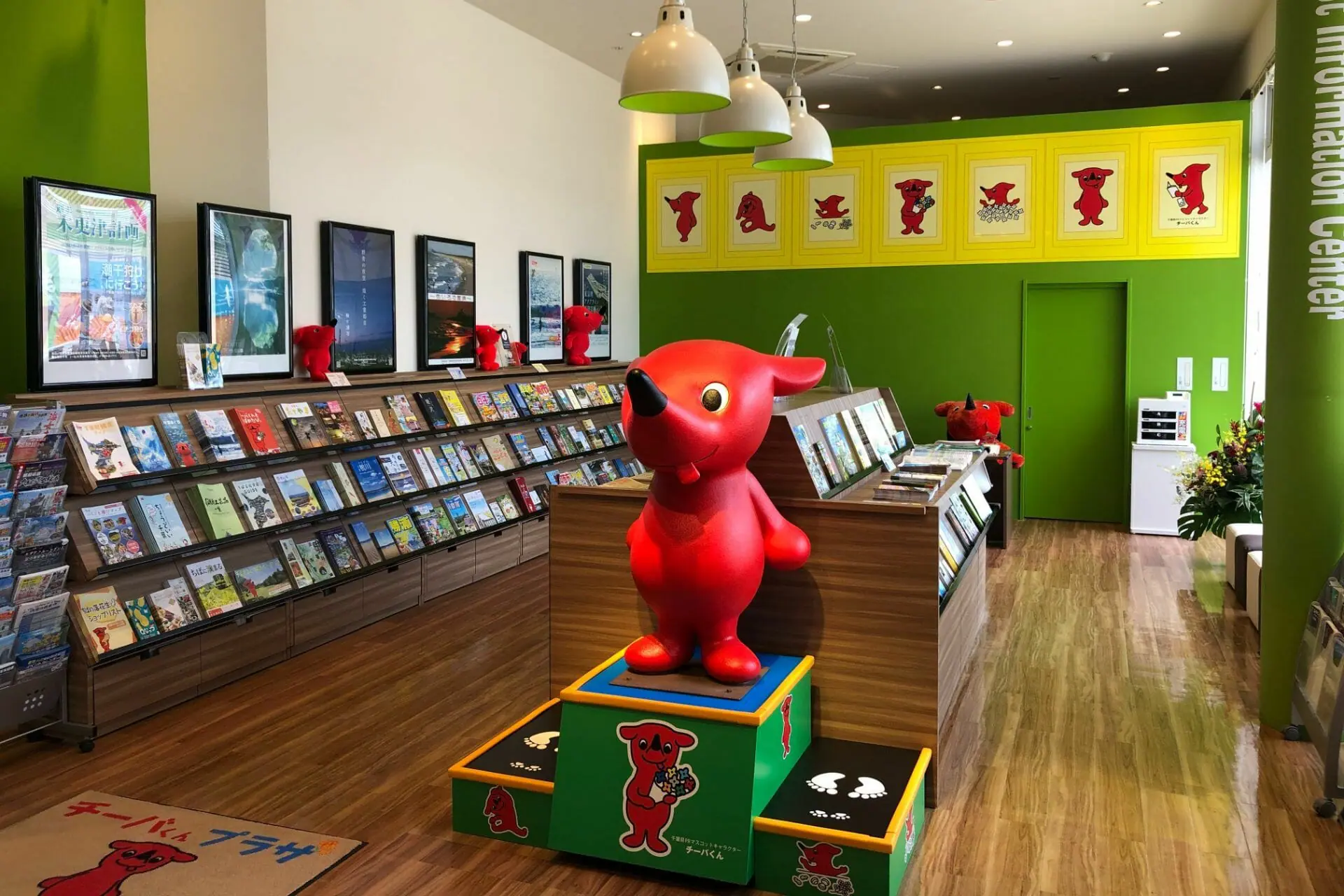 CHI-BA+KUN Plaza: Easy access to travel information in Chiba
Things to Do | Visit Chiba | Latest update:2023/03/30
When journeying through the vast Boso Peninsula of Chiba Prefecture, we recommend stopping at one of the many tourist information centers to hear from the pros. And there's no place to get a better inside scoop on Chiba than from the home of Chiba's very own mascot: Chiba-kun! The staff here are all enthusiastic and determined to help Chiba-kun bring the endlessly abundant joys of Chiba to the world.
"CHI-BA+KUN Plaza" is conveniently located inside Mitsui Outlet Park Kisarazu, and is an easy stop if traveling to Chiba through the "Tokyo Bay Aqua-Line Expressway" undersea tunnel by car. Alternatively, you can catch buses from Tokyo that use this route as well, or of course trains to the nearest station, JR Sodegaura Station. The outlet is a massive sprawl of stores both well-known and niche, and is a popular spot for shoppers looking to get a good deal from selections of quality merchandise.
You'll find CHI-BA+KUN Plaza just inside the south entrance near the restaurants and food court. Sometimes tourist information centers can be awkward to approach, but here it's open and inviting, and you'll be instantly wowed by the sheer amount of cool info on Chiba. Stand-up-paddle boarding, hiking, tea ceremony, sake tasting, museums, theme parks, literally anything you have on your agenda you can find on your own among the pamphlets, or get recommendations straight from the staff (who are amazingly helpful, by the way).
At the plaza, aside from getting recommendations on where to spend your day, you can also play a little. Try on a kimono, try some calligraphy, or try a very unique Japanese game: paper sumo! On a small stage are two origami sumo wrestlers, and you tap different parts of the stage to make the paper figures jump into one another, resulting in one of the figures falling down or out of the ring. It was so addicting!
Why are we so obsessed with Chiba-kun? Well, he's a cute character who, when standing sideways, just so happens to look exactly like the shape of Chiba on a map! You're probably well aware by this point that areas of Japan like to have different "characters" (usually called yuru-kyara… that is, yuru-"character") to be mascots for different regions, and they're usually cute, and usually have something to do with the region's characteristics.
Everywhere you go in Chiba you'll see Chiba-kun hanging around on shop signs, or different souvenirs. Coming from the U.S, I always thought it was strange how Japan has to attach a character to everything, but the more I travel around Chiba, the more I fall in love with Chiba-kun, and of course the places and people I visit. CHI-BA+KUN Plaza gathers the love for Chiba as a leisure destination, and makes Chiba-kun a big part of that. Seeing the character everywhere on a trip through Chiba somehow makes everything feel familiar and connected.