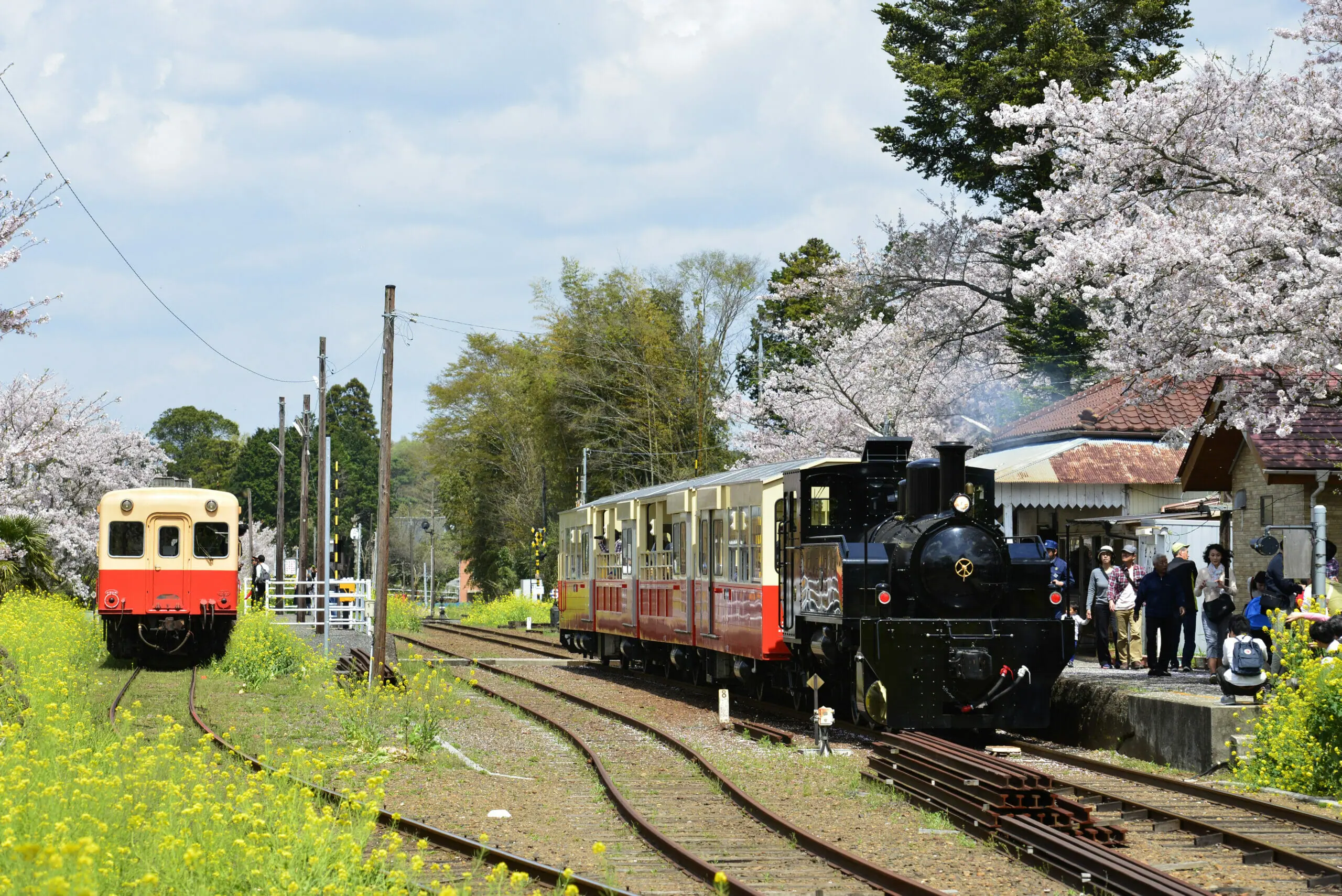 See Japan's defining flower like never before in Chiba
Things to Do | Visit Chiba | Latest update:2022/03/31
Photo Courtesy of the Kominato Railway
Chiba has some of the best cherry blossom spots in Kanto, and the southern part even sees some earlier blooms than Tokyo. If you find yourself eager to see this beautiful tree in March, hop on down south to Chiba where you'll see fabulous, sweeping blooms, and better yet be far away from the tall buildings that can ruin the view. While you're sure to find nice places in any route you choose to explore, we have three famous spots to get you started on a cherry blossom adventure.
Kominato Railway
Photo Courtesy of the Kominato Railway
The Kominato Railway is like a trip through a countryside dream. This local, diesel-powered line connects Ichihara City and Otaki Town, but the main appeal isn't transportation, rather the views you're treated to along the way. In spring, the nanohana yellow flowers and vibrant cherry blossoms adorn the sides of the tracks, ensuring you'll be facing out the window the entire ride. Along the way, Itabu station is a popular place to stop, as it has one of the most lush collection of cherry blossom trees on this line. Start at JR Goi Station for the Kominato Line's first stop, and take a slow journey through Chiba's picturesque spring.
Mobara Park
If you're looking for a good place to settle down for an afternoon, without having to journey along a riverbank or such to find good cherry blossoms, Mobara Park brings the joy of spring together in one place. Not only is there ample space to play, picnic, and stroll, but some 2,850 cherry blossom trees in Mobara Park have made it one of the top 100 places for cherry blossom enjoyment in all of Japan. Believe us, there are countless to choose from, so the top 100 is a major achievement. One thing that contributes to this is the stunning red "Benten Bridge" that crosses the lake in the middle of the park, creating a colorful contrast of red surrounded by pink and white cherry blossoms.
Aoba no Mori Park
Aoba no Mori Park, easily accessed from downtown Chiba, and a perfect day trip if you're looking to get away from Tokyo, but not be too far from the luxuries of a city center. With a mix of early and late-blooming cherry blossom trees, this park is bustling with spring energy for a comparatively longer time than other spots. The park not only has open fields for play and barbecue, but also the "sculpture square" with 19 realistic statues to enjoy. If you want variety, accessibility, and are maybe looking for some dinner or shopping after your day in the park, then this place is for you. While it is popular, it's guaranteed to be less crowded than the limited spots in Tokyo.