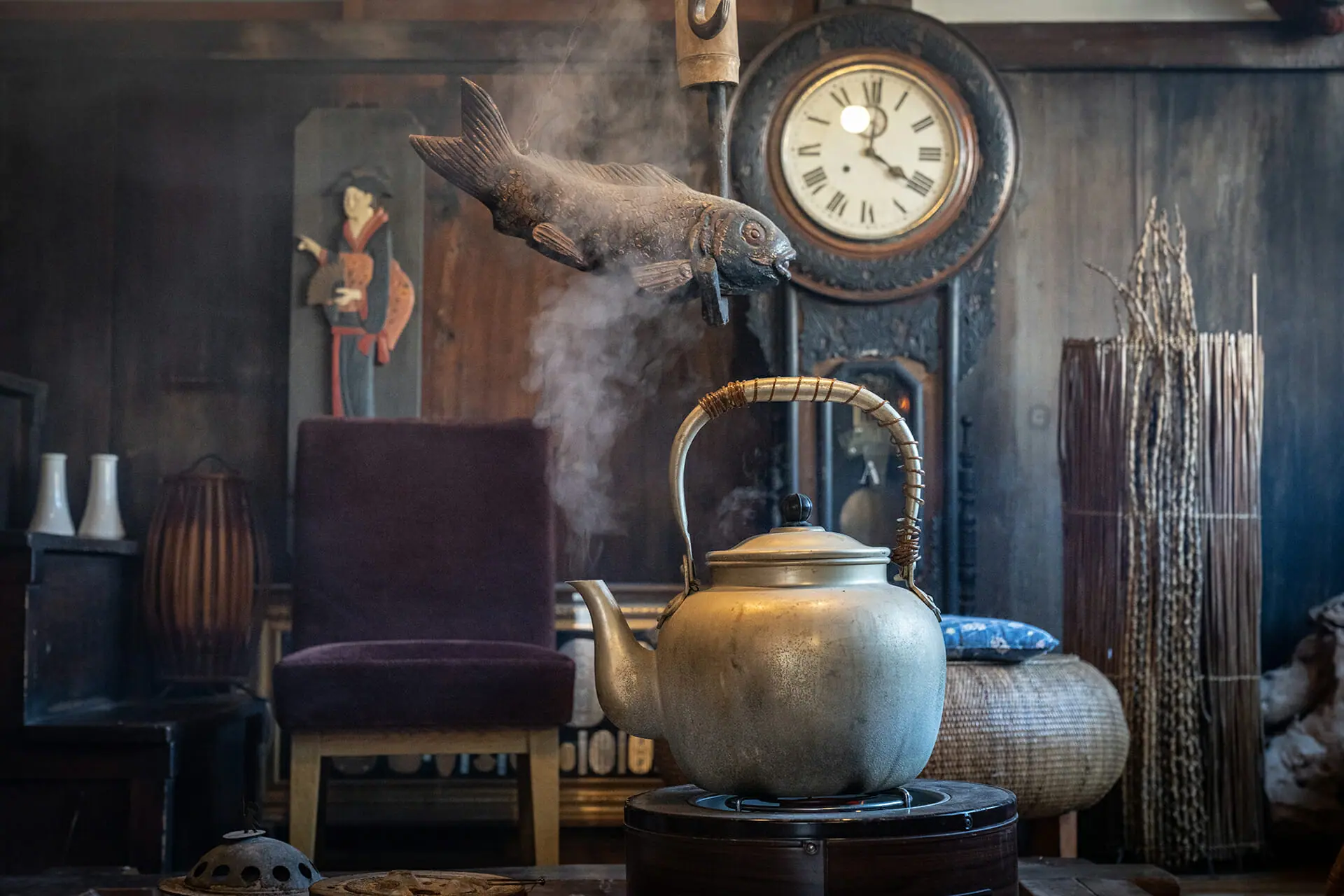 Find a cafe along your way: Four recommended local cafes in Chiba
Things to Do | Visit Chiba | Latest update:2023/03/30
For most coffee drinkers, the daily habit of consuming caffeine doesn't take a vacation, even if you're in the midst of a holiday adventure. If you have plans to travel around Chiba, you can find plenty of unique local cafes to stop at for your daily coffee fix and some food to go along with it. This article introduces four locally-owned cafes that will make for a lasting memory of your time spent in Chiba.
Gallery & Café FUNAKATA SOKO
Gallery & Café FUNAKATA SOKO was built in a renovated 99-year-old stone warehouse in Chiba's Tateyama City. This historic building is one of the last remaining structures here constructed with the prized boshuishi stone excavated from the nearby Mt. Nokogiri. The gallery exhibits paintings of the Minamiboso area (southern Chiba) drawn by local artist Kazuo Mizoguchi. After he passed away in 2019, his family decided to devote this space to display some of the over 300 works of art he left behind. The Minamiboso area is known for its natural beauty, and the gallery here provides visitors with a chance to see these works which encapsulate the region's character and charm.
One of Mr. Mizoguchi's daughters, a certified English-speaking tour guide, Kaori Sasho, runs the cafe. She told us that the inspiration to house her father's works here came when she learned the building was for sale. Another motivating factor to purchase the property was the idea of opening a cafe. Sasho-san procures her coffee beans from a local Tateyama shop which imports from a farm in Brazil, and then she grinds them using her father's British-made hand-crank mill. She's always enjoyed baking as a hobby, and calls upon different influences when selecting the cafe menu. The recipe for one of the desserts on sale the day we visited came from an overseas friend who Sasho-san once guided on a trip to Kyoto. She says that although many of her customers just come in for a coffee and snack, older locals–especially those who knew of her father–have expressed gratitude for her efforts to preserve this slice of Tateyama history.
Kuronekosha - Black Cat Coffeehouse
You can find Kohi Kuronekosha, the Black Cat Coffeehouse, in the countryside of Chiba's Mobara City. The cafe's owner, Motoko-san, originally hails from Tokyo, but was able to make her lifetime dream of opening a café come true here. When she first came upon this property–a kominka classic Japanese-style home surrounded by a rich natural setting–she realized its timeless atmosphere was exactly what she was looking for. The old wooden furniture she's used to adorn the dining areas and dried flowers hanging from just about every corner of the space further accentuate the cozy country home aesthetic.
Kuronekosha not only offers visitors a chance to enjoy a delicious cup of coffee, but also a way to sample the true local flavor of the Chiba countryside. Motoko-san makes use of locally-grown organic vegetables and rice, carefully selecting the ingredients and preparing the dishes to correspond with the sights and scents unique to each season. When we visited, there were customers lined up before the doors even opened for lunch. Motoko-san says that no matter how busy she gets in her daily preparations, she remains thankful for the rewarding nature of the work and the opportunity to serve customers an authentic home cooked meal.
Music & Coffee Shop Misaki
This coffee shop is known for its appearance as the "Cape Cafe" in the hit 2014 movie Cape Nostalgia. Its picturesque location on the tip of Cape Myogane offers a sweeping view of the sea right where Tokyo Bay opens up into the Pacific Ocean. Originally opened in 1978, this cafe has long been a local favorite. Thanks to the help of its loyal customer base, it even re-opened after a fire destroyed the original building in 2011.
The beans for each cup of their coffee are ground as you order, and then brewed with water sourced from the nearby Mt. Nokogiri. Tucked just off the main coastal road, it makes for the perfect stop if you're looking for both some refreshment and a quiet respite. Sit at the table-side windows or out on the terrace and let the rhythms of music and crashing waves soothe you. Stunning sunsets are also a regular occurrence here, and if you're lucky you might be able to catch a view of Mt. Fuji on the horizon across the sea.
Cafe Edomons
This cafe resides in a 230-year-old house that was relocated from the historic Japanese village of Shirakawa-go. The building was nearly destroyed after a powerful typhoon ripped through southern Chiba in 2019, but through the efforts of the local community, the house was rebuilt in 2020. The friendly owner of Cafe Edomons, a roaster and machinesta who goes by the name Master Aoyama Edomons, takes his coffee very seriously. He explained to us how he imports Jamaican Blue Mountain coffee beans, then roasts them in his shop while collecting real-time data which he shares with a friend in the United States. The coffee is then extracted and served according to the method best suited for that particular type of bean. This commitment to quality ensures that coffee aficionados and casual caffeine consumers alike are sure to enjoy a visit to Edomons.
UPDATE October 2022: Cafe Edomons is currently operating on a members-based system. Chiba locals looking to become members, or travelers considering making a one-time contribution to support this local business, can learn more in Japanese at: https://www.edomons.net/