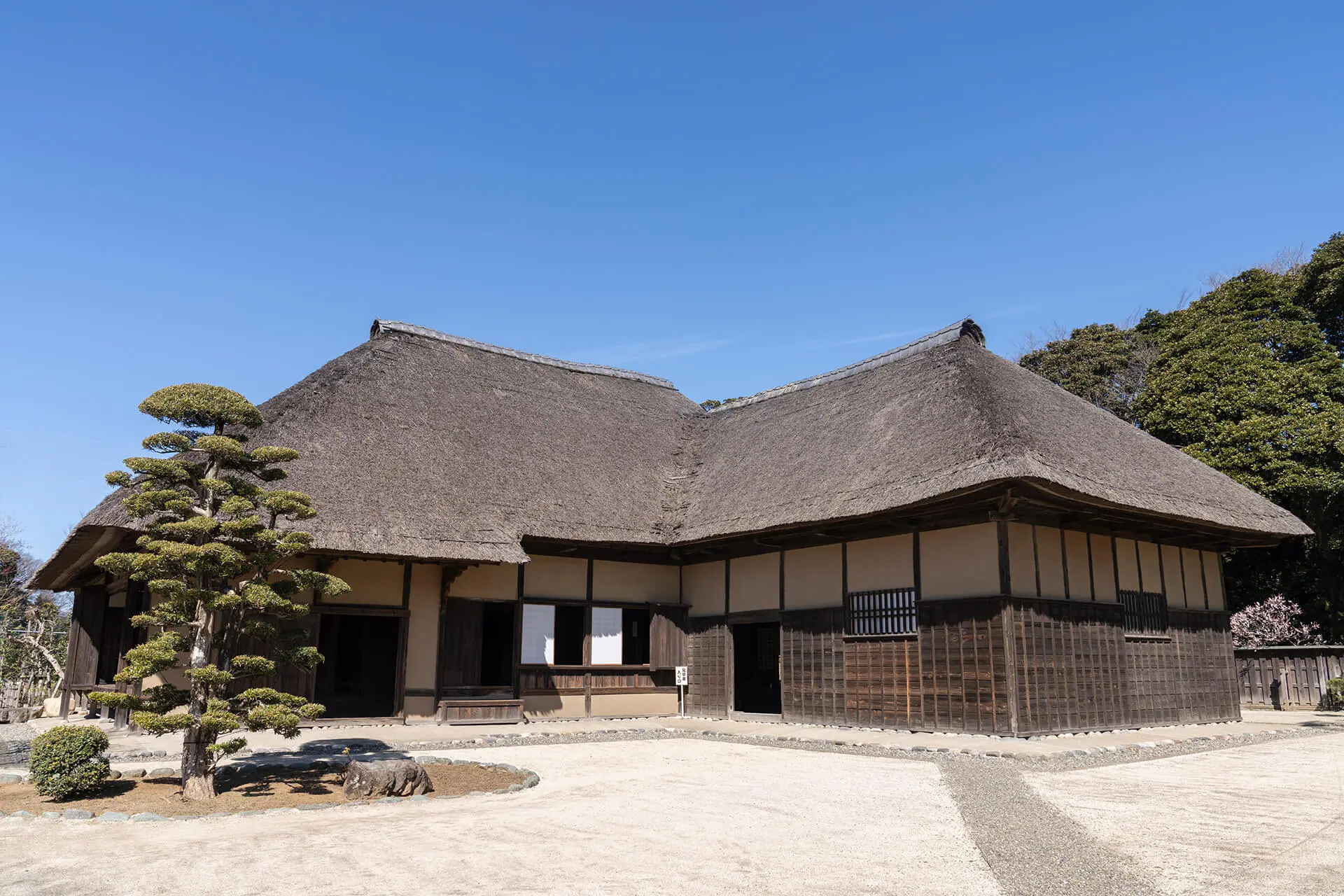 The Former Tokita House: Slip into Yesteryear
Things to Do | Visit Chiba | Latest update:2023/03/30
An easy twelve-minute walk away from Mimomi Station (on the Keisei Line) lies a lovely oasis of Japanese history waiting to transport you to a bygone world. The former ancestral home of the Tokita family sits partitioned from the modern world on a splendid stretch of land surrounded by forest. The wooden fencing and choice placement of trees help to ferry one off to a moment stuck in time; a Japanesque scene straight from a samurai film. An ambitious process, the house was meticulously relocated to its current site in 2000, but one could scarcely imagine that it ever existed anywhere else.
As one walks down the approach to the house – a gray stone "sidewalk" cutting through a sea of beige – one's heart is filled with expectation; as if strolling up to the domicile of a beloved elder. The aged thatched roof, beaming white shoji windows, and exterior walls of various earth tones, all seem to usher you towards the main entrance; framed in a checkerboard of weather-worn woodwork.
True to the etymology of the word "foyer" (from the French meaning, "area arranged to house fire within a home") the front room of the Former Tokita House is spacious and houses a large kamado; a traditional Japanese word-burning stove. The foyer's kamado historically served as a place where the household's meals were prepared, and also was employed to smoke the roofs of domiciles, to make sure they were dry in order to prevent destructive insects from living inside of them. Throughout the abode, the ceilings remain a truly awe-inspiring affair; pieces of wood that vary in thickness, color, and grain woven together in complex designs, covered with bundles of grasses and cedar branches.
Lined against a wall, near the kamado, sits a small collection of wagon wheels and various farming tools. The Tokita family were part of the farming caste, and these tools were used by the farming families of this region. Each of these implements is tagged with its name and, sometimes, even a graphic explaining its usage in the farming trade.
Stepping into the main body of the house (of course, after removing one's outer footwear) a sense of awe is all-encompassing. Despite the age-worn appearance of floor boards, the materials used support your weight and convey a sense of solidity and security in a mysterious yet comforting way, while the deep darkness of their polish elegantly reflects various shades of light. Towards the center of the abode, an antique chest of drawers stands timelessly adorned with an enormous hollyhock crest. It may have been given to the Tokita family as a reward from a person of a higher rank, but there is no documentation to explain its origins.
Of all the home's exquisite features, it is the lighting that impresses most. From the start, it is a light only found within Japan, steaming directly through apertures, and indirectly through shoji (sliding doors of wooden lattice covered by washi paper). Both the various increments and textures of light – shining onto antique surfaces – immerse one's soul into a calm and serenity unique to such heritage houses.
Additionally, depending on the month of your visit, springtime allows you to witness ume (plum) and sakura (cherry) trees in various states of bloom. Such a view, from such a house, remains a memory embedded in one's soul more than in one's brain; making it effortless to recall, yet difficult to convey.