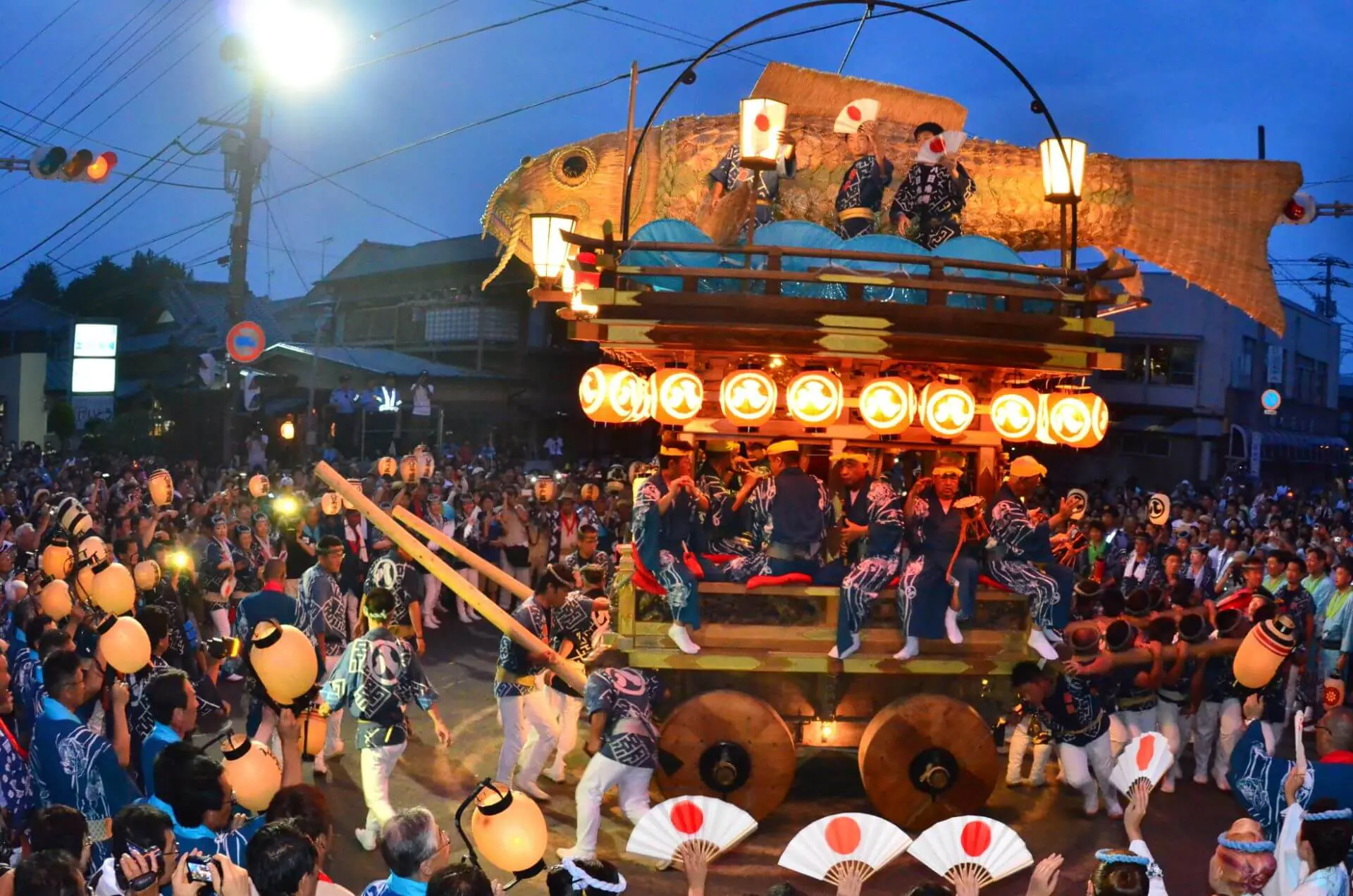 Traditional Festivals in Chiba | Celebrate in more ways than one
Things to Do | Visit Chiba | Latest update:2023/09/12
Photo Courtesy of Katori City, Chiba
Matsuri, traditional Japanese festivals, were originally held as a sacred means of honoring the gods. Today, they continue to be held as foundational communal experiences in towns and cities throughout Japan. While some are more subdued, others are can't-miss spectacles, but in either case, they offer a unique look into the soul of Japan and its people. Here, we'll show you a select list of festivals held here in Chiba.
Katsuura Big Hina Matsuri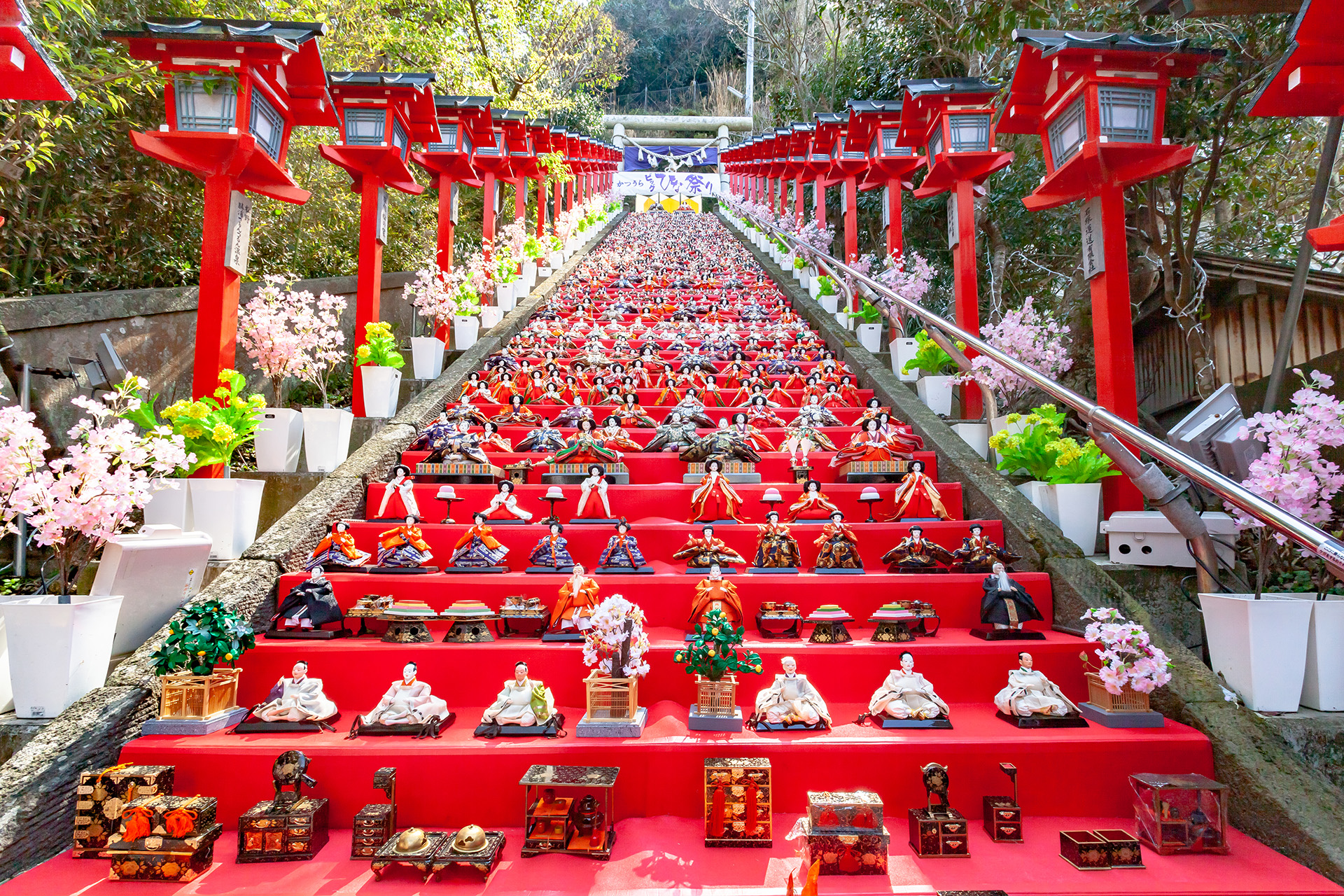 "Hina Matsuri" or "Doll Festival" happens every year in Japan on March 3rd, and families across Japan will display their collection of traditional Japanese dolls in their homes to pray for the health of their daughters. In Katsuura City you'll see the dolls adorning places around town as well. Tomisaki Shrine in Katsuura is perhaps the most famous for this, as the long staircase up the main shrine sees about 1,800 dolls decorating its steps. It's a testament to longevity and also something that signals the coming of spring.
Held: End of February – March 3 in Katsuura City
2023 Dates: February 24 – March 3
Narita Gion Festival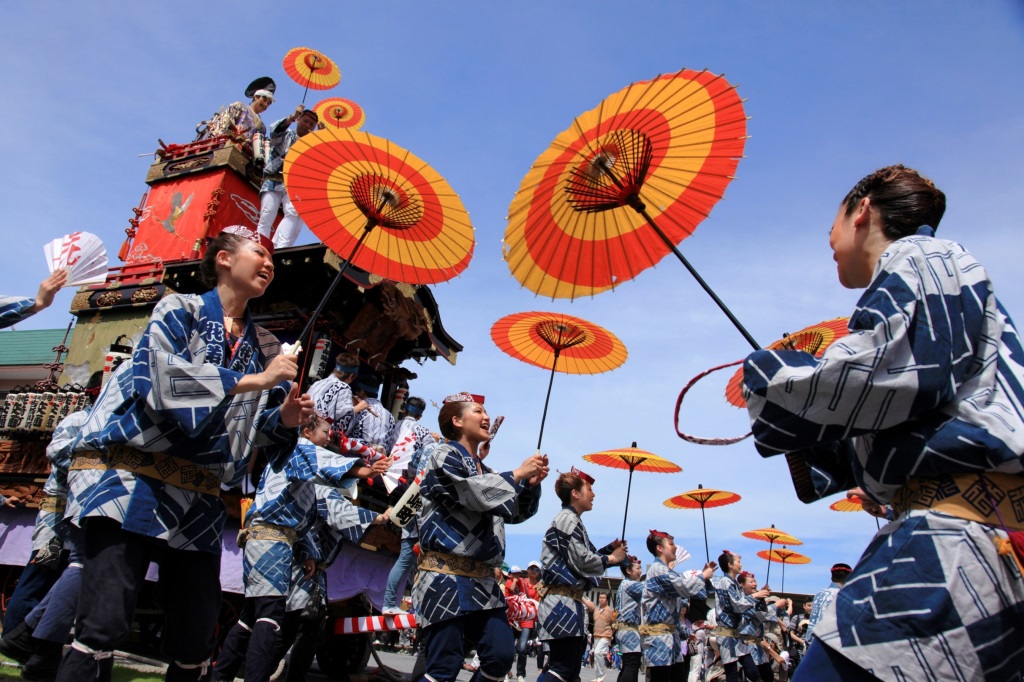 The Narita Gion Festival is probably the easiest to access matsuri in Chiba, as much of it takes place just outside JR Narita and Keisei Narita stations. The festival has over 300 years of history, originally held to celebrate the coming of summer. Ten traditionally decorated dashi floats and one mikoshi portable shrine are paraded around town and down the Omotesando, a charming street lined with restaurants and shops that leads to the over-1,000-year old Naritasan Shinsho-ji Temple. Traditional music and dance performances add to the atmosphere here, and the excitement builds during the day until the fervor peaks at nighttime when the dashi are beautifully lit up.
Held: The closest Friday, Saturday and Sunday to July 7 – 9 in Narita City
2023 Dates: July 7 – 9
Sawara Grand Festival
Photo Courtesy of Katori City, Chiba
With a history spanning nearly 300 years, the Sawara Grand Festival is full of spectacles, fun, and excitement. Sawara has traditionally been a prosperous town of commerce, shipping soy sauce, rice, and other major commodities down to the capital of Edo (modern day Tokyo), and this festival celebrates that legacy. Massive wooden floats called dashi make their way through the town's districts pulling wooden sculptures of famous figures in Japanese history and folklore; samurai generals, gods and goddesses, animals, and more. The floats themselves are intricately carved with different designs and depictions of events, and the entire town comes to see the parade of history and culture, accompanied by traditional music as well.
Held twice per year in Sawara, Katori City:
Summer: The first Friday, Saturday, Sunday after July 10
Summer 2023 Dates: July 14 – 16
Fall: The Friday, Saturday, Sunday coinciding with the second Saturday in October
Summer 2023 Dates: October 13 – 15
Ohara "Hadaka (naked)" Festival
We call it the "naked" festival, but it's really just people in minimal clothing. Why, you ask? Many men, women, and children of the community gather to lug mikoshi portable shrines down to the ocean on their shoulders in the late summer heat. Shops are open at night, and many stalls are set up selling food and drinks. It's a large party to give thanks to the nearby ocean for all the bounty the ocean brings, and a great way to strengthen ties for all that join. Towards the end, when the kami return to the shrines, fireworks can be seen signaling the end of a successful festival.
Held: Every year on September 23 and 24 in Isumi City
Takabe Shrine Knife Ritual
Here at Takabe Shrine, the one and only "deity of cooking", Iwaka-mutsukari, is enshrined and revered. The unique festival, or rather ritual performance, carried out here in May, October, and November, is the Houchou-shiki, or "Knife ritual". It involves the slicing and prepping of a whole fish, without the performer ever touching the fish with his hands. A large knife and long chopsticks are used to skillfully dissect and slice the fish, and arrange it ceremoniously on the cutting board. Please note that with the ongoing virus pandemic, the hosting of the ceremony may be subject to change.
Held: Every year on May 17, October 17, and November 23 at Takabe Shrine