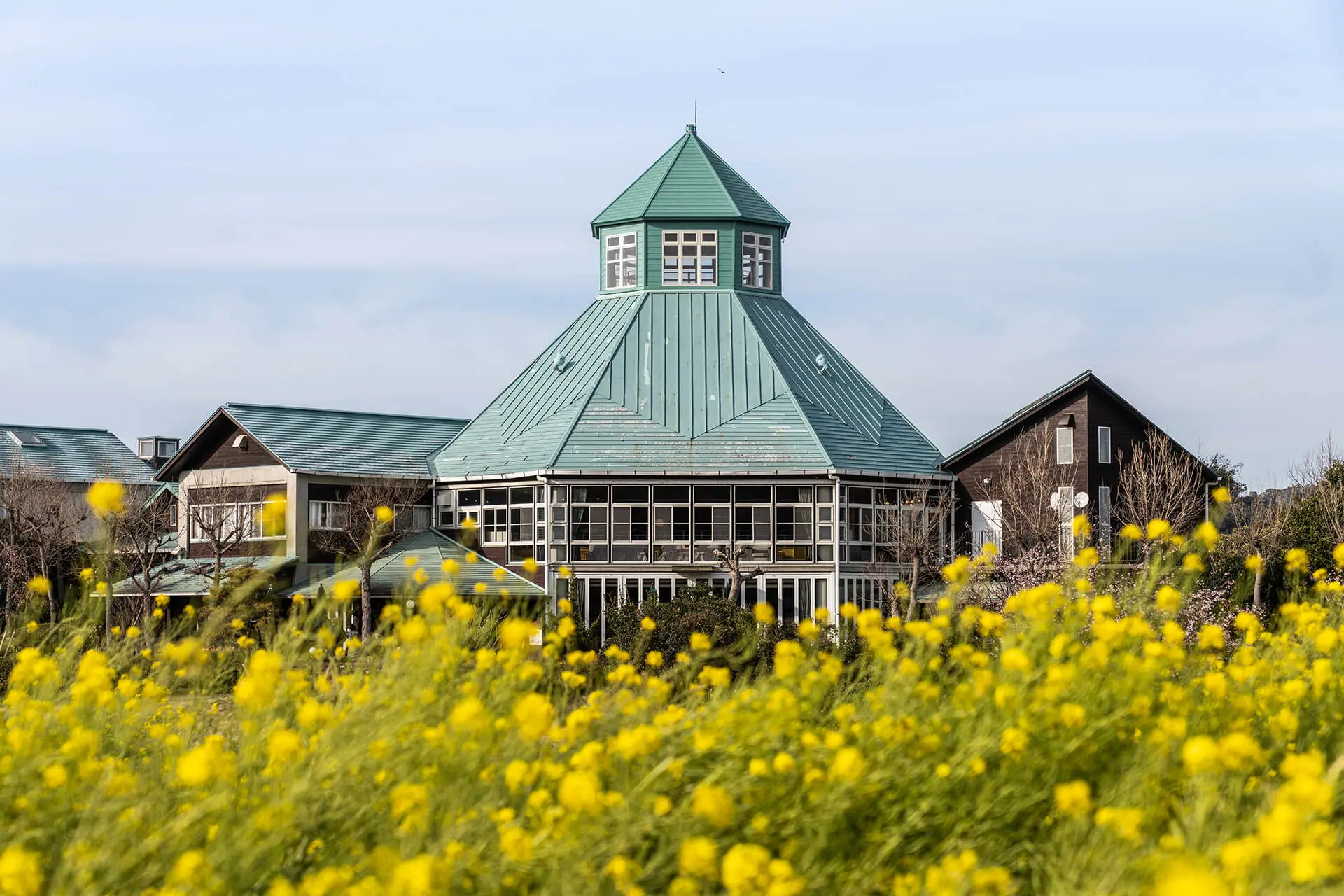 Biwa Club: Roadside Respite
Things to Do | Visit Chiba | Latest update:2021/12/22
Biwa Club is ideally situated as a suitable point of refreshment for those on a drive to hike up Mount Nokogiri, as it stands twenty-three minutes by car from the base of the mountain.
The Biwa Club started in 1993 as a collective of local citizens driven to promote their local industry. By 2021, it had blossomed into a haven for tourists, stitched together like an elegant patchwork of the region's crafts and wares; from loquat goods, to hand-made fans, to local flowers, and artworks of all sorts. It was also the first "Michi-no-Eki" (Japanese-style roadside rest stop) to open in the prefecture of Chiba. It was named "Biwa Club" (Biwa is the Japanese word for "loquat") due to a venture whereby local loquats not perfect enough to be shipped to supermarkets could be transformed into salable goods; and not become a wasted resource. Thus, "Biwa Club" was born as a club where people are brought together by loquats.
Even before one enters the building, the grounds behind it beckon you with bliss. Across a narrow river to the rear of Biwa Club, a canola field lights up one's field of vision with an Insta-worthy cheery yellow. Hugging the building's far side, a charming wooden terrace supports parasol-adorned tables and chairs, in a lush arrangement of flowers grown locally all year round; reminding one of Biwa Club's cooperation with local flower farmers. Also, across the aforementioned river, a strawberry field now thrives as part of this cooperation. In addition to all this, Hana Club (from the Japanese word for "flower") operates a flower shop within Biwa Club. Hana Club, located just four kilometers away, allows visitors to pick fresh flowers all through the year.
Just inside the French-style windows which line the facility's back wall, a fantastic eatery awaits to soothe the tired and the hungry. Their menu offers an astonishing array of western standards and desserts, many of which are tweaked to include locally grown ingredients; from the easy-to-imagine loquat jam and loquat-leaf toast, to the more adventurous "loquat curry." Beyond the confines of the restaurant's inner walls, a spacious relaxation area offers equally stunning views of the floral gardens outside; with its outer walls constructed of doors composed of floor-to-ceiling window panes. Here, under a colorful domed ceilings some eighteen meters high, visitors are free to relax at their leisure with refreshments purchased from the gift shop nearby. Visitors may choose to peruse one of the many books – on many subjects – which line shelves at the foot of the stairs.
When asked what makes him most proud about his association's achievements, Mr. Suzuki, Biwa Club's general manager, reflected for a moment, then answered, "The local area won't thrive if visitors are only drawn to (the main building of) Biwa Club. We would like them to see that they can participate in activities like biwa picking.  By collaborating with local people, Biwa Club serves as a contact point; linking visitors and local farms so the former may participate in the experiences available at the latter. The Biwa Club also serves as a tourist information center and gateway to the entire Minamiboso region.
In a message to foreign visitors thinking of visiting this facility, Mr. Suzuki stresses that Biwa Club does not possess any famous attractions such as World Heritage sites, but what they lack in flash, they more than make up for in depth of experience. Biwa provides visitors a chance to truly get to the heart and soul of a local community. Visitors can also be assured that the money they spend will be put to use in a way that directly supports the local economy.
The schedule of available activities may vary from season to season, but the latest information is always available here: https://www.biwakurabu.jp/play/index.html Also, please note that all activities listed on that site do require advance reservations. However, whatever agenda you set for your day of immersion into this world, be sure to sample some of Biwa Club's loquat soft ice cream; refreshingly original, and decadently satisfying.