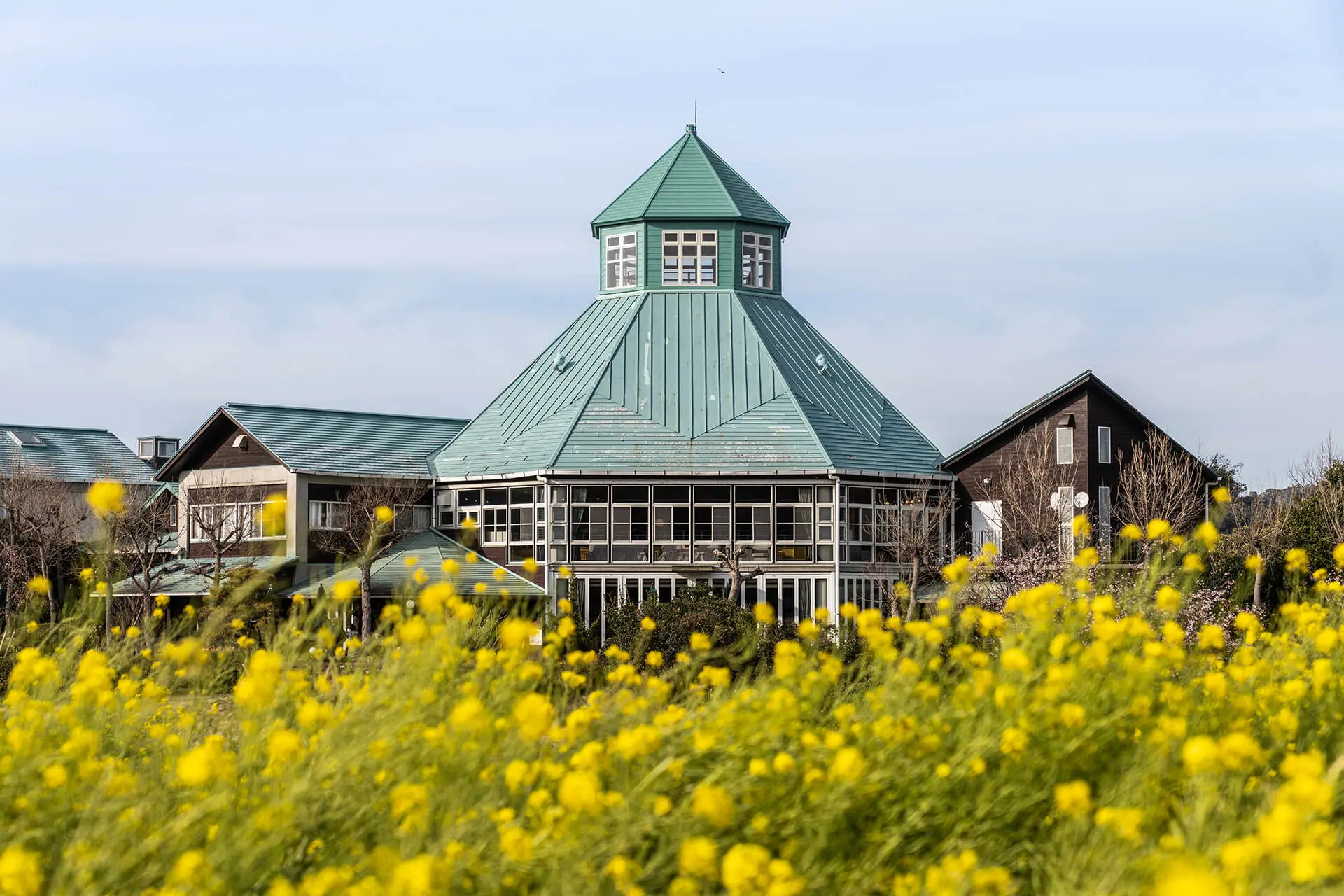 Biwa Club: Roadside Respite
Things to Do | Visit Chiba | Latest update:2023/04/04
Established by local citizens in 1993 as a collective to promote local industry, Biwa Club has since blossomed into a tourist hub. It was the first Michi-no-Eki (Japanese-style roadside rest stop) to open in Chiba Prefecture, a convenient stop en-route to the tourist destinations located on the southern end of the Boso Peninsula. Biwa Club offers products and handicrafts from the Minamiboso (southern Chiba) region: from loquat goods, to hand-made fans, local flowers, and artworks of all sorts. It was named Biwa Club (Biwa is the Japanese word for "loquat") due to a venture whereby discarded local loquats could be transformed into salable goods and not become a wasted resource. Thus, Biwa Club was born as a place where people are brought together by loquats.
Attached to the building's far side, a charming wooden terrace supports parasol-adorned tables and chairs, within a lush arrangement of locally grown flowers; thanks to Biwa Club's cooperation with local flower farmers. Just across the river bordering the property, a strawberry field thrives as part of this cooperation as well. Hana Club (from the Japanese word for "flower") also operates a flower shop within Biwa Club. Hana Club itself is located just four kilometers away, and allows visitors to pick fresh flowers year-round.
Just inside the French-style windows which line the facility's back wall, a welcoming eatery awaits to soothe the tired and the hungry. Their menu offers an array of western standards and desserts, many of which are tweaked to include locally grown ingredients; from the easy-to-imagine loquat jam, to the more adventurous loquat curry. Beyond the confines of the restaurant's inner walls, a spacious relaxation area-equipped with floor-to-ceiling window-paned doors-offers equally stunning views of the floral gardens outside. Here, under a colorful domed ceiling some eighteen meters high, visitors are free to relax at their leisure with refreshments purchased from the gift shop nearby. Visitors may also choose to peruse one of the many books which line the shelves at the foot of the stairs.
When asked what makes him most proud about his association's achievements, Mr. Suzuki, Biwa Club's general manager, reflected for a moment, then answered, "The local area won't thrive if visitors are only drawn to Biwa Club. We would like them to see that they can participate in activities like biwa picking. By collaborating with local people, Biwa Club serves as a contact point; linking visitors and local farms, and providing visitors with information about the experiences on offer at the farms. Biwa Club also serves as a tourist information center and gateway to the entire Minamiboso region."
In a message to foreign visitors thinking of visiting this facility, Mr. Suzuki stresses that Biwa Club does not possess any famous attractions such as World Heritage sites, but what they lack in flash, they more than make up for in depth of experience. Biwa Club provides visitors a chance to truly get to the heart and soul of a local community. Visitors can also be assured that the money they spend will be put to use in a way that directly supports the local economy.
The schedule of available activities may vary from season to season, but the latest information is always available here: https://www.biwakurabu.jp/play/index.html
Also, please note that all activities listed on the site require advance reservations. However, whatever agenda you set for your day of immersion into this world, be sure to sample some of Biwa Club's loquat soft ice cream; refreshingly original, and decadently satisfying.