Japan's public transportation system is very well developed and operated, especially the railroad networks in and around the metropolitan areas. Chiba is no exception, as being next to Tokyo and home of Narita International Airport, it's a critical part of the capital area's rail infrastructure. JR (Japan Railways) lines operated by JR East cover most of Chiba, and holders of a Japan Rail Pass, Kanto Area Pass, or JR East Pass can make use of their passes on these lines. There are numerous private railways operating as well here in Chiba, like the Keisei Main Line and the Tobu Urban Park Line, in addition to charming local railways like the Kominato Railway and Isumi Railway.
Narita to Tokyo
If you're looking for how to get from Narita to Tokyo, please click:
Narita to Tokyo: 3 ways to go | Visit Chiba
Explore Chiba
Chiba is situated on the Boso Peninsula and trains can take you along both the Tokyo Bay and Pacific coastlines here, in addition to routes that cross the countryside in the interior. One convenient way to travel from Tokyo down Chiba's Pacific coast is the Wakashio Limited-Express train. To learn more, please click:
JP Rail | Limited-Express Wakashio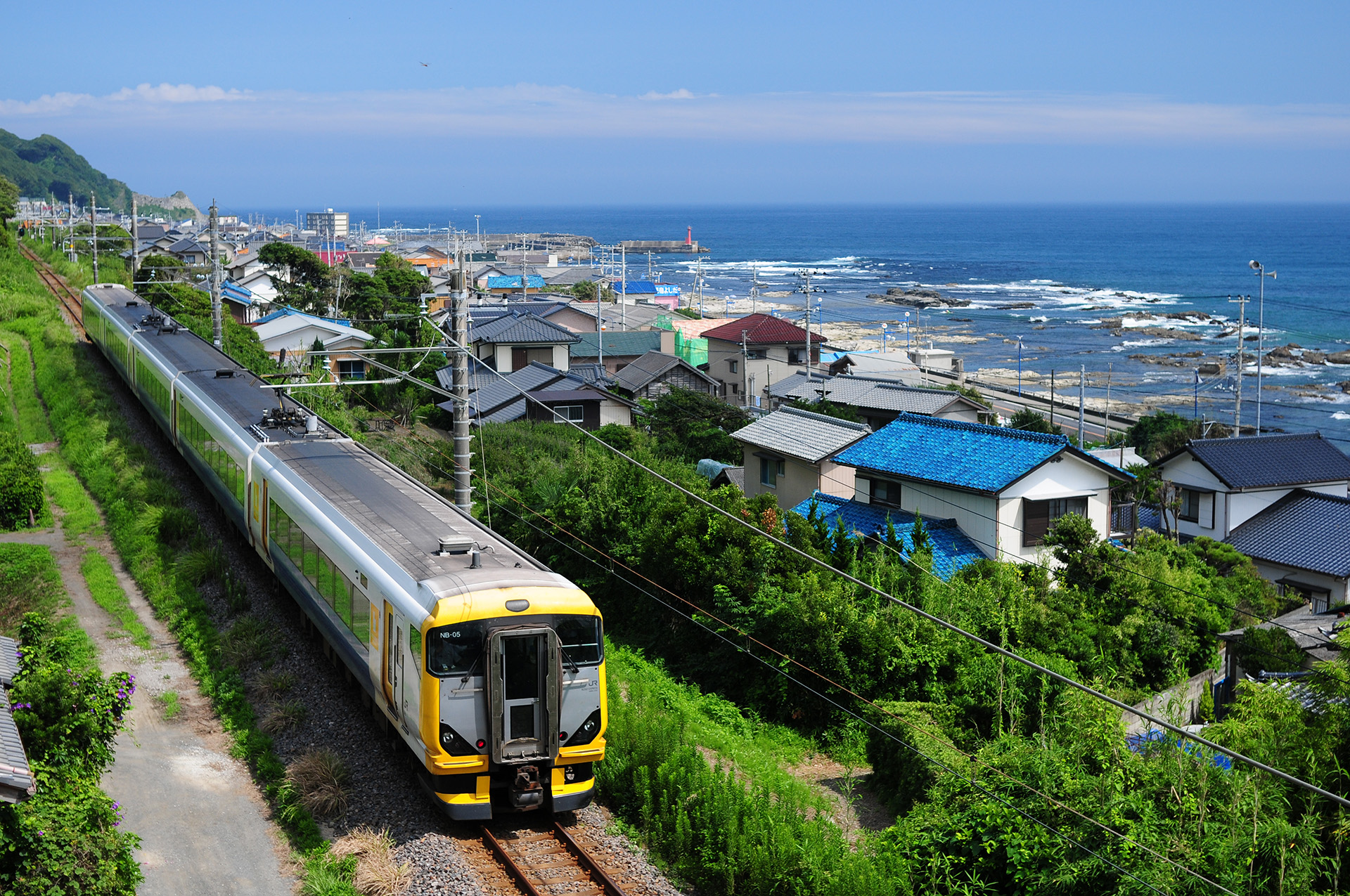 A Wakashio Limited-Express train riding down the JR Sotobo Line
Local Train Lines
While you can zip around Chiba on limited-express and rapid trains, a ride on one of the local train lines gives you an intimate look at the charming communities and beautiful scenery on offer here. Learn more about these local train lines below:
Choshi Electric Railway | Visit Chiba
Isumi Railway | Visit Chiba
Kominato Railway | Visit Chiba
Ryutetsu Nagareyama Line | Visit Chiba
Chiba Urban Monorail
The Chiba Urban Monorail runs on a suspended monorail system, meaning the cars hang from the track–as opposed to riding above it! Chiba's monorail was even certified by Guinness World Records as the world's longest of its kind, with an operating distance of 15.2 km.
How to Pay:
There are two ways to pay for your fare on a train in or around Chiba: purchasing a ticket to your destination or using a chargeable IC card like the SUICA and PASMO cards. IC cards are the preferred method of payment for most riders, as they save you the time and hassle of buying a ticket each time you ride the train.
IC cards can also be used to ride the Tokyo Metro and many of the Tokyo and Chiba area bus lines as well. They can also be used to purchase goods from many vending machines and shops, both inside and outside train stations. You may purchase a SUICA card with a 500-yen deposit, then charge it with at least a 1,000-yen balance (500-yen deposit included).
Please keep in mind that some trains can only be boarded with a ticket, such as the four "Local Train Lines" introduced above. Usually, you can buy a ticket on a machine outside of the station gates, or from a conductor on the train.
To ride a limited-express train, you enter the station gates as usual, but you also need a separate ticket to show the conductor after you've boarded. You can buy a limited-express ticket online, on a machine inside or outside of the station gates, or from the conductor on the train. Limited-express trains usually have reserved and non-reserved seating.