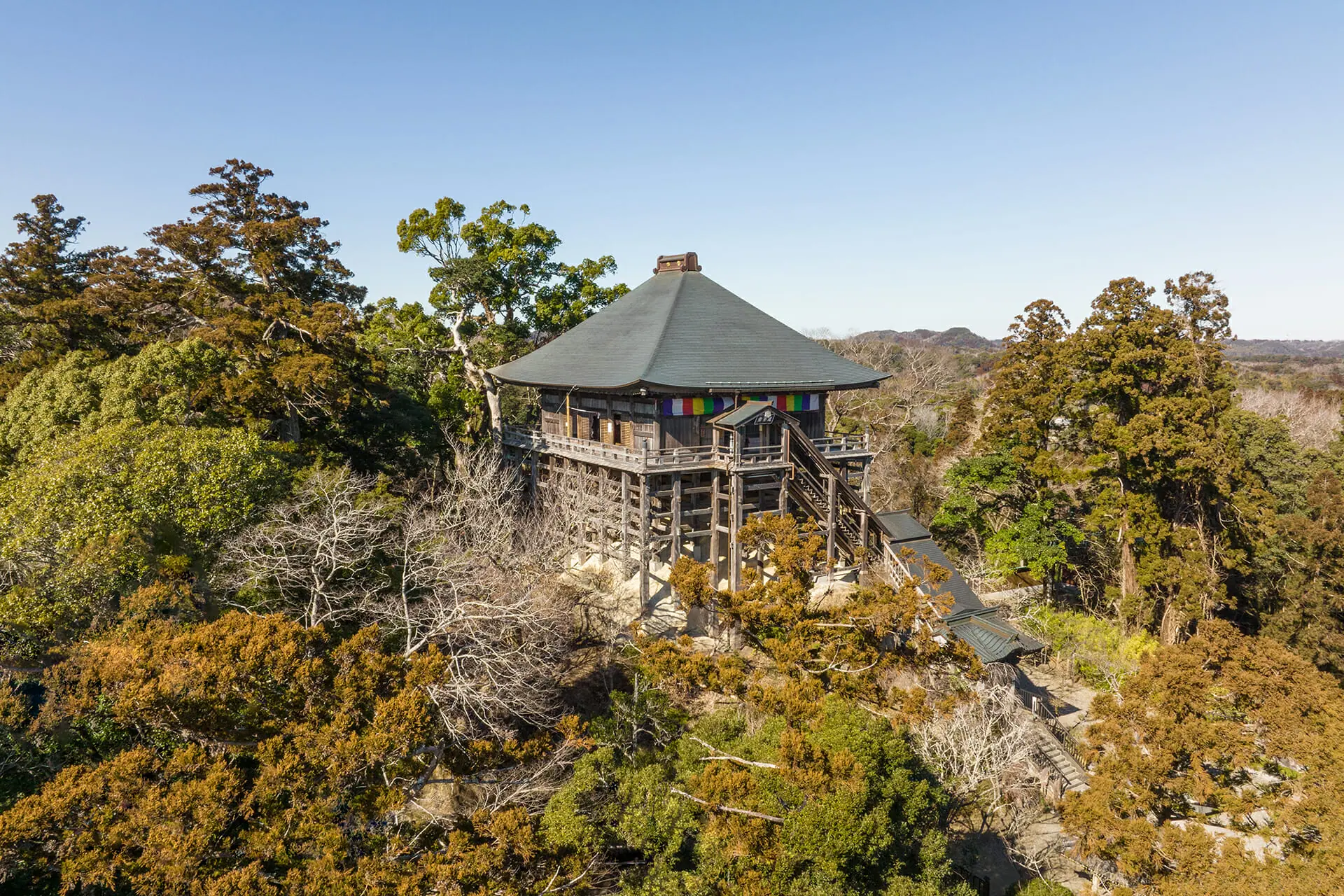 Kasamori-Kannon Temple: A one of a kind design, in a one of a kind place
Things to Do | Visit Chiba | Latest update:2023/03/30
Japan is dotted with both shrines (jinja or jingu) and temples (o-tera, or designated with suffix "-ji"). It's important to note that, while both may have the same atmosphere and appeal from a sightseeing perspective, shrines are for Shinto deities, whereas temples are Buddhist. At temples, many times you will see Buddha statues that look male, but if you see Buddha statues with a female appearance, they are likely "Kannon", the god of mercy and compassion; a Bodhisattva known by different names all over Eastern Asia.
The "Kasamori Kannon" Buddhist statue has long been here in the Chonan area, located around the center of Chiba, said to have been carved from wood by the Buddhist monk Saicho as far back as the year 784. Many temples begin as monuments like this, and if they gain enough importance and wealth, then have temples of varying sizes built around them. Kasamori-Kannon Temple is a unique case, in that the original Kannon statue was carved and then placed on an large, somewhat cone-shaped rocky hill―as opposed to a more common location like a one-sided cliff face―making it difficult to build a temple around. A novel idea for the temple's architecture emerged from the necessity to house the Kannon statue.
Japan often uses "kakezukuri" (lit. Hanging construction), which requires using stilts to support a structure that is partially on a cliff, or perhaps jutting out over a valley or river. Kasamori-Kannon Temple however uses "four-sided hanging construction", which utilizes stilts on all sides to position the temple directly on top of the hill where the Kannon statue is located. This is the only temple that uses this construction method in all of Japan, and has been deemed a National Important Cultural Property. It attracts not only temple enthusiasts, but enthusiasts of classic Japanese architecture as well.
The main temple is made entirely of wood, and seems to breathe with each step that is taken on it. In order to be more resilient against typhoons and earthquakes, the temple is built without rigid nails, and, although has been taken apart and reassembled, keeps the original, more flexible design that wood joinery allows.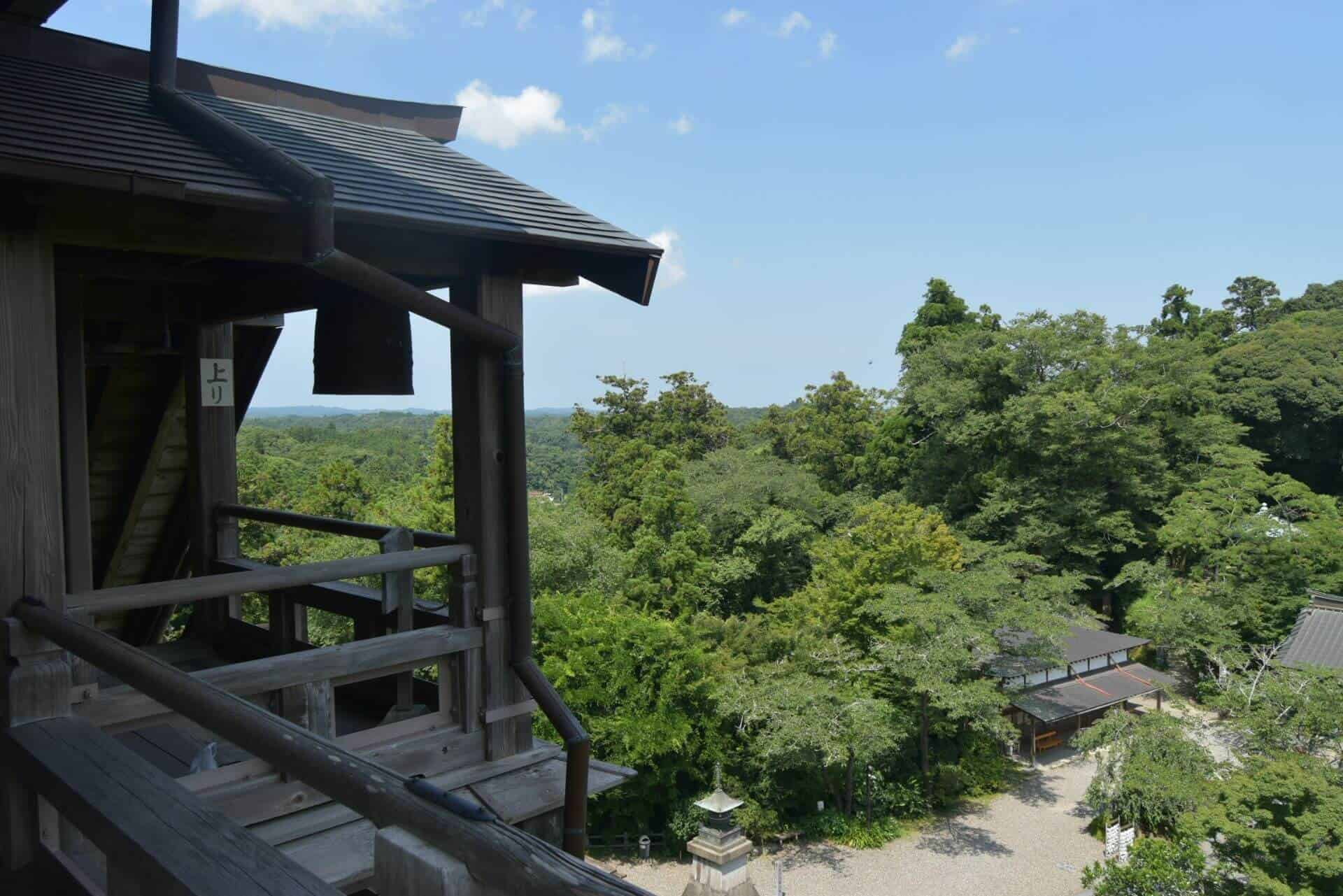 This deep section of Chiba is bursting with nature, and the view from the high-set Kasamori-Kannon Temple provides an excellent panoramic view of the surrounding area. Since the surrounding area has long been designated for the temple, the trees have grown to massive size, with one in particular being famous. The San-bon sugi (three trunk cedar) here is the largest tree around the temple, and has three distinct trunks that branch away from one another, yet are all conjoined at the base of the tree. Aside from the construction of the temple itself, the old-growth dense forest here is yet another monument to Japan's extensive history.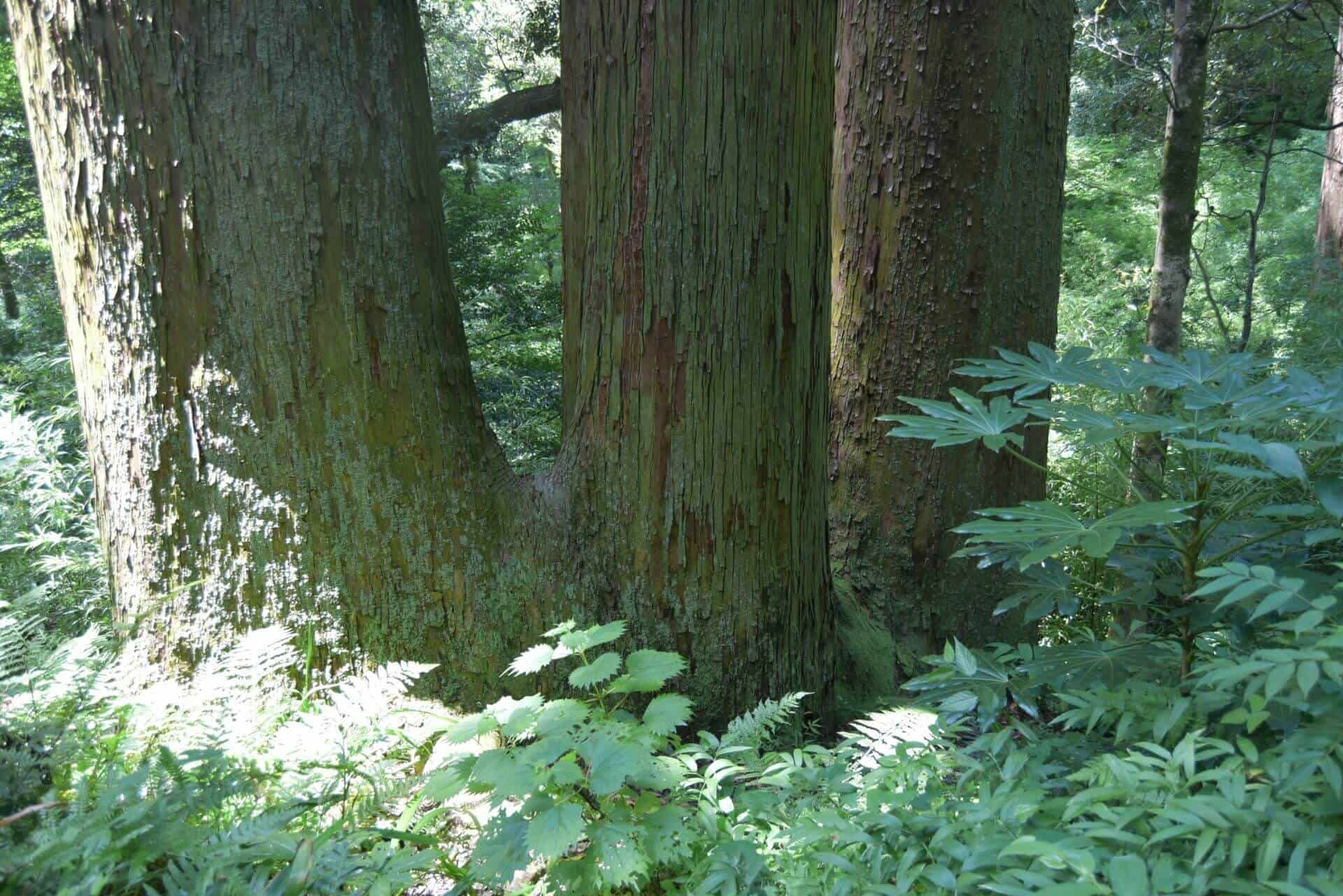 Another massive and famous tree that is just before the main grounds of the temple is the "Kosazuke-no-Kusu (lit. a camphor tree of conception)", which has a large, natural opening at the base of the trunk. It has enough space to crawl through, and it is said that doing so will increase fertility, and promote youthful health in general. Crawling through this tree is a first step for many when visiting Kasamori-Kannon Temple!
On the peripheral of the temple grounds is the massive bronze bell you can ring with a swinging log.
It weighs nearly one-and-half tons, and a good strike with the log will make the booming sound of the bell resonate powerfully for over a full minute, seeping mysteriously into the dense forest all around.