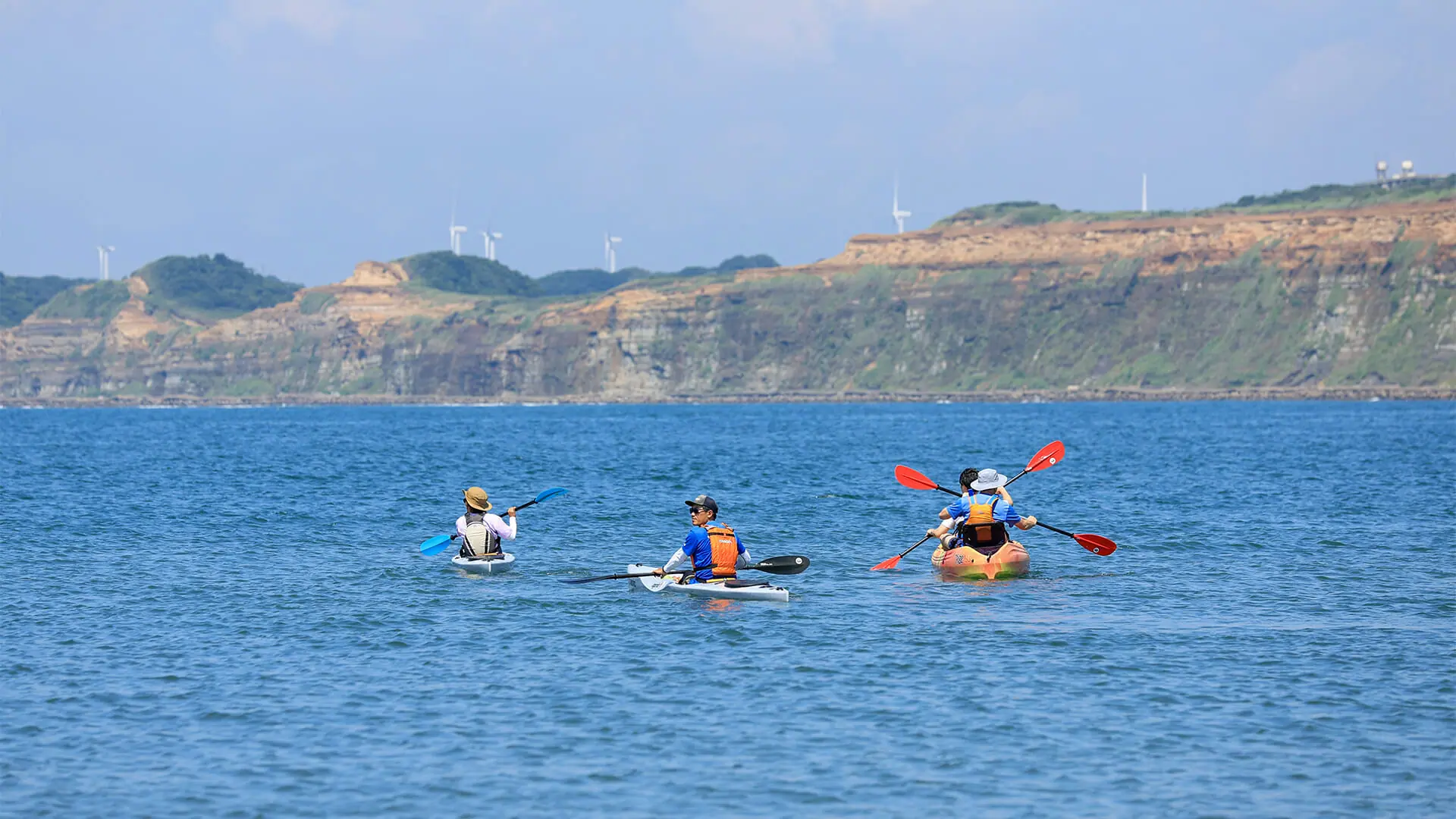 Choshi Kayaks: An Ocean Adventure
Things to Do | Visit Chiba | Latest update:2023/04/04
The sea shapes much of Japan's character and charm, and few places represent this influence better than Chiba's Choshi City. Located at the easternmost point of the Kanto region, Choshi's Cape Inubo juts out into the Pacific Ocean, drawing visitors with its historic lighthouse and some of the most idyllic seaside scenery in the Tokyo area. However, somewhat hidden from the city center on the far side of the cape is a spot known as the Byobugaura coast, which many locals will tell you offers the best oceanside vistas in Choshi. It's here at Choshi Marina Beach where the Choshi Kayaks tour operates, providing visitors with a one-of-a-kind way to access this stunning scenery via their kayak tours.
You'd be forgiven for thinking the sea kayak experience is reserved only for experienced ocean enthusiasts, but the Choshi Kayaks tours are suited even for true beginners! Compared to other ocean sports, kayaking has a much broader entry point, and as long as you bring a sense of adventure, the staff here can help you enjoy an ocean exploration. The Visit Chiba staff participated in the Choshi Kayaks "Byobugaura Sea Kayak Ocean Stroll" to test the experience for ourselves. Two of us joined the tour and rode together in a tandem kayak; one near-beginner and one absolute-beginner.
The two guides, Mr. Tamura and Ms. Fukaya, took us straight to the beach for some warmup exercises and then taught us the basics of paddling. The instruction was conducted in Japanese, and a little simple English, so if your Japanese isn't strong or you don't have an interpreter, it may be helpful to do some quick research about kayaking before you come. It's only necessary to familiarize yourself with a few basic steps, and the guides are trained and experienced in teaching beginners, so by coming prepared with a little knowledge, you should have enough of a communication base to have a smooth lesson.
After about fifteen minutes, we were ready to head out to sea! Our guides helped push us off the beach, and a moment later we were paddling out toward the horizon. Tamura-sensei stayed out ahead of us, while Fukaya-sensei took the rear, ensuring that we were covered on both sides. The instruction we received on the beach proved handy, as we were soon navigating our way along the coast. While out on the open water we were able to see flocks of seabirds catching fish on the sandbars and we even caught a brief glimpse of a dolphin jumping out of the water. After some time simply enjoying being surrounded by the open ocean, we made our way around a rock break and headed to a quiet beach for a rest.
Once we reached our resting point, we could take the time to admire the stunning Byobugaura sea cliffs, which stretch for over ten kilometers of Pacific coastline from Choshi to Cape Gyobu in Asahi City. This coastline gets its namesake from Japanese byobu, or traditional folding screens, which these vertical, jagged cliffs are said to resemble. The cliff faces rise straight out of the ocean, reaching up to sixty meters in height. The land atop the cliffs formed below the sea over 300 million years ago, gradually collected sediment, and eventually rose out of the sea. Layers of volcanic ash and three geological strata have been exposed due to erosion, creating clearly visible horizontal stripes along the cliff faces.
Tamura-sensei and Fukaya-sensei told us that getting the chance to show tour participants these views and seeing them enjoy their time on the water are some of the most rewarding parts of the job. It might seem like an intimidating task paddling out to the open sea and approaching these steep bluffs, but they told us that most of their clients are beginners, and they almost always remark that it was much easier than they had expected – something the first-timer in our group could confirm. Our guides explained that the tour is family-friendly too, and it's possible to have a parent with a child as young as four sharing a tandem kayak. The tour is not just for the young though, as one of their fondest memories is leading a tour with four sisters whose combined age was 309 years; that's an average age of 77!
For the Visit Chiba staff, this was certainly a once-in-a-lifetime experience. The Byobugaura coast is one of the most remarkable hidden gems not only in Chiba, but the whole Tokyo area. I've personally always enjoyed exploring the sights here in Choshi, and I never grow tired of admiring the beauty of the Pacific. However, getting the chance to adventure out onto the open ocean and bask in its splendor from a new point of view made me feel connected to this area like never before. If you're looking for some adventure and to discover the wonder of the sea during your time in Japan, then Choshi Kayaks' tours are certainly one of Visit Chiba's top recommendations.
Learn more at:
https://www.choshi-kayaks.com/
https://www.instagram.com/choshi_kayaks/