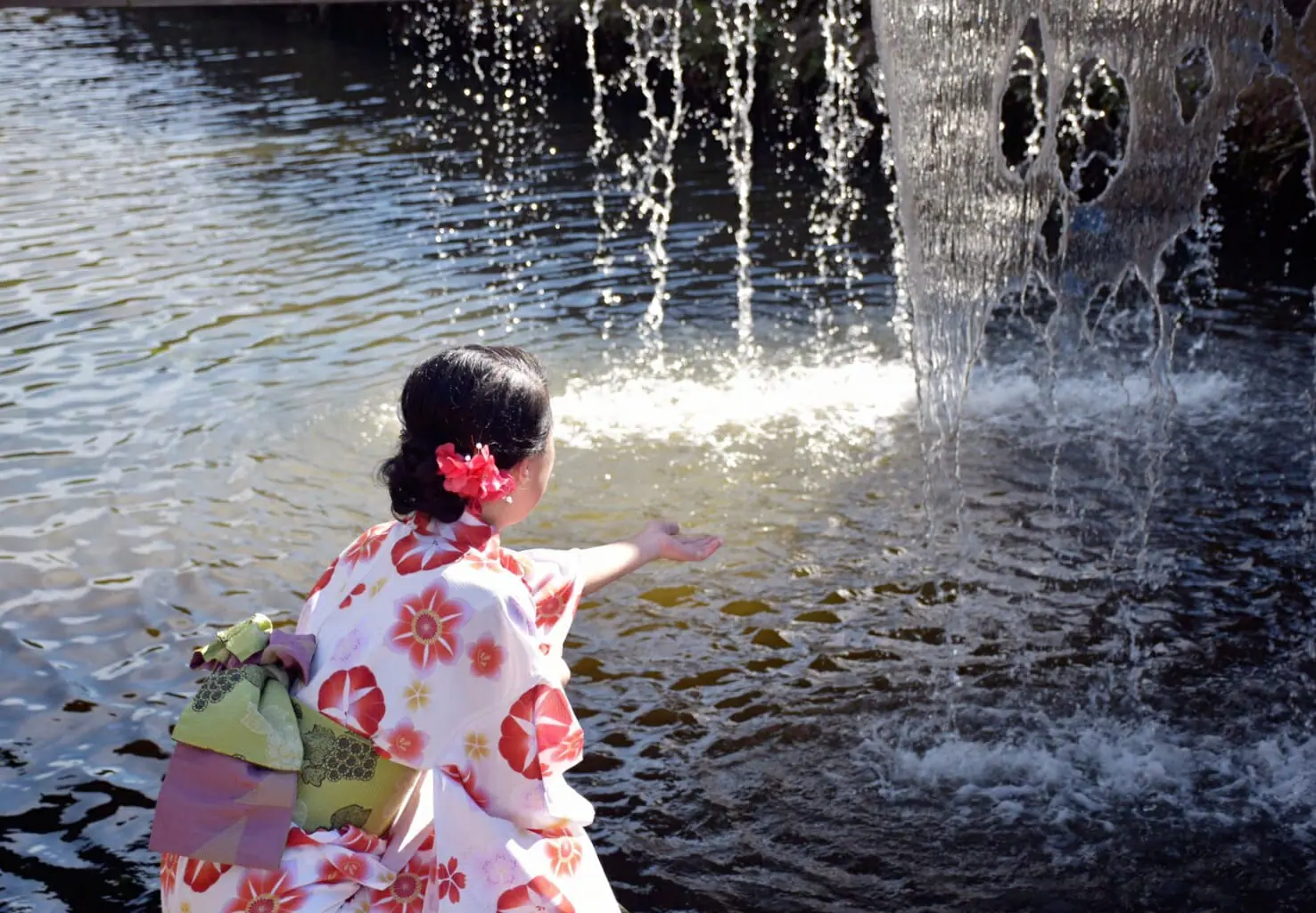 Summer Kimonos and Shaved Ice: Be Cool Like the Locals
Locals' Recommendations | Visit Chiba | Latest update:2021/12/22
It's summer in Japan and you're melting into the sidewalk. You need relief from this unrelenting humid inferno, but what should you do? Well, no one knows how to beat the summer heat in Japan better than the Japanese people; ergo, I say: when in Japan, do as the Japanese do. And that's exactly what I did, so let me tell you about it.
How I Became Cool Like the Locals, Step #1: I Wore a Summer Kimono (Yukata)
Strolling around Sawara's Historical District, with the charming Edo-style buildings and the delicate branches of the willow trees gently swaying over the Ono River, there was no way I could miss out on a photoshoot. But being the frizzy-haired, sweaty blob that I was, I knew that I would ruin what could have been beautiful photos. So, what did I have to do? Get cool and be fashionable with Yamadaya's yukatas!
With so many beautiful and colorful selections, it took me an eternity to choose a yukata. But the decision-making didn't end there. I also got to pick out my favorite sash, wooden sandals, handbag, and hair accessory to create my ideal look!
Thanks to the skilled staff, dressing and getting my hair done took less than 30 minutes. Seeing the result of their work, I was left speechless. Not only did they tie the sash so that both sides showed, adding an elegant green and purple accent to the yukata, but the hair styling was absolutely stunning! My thin hair is really difficult to style without making me look like I have no hair, but when I saw how they had fixed it up, tiny tears of joy welled in my eyes.
While wearing the yukata, I understood why Japanese people like them so much. Not only are they pleasing to the eye, but their light cotton fabric was very breathable and their loose fitting allowed the much-appreciated summer breeze help cool me down, making it very comfortable to wear, even in the sweltering heat.
So now, all dolled up and sweat-free in my yukata, I set out for my long-awaited photoshoot in Sawara's Historical District, taking pictures looking like a gorgeous model!
How I Became Cool Like the Locals, Step #2: I Ate Shaved Ice
Kakigori, or shaved ice, is a quintessential summer treat in Japan. Compared to other shaved ice, Japanese shaved ice is much softer and fluffier, much like fresh fallen snow. This refreshing dessert is so popular that it is sold virtually everywhere in Japan. Many shops have become very creative with their shaved ice concoctions, so of course, it only made sense that I sample four different shaved ice from two different cafés.
The first café I went to was Inae, located in Sawara's Historical District. One step inside and I was in awe. The café was incredibly spacious, with a simple, yet refined modern interior. Natural light flooded through the large glass windows and the picturesque view of the courtyard brought a sense of tranquility.
My first shaved ice of the day was Inae's unique creation: wasanbon sudachi shaved ice. Wasanbon is a rare, high quality Japanese sugar, while sudachi is a small lime-like citrus. To be honest, I wasn't expecting much, but when I took that first bite, I somehow landed in Shangri-La. The slight tang of the sudachi brought out the wasanbon's delicate sweetness so perfectly. Of the four shaved ices that I tried, this one was definitely my favorite.
Next was the brown sugar and walnut shaved ice. The flavor of the brown sugar was very distinct, but not sickeningly sweet by any means, and the walnut, which had no traces of bitterness, added a nice crunch to it.
The second café I went to was UNO, located along the front approach of Katori Jingu Shrine. The café was very charming, decorated with an array of dainty trinkets and antiques. Here, I tried their yuzu (a type of citrus) shaved ice and their matcha and sweet red bean shaved ice. The yuzu shaved ice was sweet and refreshing, with slivers of tart rind. While matcha-flavored desserts tend to be sweet, UNO's matcha shaved ice imparted a strong, authentic matcha flavor. When paired with the sweet red beans, however, the bitterness became much subtler, creating a nice balance between sweet and bitter. Nevertheless, when it melted, it pretty much turned into cold matcha tea, so if you're not a big fan of the traditional bitter matcha, then I don't recommend this.
With endless unique flavor and topping combinations, eating shaved ice never gets boring!