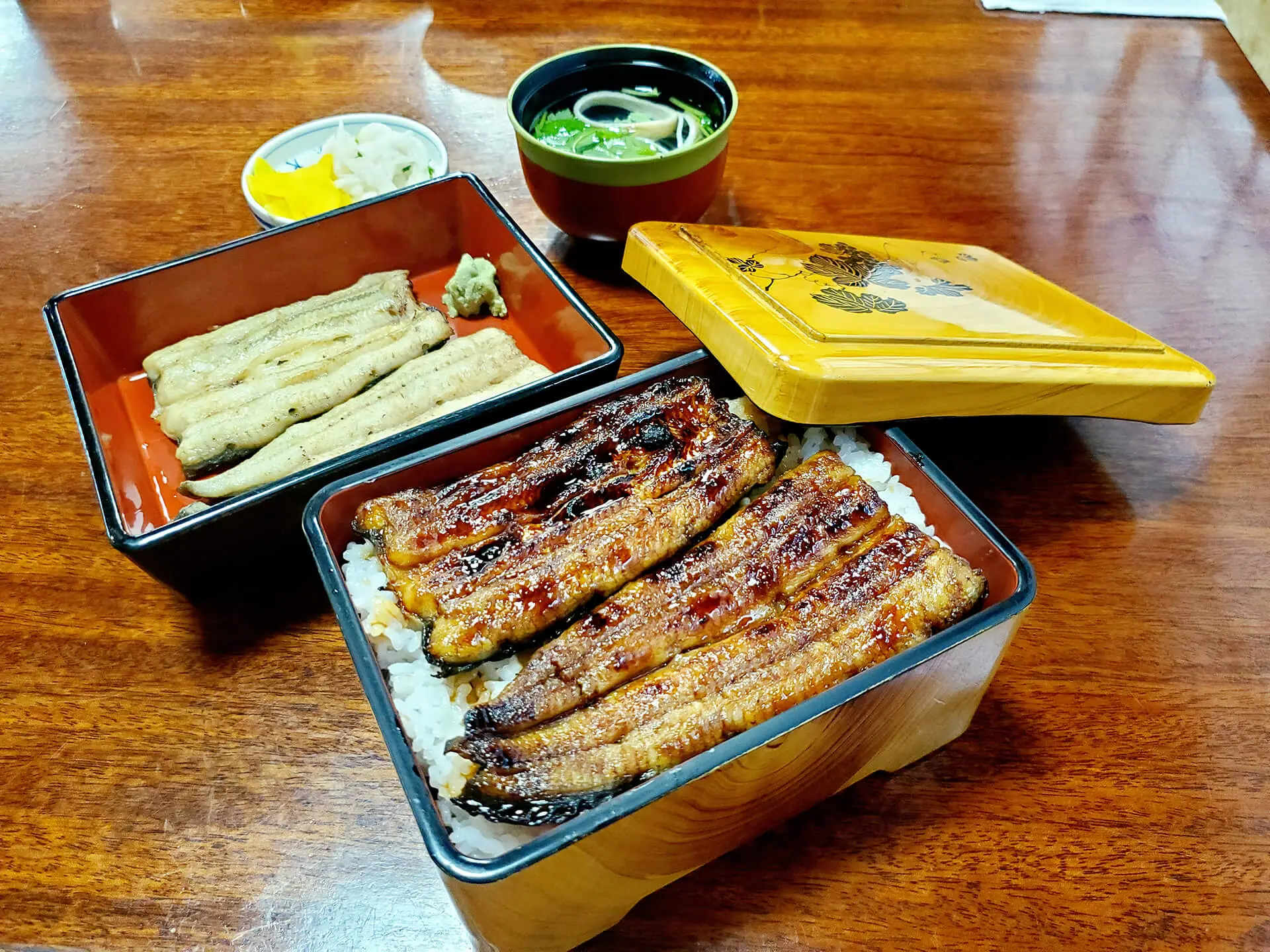 Hasegawa: A M(EEL) in Sawara
Locals' Recommendations | Visit Chiba | Latest update:2021/12/22
For a riverside district with an abundance of unagi, or eel, in the surrounding waterways, grilled unagi naturally became a local specialty of Sawara. During the Edo period (1603-1867), numerous unagi restaurants opened along the bustling streets of what has now become Sawara's Historical District, pleasing the palates of thousands of merchants from all over eastern Japan. While most of these restaurants have unfortunately closed, one unagi restaurant, called Hasegawa, continues to be a favorite among the locals.
Founded in 1831, Hasegawa has continued to carry on the legacy of the Edo unagi cuisine for over seven generations. Not only do they use the same secret recipe and techniques as when they first opened, even some of their ingredients, such as local Baba Honten Brewery's (founded in the 1680s) sweet rice wine, remain unchanged.
It is said that it takes three years to learn how to properly cut the eel, five years to skewer, and a lifetime to grill. It is very difficult to master the art of preparing eel, and yet, Hasegawa seemed to do it so seamlessly. Their eel, grilled to plump, fragrant perfection, was tender, yet also had a very pleasant chew to it.
I, of course, had to try Hasegawa's most popular dish, the unaju, in which the eel is dipped in a soy-based sauce, caramelized to a lovely golden-brown, and served on a bed of steaming hot rice in a beautiful lacquered rectangular box, making it pleasing to both the eye and the palate. The sauce, which is also said to be a determining factor in the quality of an unagi restaurant, was a perfect balance between sweet and savory, lending a great deal of umami to the dish without overpowering the rich flavor of the eel.
Another popular dish of Hasegawa that I was fortunate enough to get a taste of is their shirayaki, or plain grilled eel with the sauce on the side. Because of its porous texture, the eel readily absorbed the sauce, making it moist and full of flavor. For those who are less fond of the toasty caramelized taste but still want all of that umami goodness, I definitely recommend this dish.
As I took my last bite of the unaju, I reluctantly bid farewell to those few moments of pure bliss that only Hasegawa's unagi could provide. While we had to part for now, I will never forget that taste of the true flavor of Edo, which only a long-established restaurant with almost 200 years of history can offer. As a traditional Japanese meal, the owner of Hasegawa hopes that everyone can enjoy their unagi dishes.
Bonus History Lesson: A Midsummer Day's Tradition
Come summer and many places around the world turn into a working oven. In an attempt to cool down, people begin to devour tubs of ice cream, fruits, and other refreshing foods. But grilled eel served on a bed of steaming hot rice? Not something I would expect to want to eat while getting grilled under the scorching sun myself.
So, how did unagi become synonymous with summer in Japan? This concept of eating eel in the summer is actually an ancient one, dating back as early as the 700s. Because eel is highly nutritious and stamina-replenishing, it was thought to be a great solution for alleviating summer lethargy and malnourishment.
Moreover, it was (and still is!) believed that eating foods that began with "u" on the Day(s) of the Ox (Ushi no Hi) that fell within a period, known as the summer's "doyo," thought to be the hottest time of the year, would bring relief from the oppressive summer heat. So, according to legend, when an unagi restaurant owner was struggling to get customers due to the sweltering heat, polymath Hiraga Gennai suggested that he advertise that Doyo no Ushi no Hi was just around the corner, making it a great time to eat unagi. Following this advice, the owner's business boomed, leading other unagi businesses to follow suit. Because of this, unagi has become closely associated with Doyo no Ushi no Hi.
So, for those who want the ultimate traditional summer experience, eating unagi in a long-established restaurant, such as a Hasegawa, on Doyo no Ushi no Hi is a must!