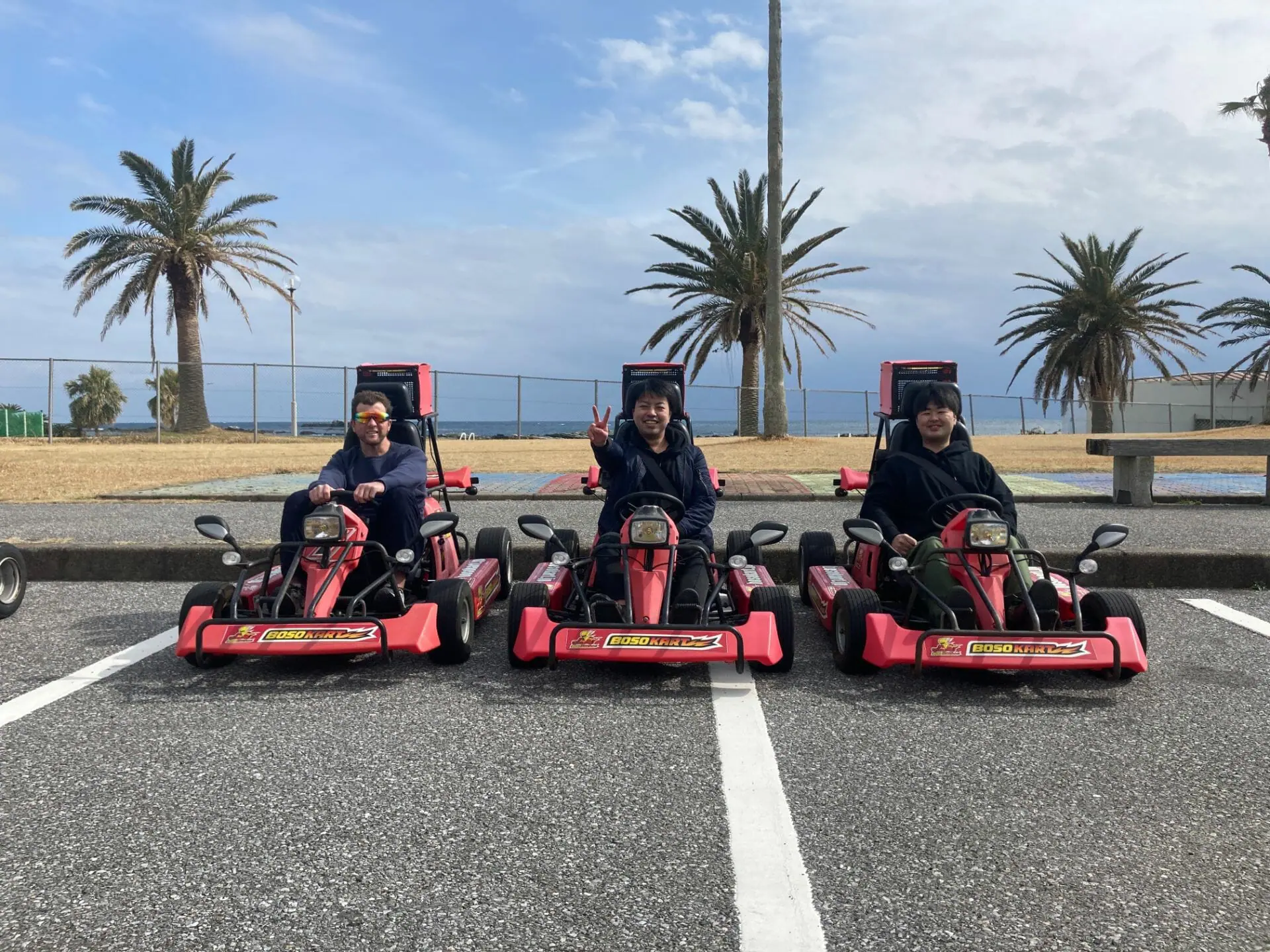 Street go-karting in Minamiboso City: BOSO KART!
Things to Do | Visit Chiba | Latest update:2022/03/25
Have you ever driven a go-kart? How about a street legal one that can comfortably cruise at about 60 kilometers an hour? Here in Minamiboso, bring a valid driving permit and take a spin off the track and on the road in your very own go-kart! You'll be taking corners and turning heads while you have a completely new approach to rural tourism. This section of the Minamiboso coastline is full of rocky outcroppings, rolling hills, and beautiful scenery that defines the southern coasts of Chiba, so strap in and get ready to take it all in at thrilling speeds.
Start at the nearby "Shiokaze Ōkoku" roadside station, near Chikura Station on the JR Uchibo Line. This is a gathering point for local commerce, selling fresh fish and vegetables, a wide array of souvenirs from all over Chiba, and you'll also find some of the best seafood cuisine in the area. The kaisendon (rice bowls topped with raw fish), and sushi are a must-try when visiting this seaside plaza. Naturally, you'll want a more intimate look at this charmingly rural harbor town, and that's where BOSO KART comes in! Rather than wait for a bus, or try and order a taxi driver around, hop in your own go-kart for a scenic tour of the area.
You'll take a tour with a guide leading the way along the winding coastal road. Note that you won't have completely free-reign over your kart, but rest assured that your guide won't disappoint. The guide will show the way, and won't discourage you from pushing the pedal to the metal, of course after a quick tutorial and warm-up session. Show that you can accelerate smoothly, brake on a dime, shift into reverse, and operate the lights and turn signals, and you'll soon be on your way!
Cruise easily at a car's pace, but the "clutch" thrill of these karts is their cornering capability! At a stop, the wheel seems tight, and hard to turn, but at full speed, you'll literally be blown away at how easily maneuverable these things are. Stay on the apex, close to the center of the road as you approach a turn, then whip the steering wheel and feel the g-forces as the cart effortlessly glides around the corner. Take it easy for your first few tries, but after you're comfortable with the kart, you'll find yourself hungering for tighter turns at higher speeds.
The road leads to the Nojimasaki Lighthouse, a quaint spot ideal for pictures and relaxation. Along the way, take a pit stop at a souvenir shop for hot coffee or tea, as you might get a bit chilly in the colder seasons. On that note, you'll need to have your hands out and firmly on the wheel the whole time you're driving, so some good advice is to have a pair of gloves even if you don't think it's that cold. You can pick some simple work gloves up at a convenience store, and those will be sure to keep your hands a bit warmer. Hopefully the only thing turning your knuckles white is the thrill of the drive!
*A valid driver's license or permit for within Japan is required
*Sandals and high heels are not permitted for drivers
*This is a tour led by an instructor