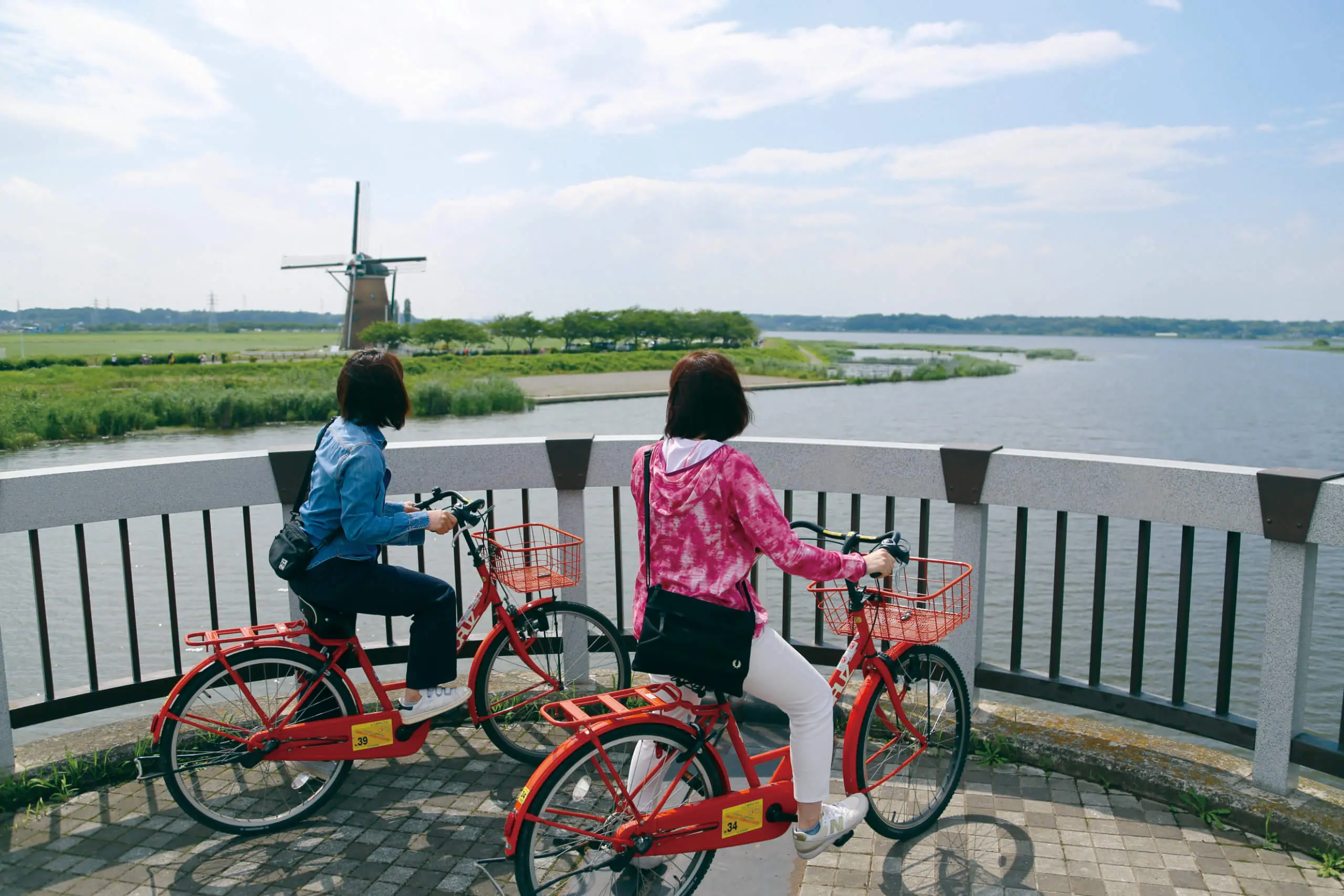 Recommended Family-Friendly Activities in Chiba
Things to Do | Visit Chiba | Latest update:2022/04/15
There are many ways to enjoy Chiba, from mountain and coastal activities, to strolling the charming towns and experiencing its rich culture. It goes without saying that there are ways to have a day of family fun as well. Here, we'll introduce Lake Inbanuma in the Hokuso Area (Northern Chiba), and the Yatsu Higata tidal flats in the area above Tokyo Bay.
Cycling at Lake Inbanuma
The first activity for family fun is cycling at Sakura City's Lake Inbanuma, the largest lake in the prefecture. We recommend the Lake Inbanuma West Course, which starts at Furusato Square. Here you can rent bicycles and cruise the designated cycling lanes around the lake. The ride is flat and easy, and family-friendly, as there are rental bikes for elementary school aged children, and adult bikes with attached seats for smaller children. There is even a limited number of adult tandem bikes available too! Furusato Square also features a beautiful Dutch-style windmill and flower garden, which make it an excellent place to relax and wind down at the end of your ride.
Observing birds and other wildlife at the Yatsu Higata
In the Tokyo Bay Area, we recommend bird and other wildlife watching at the Yatsu Higata. These higata tidal flats, which extend over about 40 hectares, are less than an hour from Tokyo Station, and the facilities at the Yatsu Higata Nature Observation Center make it a great spot for families to observe many kinds of birds and animals in nature! Migratory birds that move between Siberia and Australia, like sandpipers and plovers, use this area as a resting spot to munch on native crabs and shellfish. Thanks to this rich ecosystem, this area has been designated as a "wetland of international importance" under the Ramsar Convention in order to protect the birds' migration patterns. This is also a great spot to see local flora and fauna up close, and you can learn interesting details from the park rangers here too.