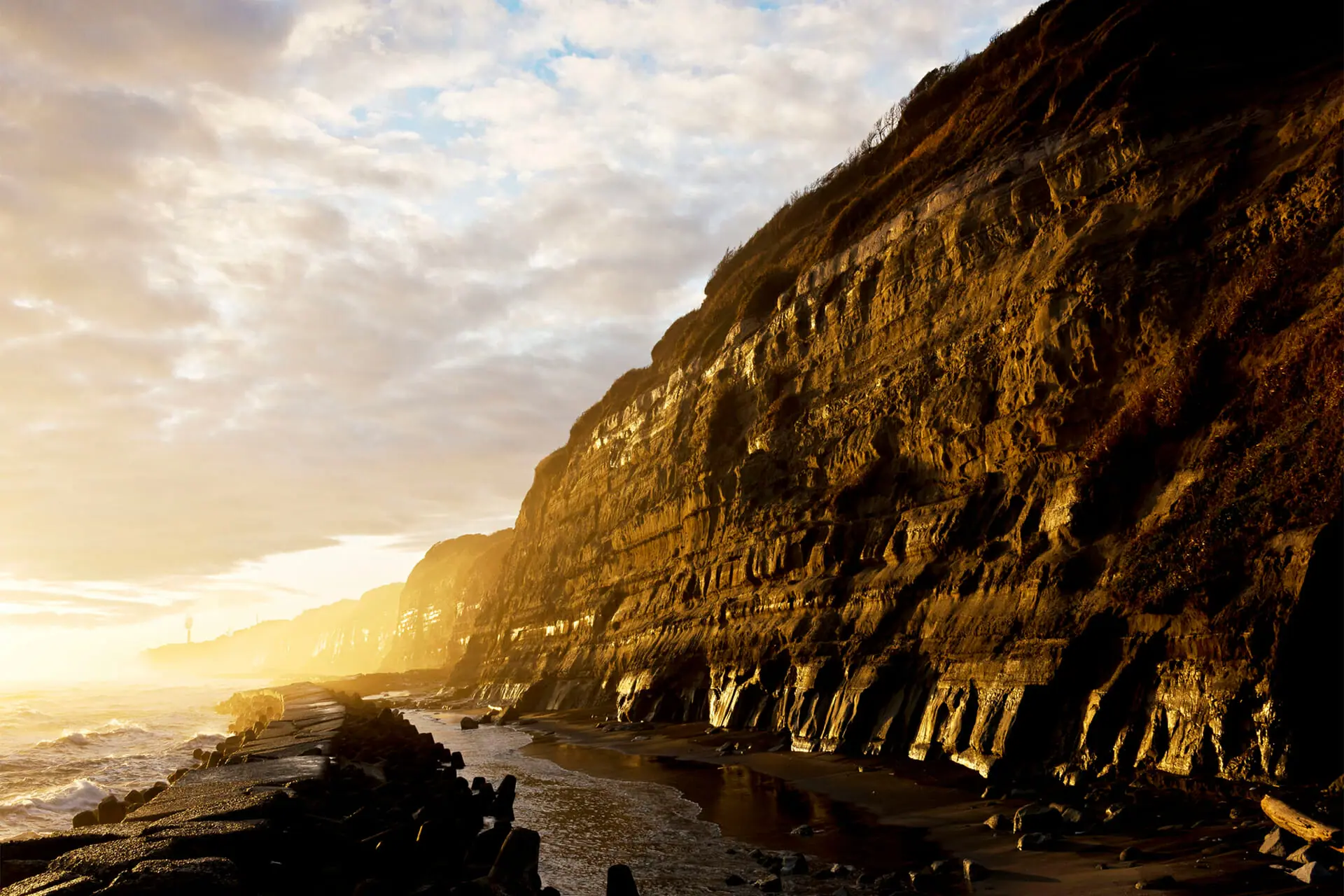 Chiba's Northeast Pacific Coast – Choshi & Asahi
Things to Do | Visit Chiba | Latest update:2023/03/22
For this tour we explored Choshi City, home to a beautiful stretch of Pacific Ocean coastline located on Chiba Prefecture's northeast corner. In order to see both ends of the famed Byobugaura sea cliffs, we started just across Choshi's border at Cape Gyobu in Asahi City, then followed the cliffs to their northeastern point in Choshi. From there we stopped at three more spots in Choshi: Cape Inubo's Inubosaki Lighthouse; the "Chikyu-no-maruku Mieru Oka" Observation Deck; and the historic Iinuma Kannon.
Iioka Lighthouse - Asahi
Our first stop on this trip was at the Iioka Lighthouse in Asahi City, near the border of Choshi City. The Iioka Lighthouse sits atop Cape Gyobu at the southwestern point of the Byobugaura sea cliffs. Visitors here can enjoy gazing out over the Pacific and the south facing view toward Chiba's Kujukuri coastal plain.
Marina Beach & Byobugaura Cliffs – Choshi
The Byobugaura sea cliffs stretch for over ten kilometers of Pacific coastline from Cape Gyobu in Asahi City to Choshi City's Marina Beach. This coastline gets its namesake from Japanese byobu, or traditional folding partitions, which these vertical, jagged cliffs are said to resemble. The cliff faces rise straight out of the ocean, reaching up to sixty meters in height. The land atop the cliffs formed below the sea over 300 million years ago, gradually collected sediment, and eventually rose out of the sea. Layers of volcanic ash and three geological strata have been exposed due to erosion, creating clearly visible horizontal stripes along the cliff faces. For visitors to this area who want to see these cliffs up-close, there is a walking path along the northeastern end of Byobugaura, starting at the Choshi Marina Beach.
Contact the Choshi Geopark Promotion Council Office for information about English-speaking tour guides: choshigeopark@city.choshi.lg.jp
Inubosaki Lighthouse – Choshi
Next, we headed for Cape Inubo, the home of the Inubosaki Lighthouse. This Western style lighthouse was constructed in 1874 by English architect Richard Henry Brunton, and is ranked on the IALA's list of 100 lighthouses in the world that are historic and architectural monuments. At a height of 31.57 meters, it is the second tallest brick building currently standing in Japan. Climb the 99 steps of the corkscrew staircase for a panoramic view of the cape jutting out into the ocean.
The "INUBOW TERASU TERRACE" market next to the lighthouse is a great place to stop for a meal and pick up some souvenirs. Visitors here can enjoy a meal from Seaside Terrace, and wash it down with a locally made Choshi Lighthouse Cola, or Choshi Beer. Choshi-based merchants sell various goods and crafts on the first floor, while local food products and other souvenirs are sold on the second floor.
Chikyu-no-maruku Mieru Oka Observation Deck – Choshi
Our next stop, the Chikyu-no-maruku Mieru Oka – Observation Deck, offers one of our favorite views in Chiba. From here visitors can get a full 360-degree view of Choshi City and beyond. On clear days, you can see the coasts of Ibaraki and Fukushima prefectures to the north, and even the peak of Mt. Fuji nearly 200 kilometers to the west.
Iinuma Kannon – Choshi
To end our trip, we headed into central Choshi for a stop at the historic Iinuma Kannon at Enpuku-ji Temple. Iinuma Kannon's history dates back to 728, and is part of the Bando Kannon Pilgrimage, a series of 33 Kannon temples in eastern Japan that was established early in the Kamakura Period (1192 to 1333). Iinuma Kannon's inclusion in the 1,300 km long pilgrimage route was key in the development of Choshi as an influential temple town.