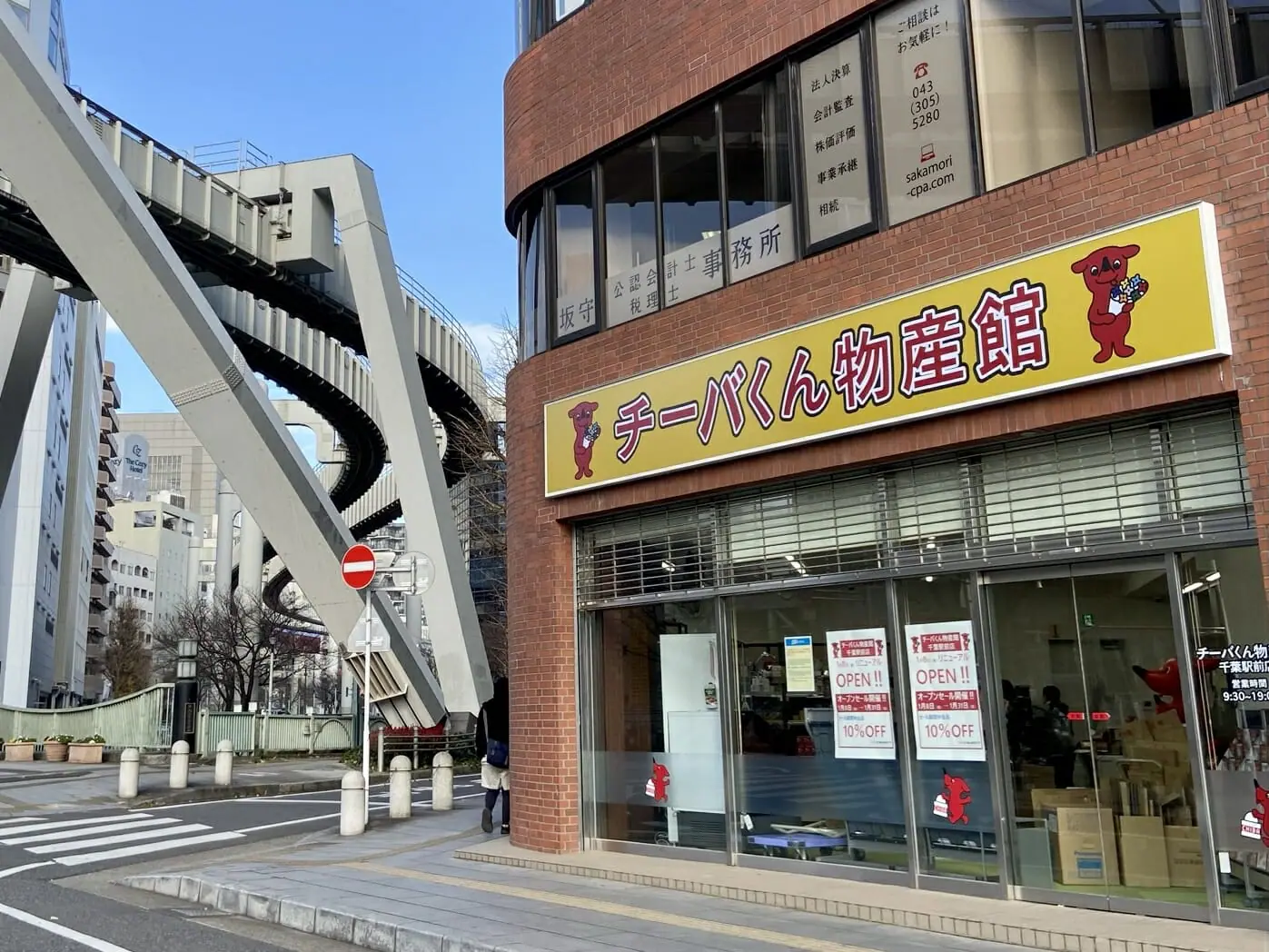 "Chiba-kun Bussankan" Souvenir Shop
Things to Do | Visit Chiba | Latest update:2023/03/30
This branch of the "Chiba-kun Bussankan" Souvenir Shop is located just an eight-minute walk from JR Chiba Station. They have over 600 local products on sale, featuring a wide selection of Chiba's locally grown food and drink products. Many of these products are packaged in the Japanese omiyage style, which make for delicious, sharable, and easy to carry souvenirs. The shop also sells traditional Japanese handicrafts and official Chiba-kun (the mascot of Chiba Prefecture) goods. In the back of the shop, you will find an alcohol section stocked with Chiba brewed sake, craft beer, and whiskey.
Chiba is one of the top-ranking prefectures for agricultural production in Japan, and is the nation's number-one producer of peanuts and soy sauce. Peanuts are considered to be Chiba's specialty product, and the "Chiba-kun Bussankan" Souvenir Shop has many peanut-themed snacks on offer. Chiba is situated on the Boso Peninsula, and the snacks made from seaweed harvested off Chiba's coasts are a local favorite as well. Varieties of Japanese rice crackers, and sweets made using Chiba grown fruits are also available.
Boshu uchiwa handheld fans, a popular handicraft from Chiba Prefecture, are also available here. These fans are said to have been made in the southern region of present-day Chiba, known as Boshu, since the late-1800's. Boshu uchiwa have their own unique design, known as maru-e, or literally "round handles." A type of bamboo called medake is used when creating this design. The upper portion of the medake stalk is cut into 48 to 64 equal strips which are then entwined together in a mesh-like pattern, forming the fan's frame. The remaining lower portion of the stalk becomes the fan's round handle. Traditionally, ukiyo-e prints or drawings of feminine figures were used to cover the frame, but today Boshu uchiwa makers use a variety of patterns. In total it's a 21-step process, starting from cutting and peeling the bamboo.
Kusanagi-san, one of the staff at the Chiba-kun Bussankan, is always excited to welcome foreign visitors to the shop. She hopes it can be a place where they can learn and discover new things about Chiba and Japanese culture. She particularly recommends the Boshu uchiwa, explaining that you can feel their quality when you hold one in your hand and let its graceful flexibility create a cooling breeze with an almost effortless flick of the wrist. Unlike the delicious snacks, which you may struggle to not consume all at once, handicrafts like the Boshu uchiwa can serve as a lifetime reminder of your trip to Japan.